The 12 Best Color-Depositing Shampoos, According To A Celebrity Hair Colorist
We only recommend products we love and that we think you will, too. We may receive a portion of sales from products purchased from this article, which was written by our Commerce team.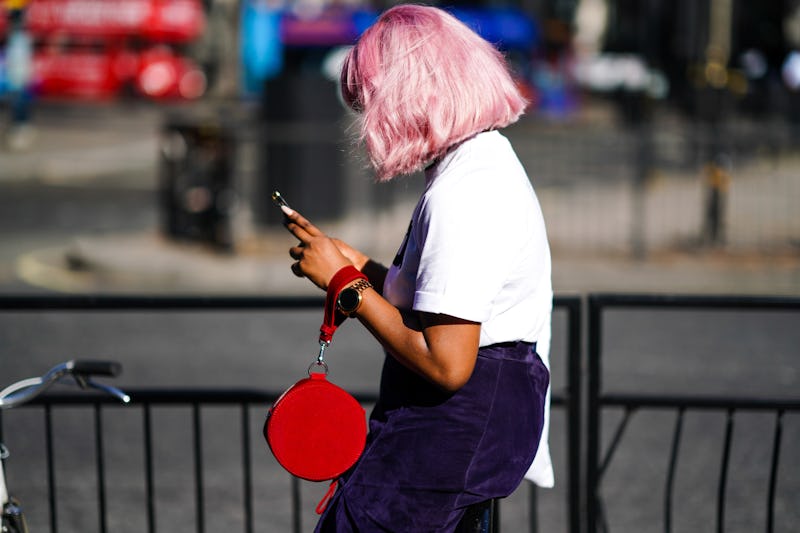 Edward Berthelot/Getty Images Entertainment/Getty Images
Color-depositing shampoos provide an affordable, user-friendly way to switch up (or enhance) your hair color at home. But if you choose the wrong type of shampoo, things can go seriously awry — which is why Bustle reached out to celebrity hair colorist Jeremy Tardo for his professional opinion on the best color-depositing shampoos, and how to use them. First things first: Understand that there are two primary types of color-depositing shampoos — toning shampoos that remove brassiness and neutralize certain undertones, and shampoos that temporarily dye your hair or enhance your existing color. "The primary composition of a toning shampoo and a color-depositing shampoo are the same," Tardo says. "Both are shampoos that contain color pigments. The difference lies in whether those pigments are being used to enhance or negate a specific tone. If using a shampoo with red pigment on red hair that's faded, you'd be enhancing an existing pigment. If using a shampoo with green pigment on red hair, you'd be neutralizing the red pigment," he explains. You'll find both shampoos that tone and ones that temporarily dye on the list ahead, as well as a dry shampoo for an even shorter-term color boost — but first, some more tips from our expert.
Tardo says that "The duration of time that your hair retains the effects a color-depositing shampoo depends on how frequently the hair is washed after the shampoo," and notes that "You will typically notice the difference achieved by the shampoo for about 5 [to] 10 washes." He suggests using your color-depositing shampoo once a week "to maintain a consistent level of tonality."
As for how to use a color-depositing shampoo? According to Tardo, "Wear gloves as some color-depositing shampoos will stain your hands. Begin shampoo application near the scalp. Massage the product into damp hair as you normally would when shampooing. Work from scalp to ends. Saturate your hair thoroughly. You will typically need more product [than] if you were just using a shampoo to cleanse your hair. The longer the shampoo sits in your hair, the more deposit of tone you will achieve. Standard timing is 5 [to] 15 minutes."
Keep in mind that as with color-depositing conditioners, the types of color-depositing shampoos that temporarily dye your hair a bright, bold color typically work best on hair that's been pre-lightened or bleached. But, as Tardo notes, "Some color-depositing shampoos are specifically formulated for darker hair. If you have brunette hair that looks too red for your liking, you can opt for a blue or green based color-depositing shampoo that is created to cool off warmth in dark hair. If your dark hair is too [ashy] looking for you, there are shampoos with warm pigment to create a richer tone in your hair as well."
This article was originally published on