7 Temporary Hair Dyes For Dark Hair Without Bleaching
New color, no commitment.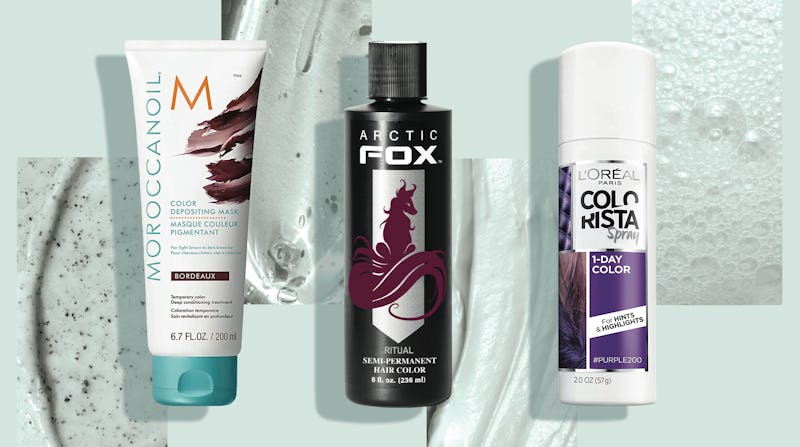 Amazon / Bustle
We may receive a portion of sales if you purchase a product through a link in this article.
If you're wary of bleaching your hair, you're not alone. From tales of bleaching disasters to warnings over how bleach breaks down hair's protective coating, there are plenty of reasons to stay clear of it. But bleach does allow for better color transfer when dyeing your hair, so if you're looking for a temporary hair dye for dark hair without bleaching, you have a few different options. Your best bet is to choose a temporary or semi-permanent dye formulated specifically for dark hair, whether you choose a box dye or color-depositing conditioner, or a short-term dye like a hair chalk, wax, or spray, that sits on top of your strands rather than actually changing their color. Darker colors will also show up better on black or brown hair, so try rich purple dyes, dark reds, or even blues that are deep enough to stain dark hair, rather than pale or subtle options.
What To Consider When Shopping For Temporary Hair Dyes For Dark Hair
Before you buy, it's important to be real about your expectations. A vibrant teal won't show up as well on dark hair without bleach, but that's no reason not to use it. In fact, there are tons of at-home hair dyes that use special formulas to help brown hair cling to color for longer. If you're looking for a pop of color that will last for at least a few weeks, you may want to consider a box dye or conditioner that stains hair fibers. A color-depositing conditioner or hair mask may be a good choice if you don't mind a subtler hint of color. Conditioners and masks also have the benefit of helping hair maintain moisture and shine while also acting as a dye.
On the other hand, if you're searching for something even more temporary, there are a lot of eye-popping temporary hair dyes for brunettes that you can choose from. You can go for a wax, spray, or even chalk that adds in really fun bursts of color just for the day. They're easy to wash out, and you can change them up again the next day.
Shop The Best Temporary Hair Dyes For Dark Hair Without Bleaching
In a hurry? These are the best temporary hair dyes for dark hair on Amazon:
Ready to rainbow up your hair? Check out these awesome temporary dyes for dark hair to help you find your perfect match.
This article was originally published on