The 6 Best Gel Nail Polishes For A Salon-Quality Manicure At Home
Thousands of Amazon shoppers swear by them.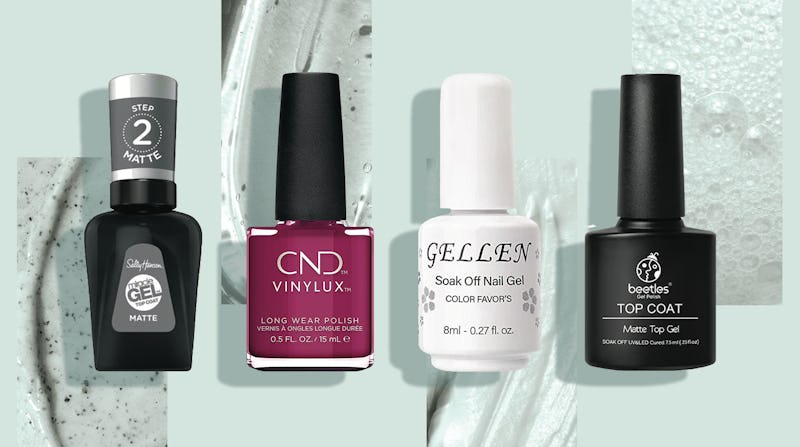 Bustle / Amazon
We may receive a portion of sales if you purchase a product through a link in this article.
Once upon a time I believed that gel manicures were the exclusive jurisdiction of professional nail technicians. Some poking around on Amazon later, I was proven wrong: Everyone can do a gel manicure at home! The best gel nail polishes will give you salon-quality results at home — all for less time and cash than you'd need for a professional gel manicure — and they should last at least two weeks without chipping. All you need is a UV or LED lamp (not as scary as it sounds) and a gel base coat and top coat (if the polish calls for it and doesn't come with it).
How To Get The Best Gel Manicure At Home
You'll get the best results from your at-home gel manicure if you follow a professional protocol. "Always prep the nail first," Hannah Lee, Sally Hansen Brand Ambassador, tells Bustle. "Shape, lightly buff, and push the cuticles back. Also, make sure to remove any excess oil and debris from the nail using a cotton ball and polish remover. This will make sure you get the best hold on your nail." Lee also suggests painting each coat in a thin layer, which ensures a longer-lasting manicure, and capping the edge of your nail to prevent chipping.
How To Remove Gel Polish At Home
Equally important as gel polish application is proper gel polish removal. For that, Lee recommends soaking your nails in cuticle oil first, then placing an acetone-soaked cotton ball onto each nail, wrapping them in aluminum foil, and waiting 15 minutes. If the polish is peeling, you're good to go; otherwise, wait another five minutes and check again. To mitigate damage, Lee says, "[You] don't want to peel the gel off since it can remove part of your nail with it. It's important to wait until the polish is flaking off well." She also recommends rehydrating your nails (with a cuticle oil or nail cream) after gently pushing the gel off, "since the acetone is super drying."
Gel Nail Polish Without A UV Light
But if you're not sold on the idea of a DIY gel manicure, you can opt for a gel-inspired nail polish, instead. You'll get the cushiony, chip-resistant effects of a true gel polish, but you don't need a UV light to cure them. They remove like normal polishes, too, so no need to do the whole soaking-and-scraping thing.
Either way, I've got you covered. Ahead, find four of the best gel nail polishes you can get on Amazon, plus two gel-effect options. There's also a non-intimidating UV lamp so you can get salon results at home — no nail tech training required.
Shop The Best Gel Nail Polishes
In a hurry? Here are the top picks for gel nail polishes, both with or without a UV lamp.
This article was originally published on