Your Ultimate Guide To The Best Hydrating Serums For Dry Skin, According To Dermatologists
We only recommend products we love and that we think you will, too. We may receive a portion of sales from products purchased from this article, which was written by our Commerce team.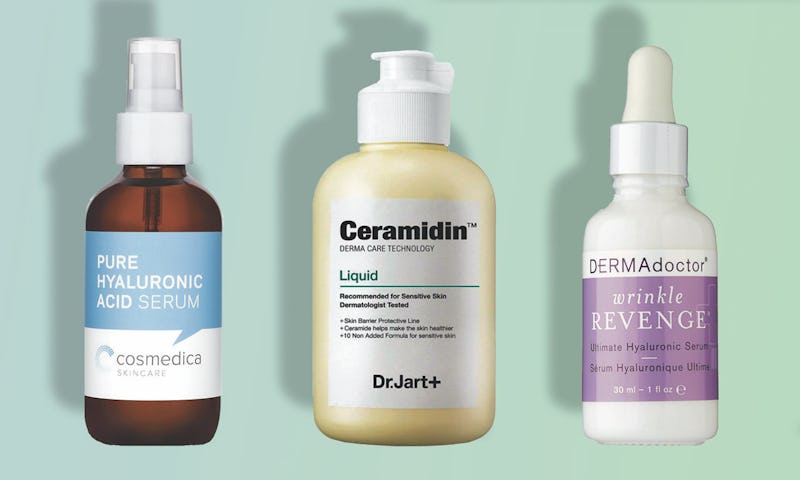 Bustle/Amazon
Because of their smaller molecular makeup, which makes them better able to penetrate your skin, serums are the most effective beauty product to which you can treat your face. If you have dry skin, a incorporating a thirst-quenching serum into your routine is the best course of action if you're looking for tangible results. But not all serums work to hydrate your skin, which is why you have to do your research before splurging out on a new product. Ahead, find a guide to the best hydrating serums for dry skin, plus tips from two board-certified dermatologists.
According to Dr. Lily Talakoub of McLean Dermatology, "There are two ways to add moisture to the skin. There are moisturizers that add oils, and hydrators which increase the skin's ability to hold water. Serums with hyaluronic acid and ceramides hold water in the skin and hydrate the skin the best." Dr. Audrey Kunin, Board Certified Dermatologist and Founder of DERMAdoctor, echoes that sentiment, noting that hyaluronic acid serums are her top pick for dry skin. "They hold 1000 times their weight in water, and as they are lightweight, they work well for all skin types," she explains.
Moreover, Dr. Talakoub says that "Serums with hyaluronic acid are great for acne prone skin because they go on light, increase hydration without feeling greasy." For dry skin that's on the sensitive side, she recommends "serums with ceramides and fatty acids, which help inflamed skin and hydrate without irritation."
As for what ingredients dry skin types should avoid? "Dimethicone and silicones, which, according to Dr. Kunin, "smother pores." Dr. Talakoub also says that "Dry skin types should avoid fragrances, essential oils and acids because they can be irritating," especially if it's already sensitive. Keep in mind that this refers to exfoliating acids, like salicylic and glycolic — not hyaluronic acid, which our bodies naturally produce.
Another tip? Apply your serum (after cleansing and/or toning, and before moisturizing) on slightly damp skin. This provides it with even more moisture to hold on to, so it doesn't wind up sucking it from the deeper layers of your skin.
Without further ado, check out five must-try hydrating serums for dry and dehydrated skin.
This article was originally published on