The 6 Best Anti-Static Hair Products That Fight Frizz, Hat Hair, & More
We only recommend products we love and that we think you will, too. We may receive a portion of sales from products purchased from this article, which was written by our Commerce team.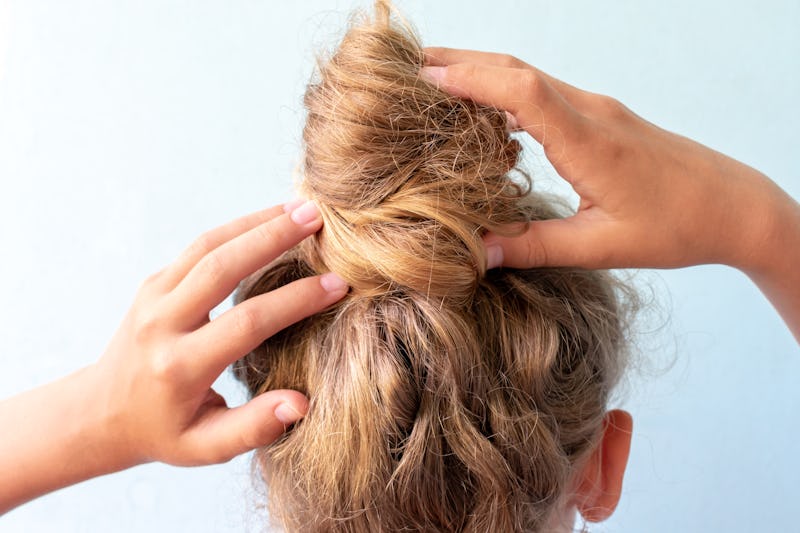 Shutterstock
For the past month, I've been dealing with the most hair static I've ever had in my life. If I even think about putting a brush to my strands, they poof out from my head like I just rubbed a balloon against them. Of course, I'm not the only one who deals with hair static from time to time — in dry weather, it seems like all my friends complain about unwanted flyaways, too. Luckily, there's a pretty easy fix for us (and, if you're reading this, for you, too). From creams to pomades to handy sheets, the best anti-static hair products impart moisture back into your hair, thereby preventing and reducing static.
What causes hair static?
Static occurs when your hair rubs against another object (like a hat, towel, or pillowcase, for instance) and swaps electrons with that object. Without an electricity conductor present, like moisture, your hair builds up a surplus of electrons — which are negatively charged, as you may remember from physics class — making each strand repel each other. (As you may also remember, two magnets with the same charge repel, while opposite charges attract.) Since humidity conducts electricity better than dry air, static hair tends to exacerbate during the dry winter months, or in dry conditions generally.
How to prevent & reduce hair static
Since dry hair is the culprit of static, the solution is luckily pretty simple — keep your hair well-moisturized. That'll both reduce friction when your strands meet another object, and keep your hair neutrally charged.
As a general rule, look for products made with nourishing ingredients like coconut oil, argan oil, avocado oil, and shea butter. An even easier hack? Opt for products with the word "moisturizing" in the product name. Additionally, some dedicated anti-static products contain dimethicones, which create a smooth, slippery film over the cuticle. Dimethicones are an effective short-term solution for static, flyaways, and frizz; just be sure to watch the product out to prevent buildup, which can preclude moisture from entering the hair and actually exacerbate dryness over time.
Beyond hair products, consider swapping out your terry cloth towel for a microfiber towel. Not only does microfiber help your hair dry faster, but the plush, ultra-soft material creates less friction on your hair (and, therefore, less static, frizz, and damage). Sleeping on silk pillowcases (or satin pillowcases, as a budget-friendlier option) similarly creates a friction-free environment, so you'll wake up to smoother, tamer hair.
Best hair products to prevent & reduce static
Obviously, the primary goal of most anti-static hair products is to add moisture back into your hair. Some products for dry hair, like primers, creams, and oils, work best as styling products on wet or damp hair, which seals the cuticle and keeps it from creating the friction that leads to static. Others, like mists, sheets, and pomades, are applied to dry hair to tame flyaways and frizzy hair after static has popped up. It's a good idea to have one of each in your rotation if static is a major issue for you — especially those ever-handy hair sheets.
Scroll on to find the best anti-static hair products for smoother, tamer hair.
This article was originally published on