10 UK Fashion Rental Sites That Combine Style & Sustainability In One
Wear designer clothes for a fraction of the price.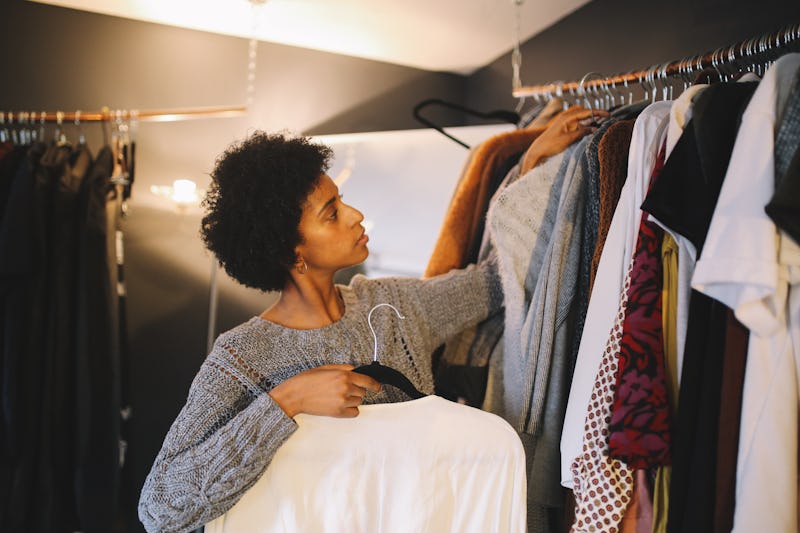 lechatnoir/Getty
Clothes buying often falls into one of two categories: you invest in a piece that you adore forever, or splash out on something that sees the light of day just once. Obviously, the latter isn't the most eco-friendly way to live. But what if you could snap up new clothes and embrace sustainability? Well, thanks to these 10 wardrobe rental sites, you now can.
Renting clothes, instead of buying them, isn't an entirely new concept. Some sites (Girl Meets Dress, for example) have existed for years, but with Carrie Symond's recently renting her wedding dress for the special occasion, the concept has resurfaced. Lots of the brands listed below are relatively new, offering you both discounted designer looks and entire everyday wardrobes. Some are even giving you the chance to shop your favourite influencers' wardrobe, and hand it back when you're done. As well as being an incredibly alluring prospect for your personal style, this strategy could also go a long way to reducing fashion's waste problem.
And while some sites only offer pricey styles, others, like Hurr Collective, stock a range of price points. "We want to cut out fast fashion. It's built to fail, we want clothes that are built to last," co-founder Victoria Prew told Harper's Bazaar. "Our price point means we have a lot of the accessible brands like Ganni, Rixo, Kitri, and Rotate which rent really well. We didn't want to be exclusively high-end brands. Having cool, sustainable, and emerging brands was really important for us."
Here are the UK-based fashion rental companies you need to know about.