The Little Princess Trust Is Accepting Afro Hair Donations For The First Time
A groundbreaking step for young people experiencing hair loss.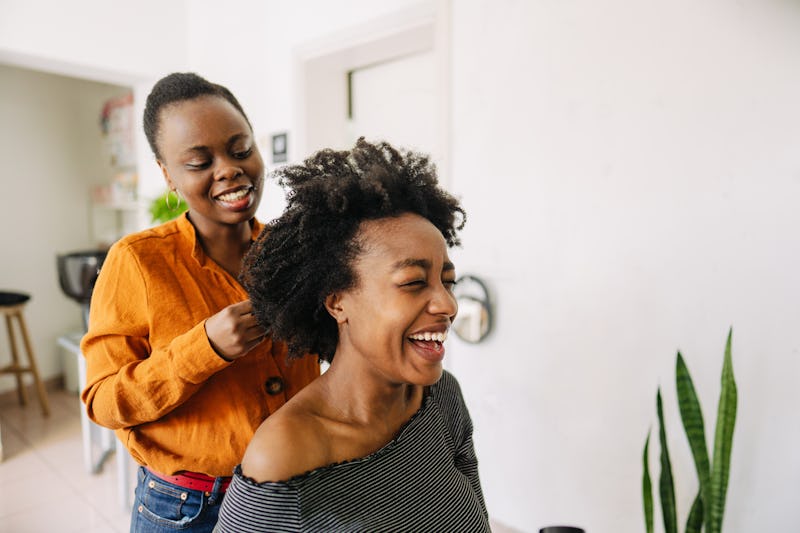 AleksandarNakic/E+/Getty Images
Since 2006, the UK charity The Little Princess Trust has supplied over 8,000 real hair wigs for free to young cancer patients and young people experiencing hair loss from various conditions. Up until last year, the charity didn't use Afro hair wigs as they were unable to find a wig manufacturer that used hair donations from Black and mixed race people in wigs. However, thanks to the efforts of young hair donor Carly Gorton, The Little Princess Trust ambassador Cynthia Stroud, and the genius stylists at Raoul Wigmakers in London, a breakthrough has finally been made.
After years of trials, the team at Raoul Wigmakers have adapted the method of wefting, whereby single rows of hair are delicately woven together, that can be used on unprocessed Afro hair to create a strong structure which gives longevity to wig.
In an interview with ES magazine, Raoul director Caroline Shallow explained: "The hand-tied method [where strands are secured on to the base of a wig meticulously by hand] is used around the crown and the sides of the wig, giving a natural overall finish." Both of these fine-tuned methods have now allowed Afro hair to be used to make wigs for young mixed-raced and Black people experiencing hair loss.
So why did such a revolutionary breakthrough take so long? Well, most wig manufacturers refused to use Afro hair as the hair type couldn't withstand the amount of processing that was necessary to mass produce wigs. Also, most staff in these establishments were neither familiar nor trained to work with such hair textures.
Before 2021, The Little Princess Trust instead offered Afro style wigs to its young recipients using straight hair which was later curled into the requested style. Phil Brace, Chief Executive of The Little Princess Trust, is delighted that the charity is now able to offer more options. "We are so grateful to all those who have worked on the project to offer even greater choice to our beneficiaries, as well as being truly inclusive to our donors," Brace shared in a statement.
Young mixed-raced and Black recipients can now rock different styles such as cropped TWAs (teeny, weeny Afros), locs, and cornrows using real Afro-textured donations. Hair is a big part of Black communities and now young people experiencing hair loss have Afro hair wig options to be their most confident selves.