The Reason Princess Diana Didn't Wear Hats Around Children Is Beyond Sweet
Her wedding dress is also on show as part of a new exhibition at Kensington Palace.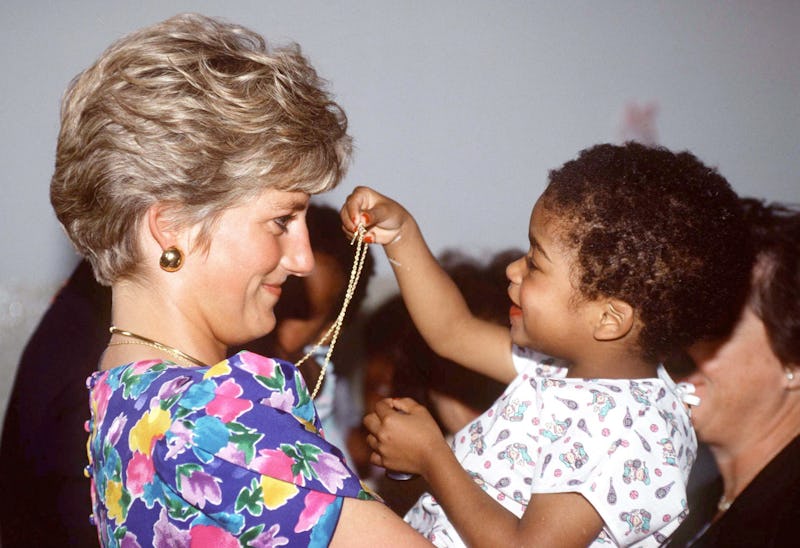 Tim Graham Photo Library via Getty Images
Princess Diana's iconic style is being celebrated in a brand new exhibition, Royal Style In Making, at Kensington Palace this summer. Featuring some of her most recognisable ensembles – including her wedding dress to the so-called "revenge dress" – the exhibition explores the relationship between the royal and the designers who dressed her. But one of the most intimate (and rather sweet) details to be revealed is the real reason Princess Diana didn't wear hats around children.
Speaking about what later became known as her "caring dress" – a blue floral, David Sassoon design, regularly worn by Diana on visits to hospitals or to meet children – Kensington Palace curator Claudia Acott Williams explained the adorable reason Diana never wore the ensemble's matching hat.
"You can't cuddle a child in a hat," Acott Williams explained to MSN. Adding that the Princess often wore "big costume jewellery because she would pick children up and they would play with it."
The late Princess Of Wales wore the floral frock on various official engagements, including a children's hostel in Sao Paolo, Brazil, in 1998, and London's The Lighthouse Project for AIDS victims in 1992.
Princess Diana's considerate outfit choices are said to illustrate the late princess' warmth. Matthew Storey, curator at the Historic Royal Palaces, said: "it really illustrates just how carefully she considered the people she would meet when selecting outfits for her many public engagements".
Acott Williams added: "She understood how what you were wearing could really convey warmth ... it could reinforce hierarchy or it could undermine hierarchy and create more of a relationship. This brightly coloured floral was a really important piece in her working wardrobe."
The exhibition, which will run until January 2022, is also showing other gowns worn by the late Princess, Queen Elizabeth, the Queen Mother, and Princess Margaret, as well as "never-before-seen items" from the archives of some of the most celebrated royal couturiers of the 20th century.