I Sent Vanessa Hudgens And Madison Beer My DNA. No Regrets.
The celebrity duo partnered with a dermatologist to make skin care that's tailored to your genetics.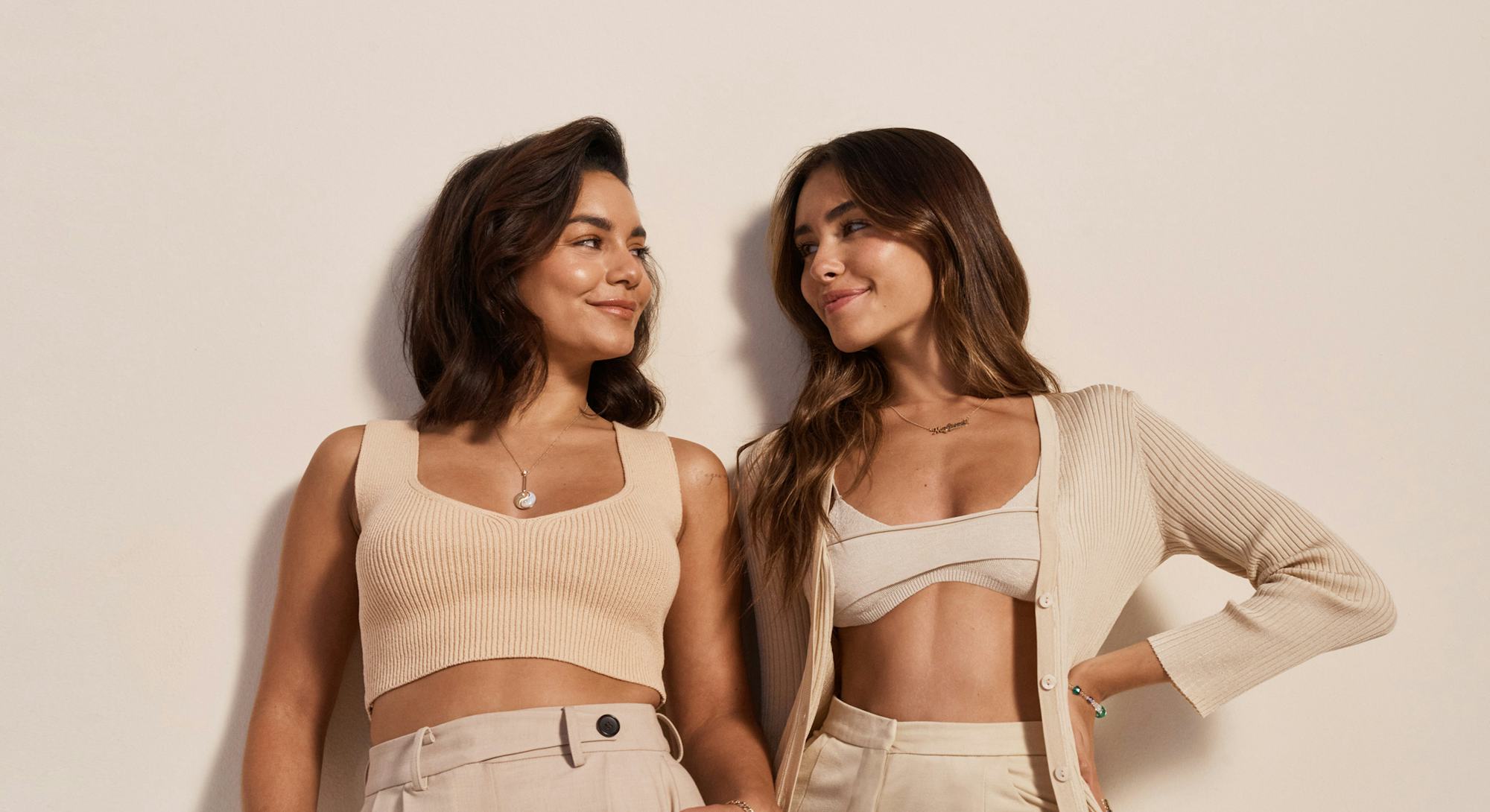 Vanessa Hudgens and Madison Beer are, in some ways, each other's opposite. Hudgens is bubbly and prone to laugh, while Beer is quiet and more reserved. They don't finish each other's sentences, though Hudgens frequently ends hers with, "What about you, Mad?" They're not best friends, nor, in this Zoom to promote their new skin care line, are they trying to present as such. Hudgens, the 32-year-old singer-actor who catapulted to fame with Disney's High School Musical in the early 2000s, and Beer, the 22-year-old discovered by Justin Bieber, are open about the fact that the only reason they met years ago was because Beer was friends with Hudgens' younger sister, Stella. So you could be forgiven if the prospect of these two beautiful women with a combined 60 million followers starting a skin care brand leaves you a little skeptical.
But both women have struggled with acne and to find products that worked for them. Hudgens' perfect teenage skin "freaked out" in her early 20s, she says. "I was on a mission to find my secret recipe that was going to cure me of this, but I was just so overwhelmed by everything out there." A bout of painful, inflamed cystic acne left Beer too insecure to leave her house and prompted her self-education in skin care. She found a routine that seemed to help, until it stopped working altogether. "I was like, wait, I thought I figured this out. I thought that I solved the problem, that I figured out topically what I should be and shouldn't be putting on my skin," Beer says. "But it turns out, that's not everything."
Now, as anyone who has been let down by a cult product with a thousand five-star reviews can tell you, "everything" is the way ingredients interact with the particulars of our individual complexions. Hudgens and Beer's new line, called Know Beauty, promises to personalize skin care using a quiz and DNA test designed by Dr. Karen Kagha, M.D., an L.A.-based dermatologist who is Know's third co-founder and chief medical officer. "[Vanessa and I] are still learning, whereas she has actual degrees," Beer says. So, yes, it's another celebrity product launch in the saturated world of skin care. But the personalization aspect, coupled with the DNA test and Kagha's backing, was enough for me to overcome my celebrity beauty brand fatigue. Plus, part of me was just curious to see what skin care secrets my genes could tell.
First I took the Know skin diagnostic test, which asked about skin-influencing environmental and lifestyle factors like climate, air quality, diet, and stress. A few days later, the company sent a kit with a DNA test containing three cotton swabs and instructions to swab the inside of my mouth. The results were sent to the Know Beauty lab, where they were analyzed for seven traits: collagen quality, skin elasticity, glycation (fine lines and wrinkles), UV protection, hyperpigmentation, antioxidant protection, and skin sensitivity. If you're surprised by the fact that genes play a part in all of these categories, well, now you know.
"The skin diagnostic test was really created to get a snapshot of where your skin is today, whereas the DNA test is to educate users about things that their skin is more prone to experience or areas that they should really focus on in preparation for down the road," Kagha told me. "While you may not visibly express those signs yet, your genes tell us what to expect."
After my DNA was analyzed by the lab (the brand promises that it will not share the results of your DNA test with any outside companies or use it for other purposes), I received an email breaking down the results, along with product recommendations priced from $20 to $30. The DNA test costs $95 but only needs to be taken once, unlike a competitor that offers personalized skin care based on skin's changing pH, oil, and moisture levels.
The results of my skin diagnostic quiz didn't surprise me ("based on your results, it seems like you enjoy spending a lot of time outdoors," followed by the recommendation to use more SPF), but I was blown away by the specificity of my DNA test. I found out that I have a "high risk" in the skin elasticity category because I tested "non-ideal" for the 22Q12.3 gene, which "helps activate factors that damage collagen quality and structure" (something for my already skin-obsessed brain to ponder at night), and was recommended six products, including a clarifying cleanser and a collagen mask.
Know is launching nationwide on June 22 with 17 products to start. Hudgens currently swears by the brand's Bubbling Oxygen Mask, which she describes as a skin care pick-me-up that "feels like a delightful treat"; Beer likes the CBD-infused Calming Moisturizer, which soothes irritation and comes in a dropper that "is great for lazy people like me." According to Kagha, there are more than 100 product combinations recommended based on individual test results. Their goal, she says, is to educate people while simplifying the skin care process. "There's so much information out there that people don't really know what to do with," she says. Still, the DNA test isn't a substitute for seeing a doctor if you need one. "One of our goals is to increase accessibility for people," Kagha says, "but we're not [a solution] for the person that has really severe cystic acne that would never improve with topicals anyway."
Beer hopes the line will give people the answers she was looking for during her "crippling" period of cystic acne. But learning to love yourself and live with imperfection is part of the whole skin care journey, she muses. "In hindsight, [my acne] made me develop a better relationship with myself because it helped me take some of the pressure off of my exterior. I was just kind of like, 'OK, whatever, you have acne. It is what it is. It doesn't define you. It's all good.'"
"Like, I'm human," Hudgens chimes in.
"Yeah, I'm human," Beer says.