5 Vegan Puffer Jackets That Are Both Chic & Sustainable
Ahead, shop down-free, recycled options.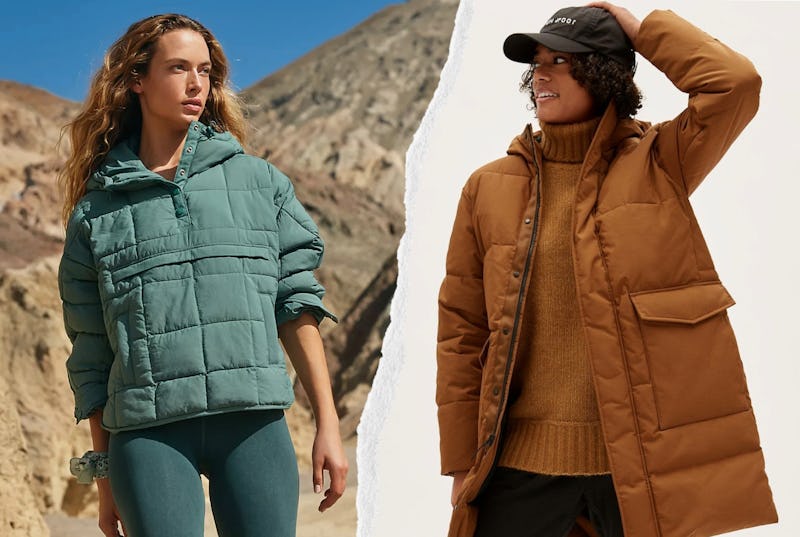 Free People Movement/Everlane
As a full-time fashion editor, my apartment is jam-packed with product — high heels and handbags and crop tops and totes, necklaces, fanny packs, and hiking boots. I have a shoe wall dedicated to my seasonal collection and bins holding the rest stuffed beneath my bed. My dressers are overloaded and my coat closet barely shuts. What I'm trying to say is: I have a lot of crap.
Because of this, sustainability is always on my mind. I can't help thinking about how much of the clothing I test for my job will end up in a landfill (though, hopefully, not for several decades). That's why I try my best to consume recycled or biodegradable options when possible — and then recommend them to my readers. This is one of those times.
Puffer coats were once lined with down feathers, but in 2022, they're primarily insulated with manmade, petroleum-based fibers. Though these down alternatives don't harm animals, they are harmful to the environment. That being said, there are plenty of sustainable, 'vegan' options available.
Household brands like Aritzia, Nike, Free People, Everlane, and more (like, a lot more) all stuff their coats with polymer from Primaloft, a textile company that produces both 100% recycled and partially-biodegradable filler. Primaloft is so environmentally-friendly, in fact, that Nike prints the brand name right on their jackets, so customers know on sight that the product was made sustainably.
If you're shopping for a coat, keep an eye out for the Primaloft name. It'll be listed on the sleeve or on the hang tag. The company's red triangle logo can also be seen, often on a zipper or seam. And if you don't want to do any of that, just keep scrolling, because I've included a few editor-approved options ahead.
We may receive a portion of sales if you purchase a product through a link in this article.