The Best Vote Merch To Shop, From Michelle's Necklace To Jill's Boots
Wear your civic duty on your sleeve.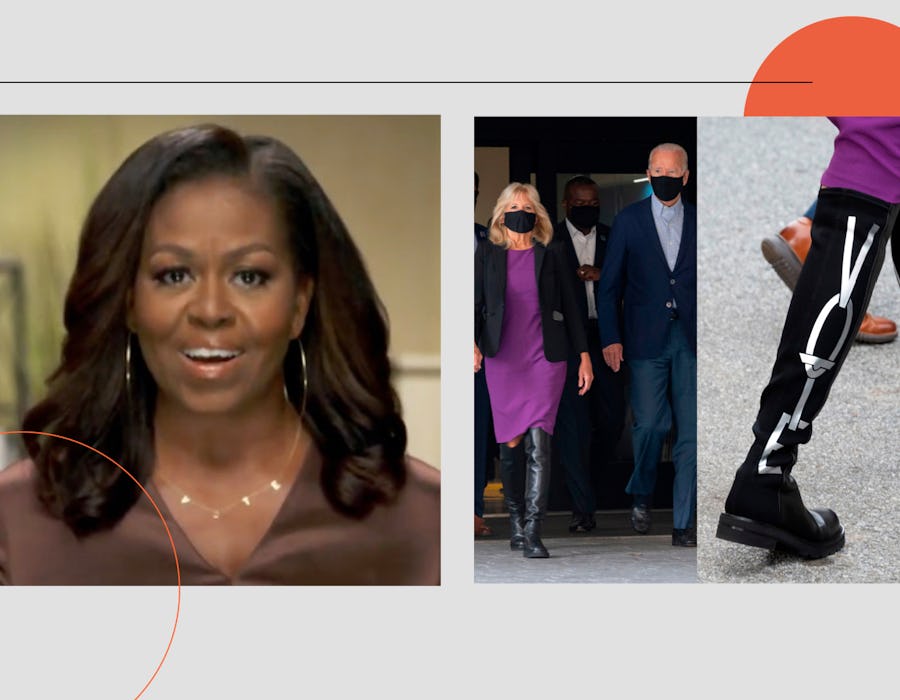 Getty Images
Election Day is on November 3, 2020, and it has never been more important to get out there and vote. Whether by absentee ballot or in-person, it's crucial to make your voice heard at the voting booth. And to encourage citizens to cast their ballots, some of your favorite brands are creating vote merch. What's more, through an assortment of fashion items ranging from T-shirts to tote bags, jewelry to accessories, these designers are donating proceeds to non-profits and voting initiatives.
There's Tory Burch's colorful T-shirt created in collaboration with Eighteen x 18 and Lingua Franca's collection which gives back to higher Heights Leadership Fund. If you're looking for accessories, you'll love Clare V's French-inspired voter tote that will donate proceeds to When We All Vote or the ByChari 'Vote' necklace that Michelle Obama famously wore at the Democratic National Convention. Looking to add to your footwear collection? Pick up the Stuart Weitzman boots that Jill Biden wore, or a pair of Vote socks from Presi.
Shop the below vote merch below to wear your civic duty on your sleeve.
We only include products that have been independently selected by Bustle's editorial team. However, we may receive a portion of sales if you purchase a product through a link in this article.
Are you ready for Election Day? Start by registering to vote and making a plan for Nov. 3.