What We Know About Cardi B's Beauty Line Coming To The UK
The WAP rapper has filed a trademark for Bardi Beauty.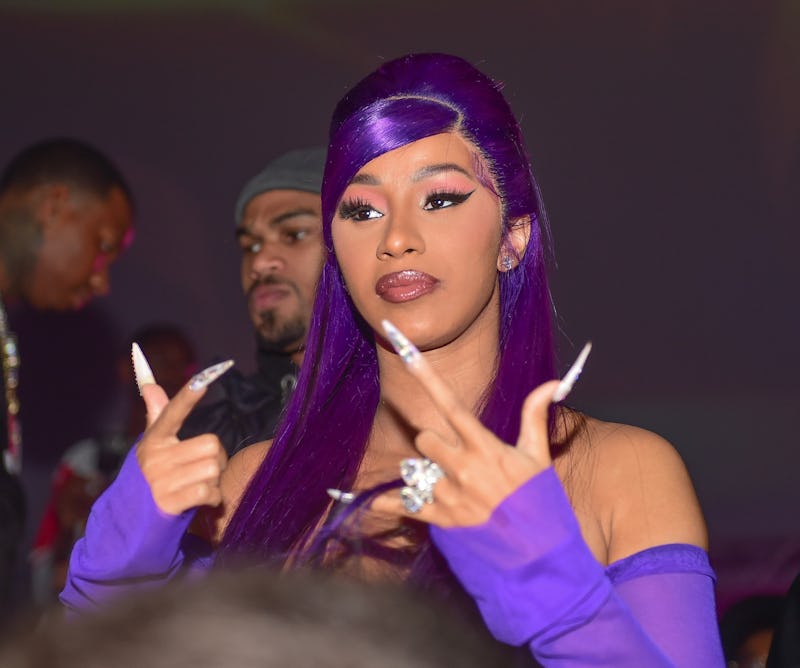 Prince Williams/WireImage/Getty Images
Following in the footsteps of fellow musicians such as Rihanna, Lady Gaga, Selena Gomez, and more, Cardi B has just filed a trademark for what sounds like an upcoming beauty brand. So when will Cardi B's beauty line be out in the UK, and what else do we know so far?
Well, TBH, not a whole lot. What we are aware of is that Cardi trademarked 'Bardi Beauty' on April 16, 2021, as first reported by TMZ. The trademark appears to cover cosmetics, fragrances, haircare, non-skincare and nails, meaning we can expect a pretty wide-reaching range of products from the WAP rapper.
We also know that, last month, the rapper announced an upcoming beauty venture when she wrote on Instagram: "This year I will be coming out with a hairline that I been working on at home for my hair and my daughters."
She continued: "I think is time for people to educate themselves on nationality, race and ethnicity. Being Hispanic/Latina don't make your hair long, don't make your skin light or don't make your face features slim specially Latin countries from the Caribbean islands. Dna have something to do with your hair not your nationality but guess what you can always maintain your hair ....and one more things not everyone that speaks Spanish is Mexican."
Unfortunately, not even U.S. markets have much to go by currently, meaning if and when the range will come to the UK is anybody's guess at this point. However, one thing to keep in mind is that the Fenty Skin trademark was first requested in March 2019 and the range launched roughly 17 months later. This of course doesn't mean anything specifically, as Bardi Beauty could take much longer or come even sooner, but it offers some guidance.