Drew Barrymore's Flower Hair Tools Have Officially Launched In The UK
Here's where to find them.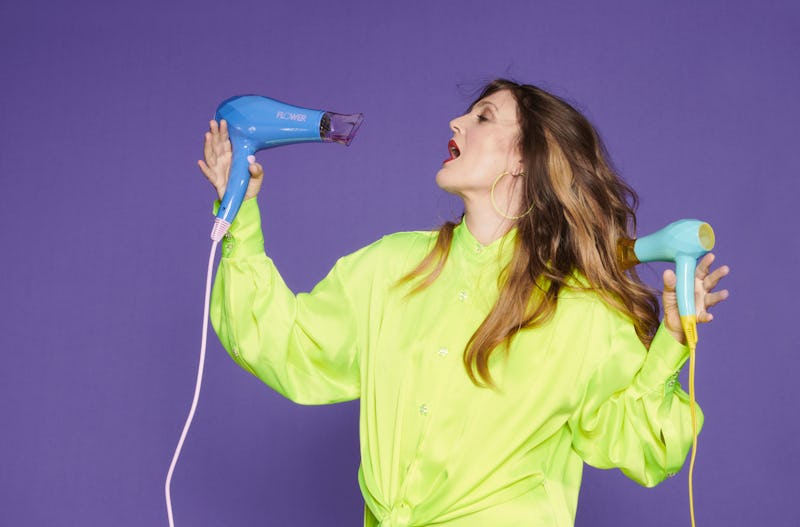 Flower
Drew Barrymore launched her affordable makeup range Flower Beauty into UK markets back in 2019. The collection was highly anticipated and one product even racked up a waiting list of over 4,000 people. Ever since, her products have been flying off the shelves, so it may come as no surprise that Flower has expanded into the world of hair. Here's what you need to know about the launch, including where to buy Drew Barrymore Flower tools in the UK.
The new hair tool line consists of six items, all of which are designed to give you glorious locks from home for an affordable price point. There's the Heated Brush, Ionic Dryer, and Travel Dryer for hair drying, along with the Styling Iron, Rotating Iron, and Volumizing Styler for all your post-drying styling needs.
All of the tools are brightly coloured and vibrantly packaged, with the intention of bringing joy to your day and a smile to your face. What's more, the products are actually affordable, with prices starting at £39.99, and capping at £79.99.
Announcing the launch, Barrymore said: "I have no words to describe how proud I am to share Flower Hair Tools with you. Hair has always been such an important part of my beauty routine and creating the perfect tools for you has been one of my favourite experiences."
She continued: "These tools are designed to help you celebrate what makes you uniquely you, whenever and however you want. From our Travel Dryer to our Ceramic Styling Iron, we thoughtfully chose bright, cheerful colour pairings and cords to bring joy to your bathroom counter."
If you're in the market for a new dryer, straightener or other styling tool, look no further than your local Superdrug stores, where the tools will be stocked. They are also available at Boots.com meaning you can easily order them online with zero faff.
Shop all six of the new products now at boots.com