15 Super Chic Nail Colors You'll Want To Wear All Winter Long
Including jewel tones and icy blue.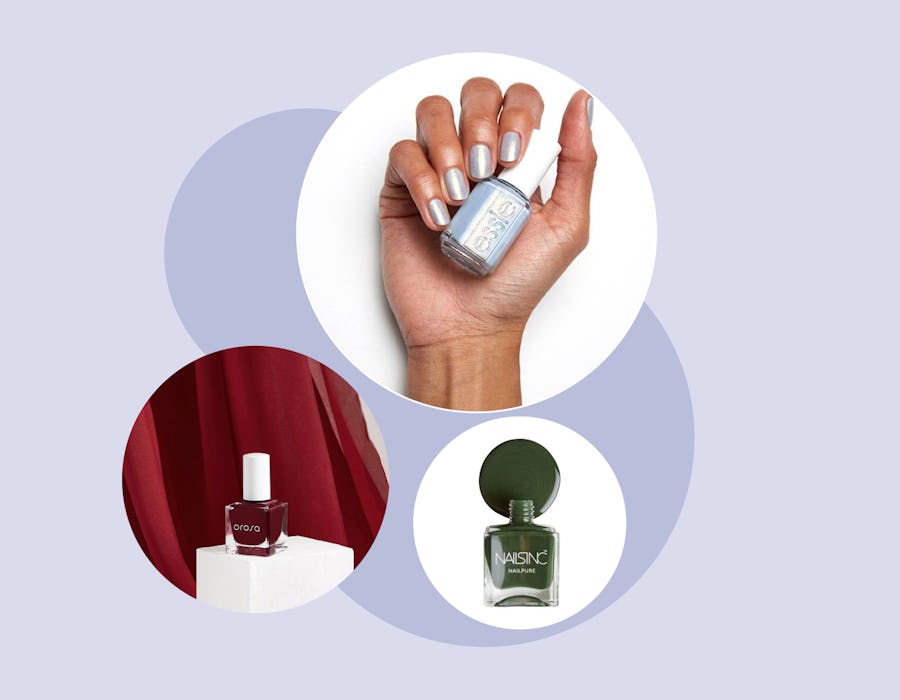 Courtesy of Essie, Orosa, & NailsInc
You change your clothes. You can dye your hair. But the easiest change to make from season to season is via your nails. These 18 winter nail polish colors serve as on-trend inspo for switching up your look as the skies morph from blue to gray.
The beauty of nail polish is that you can literally change it every day if you wanted to. You can rock a bold red during festive December days, then turn to a deep eggplant for the more frigid January before switching to soft pinks for Valentine's Day. Really, there's no limit to what you can do with your mani style, and a simple, single-color look is doable for even the most novice nail painters. (That said, is anyone actually good at painting with their non-dominant hand?)
If you're convinced that you need to restock your polish collection for winter, Bustle spoke with experts Rachel James, founder of Pear Nova, Brittney Boyce, founder of NailsofLA and consulting nail artist for ORLY, celebrity nail artist Elle, founder and CEO of Orosa Beauty Carolyn Chen, and more to find out just which winter nail polish colors will be must-haves this season.
We only include products that have been independently selected by Bustle's editorial team. However, we may receive a portion of sales if you purchase a product through a link in this article.