Kamala Harris' Pearls Have Become A Symbol Of Solidarity
So many inauguration attendees wore them.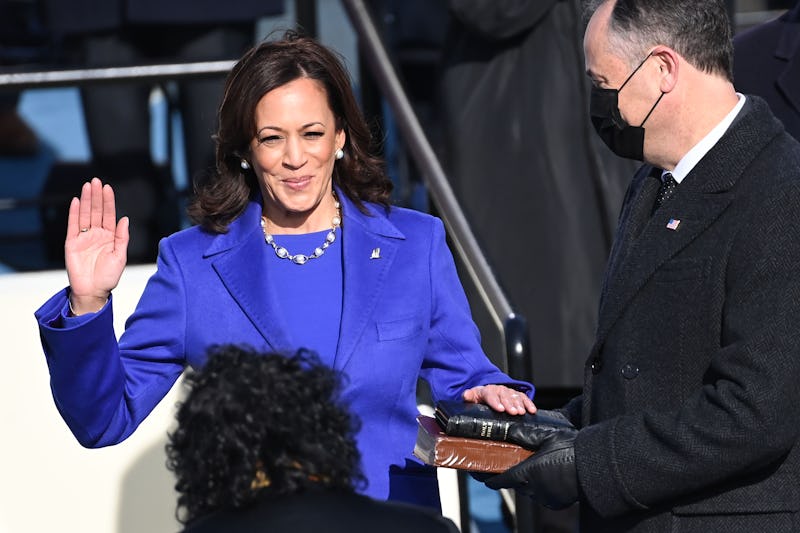 SAUL LOEB/AFP/Getty Images
As Kamala Harris got sworn in as vice president, she donned a pearl necklace designed by Puerto Rican jeweler Wilfredo Rosado. The opalescent gemstone is the politician's signature accessory, and it's grown to become a symbol of support for the nation's first female vice president — which is why women are wearing pearls to celebrate Harris on Inauguration Day.
Harris' pearls first appeared at her graduation from Howard University as a symbol of her sorority Alpha Kappa Alpha. She has continued wearing them, even in different iterations — for example, Harris donned black pearls during her congressional swearing in ceremony. And women have taken notice. An entire Facebook group called "Wear Pearls on Jan 20th, 2021" — which currently has over 456 thousand members — was created to encourage supporters to accessorize in solidarity of Harris' historical ascension to the vice presidency on Inauguration Day, and the movement has been on full display during the momentous occasion.
Today, social media feeds are filled with people wearing their own strands (as well as donning the vice president's other fashion staple, Chuck Taylors). But it isn't just citizens across the country: These five politicians and celebrities also wore pearls on Jan. 20 to support Vice President Harris.