Should You Dress Up To WFH? Here's What Experts Say
The answer will surprise you.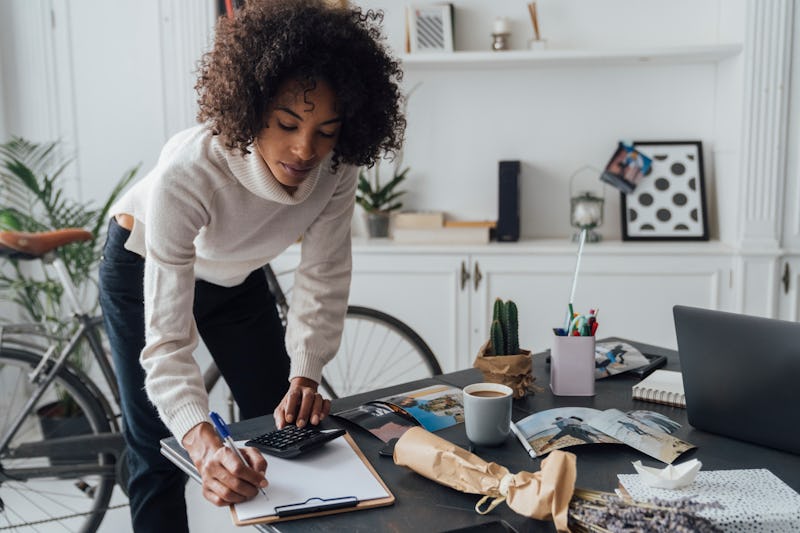 Westend61/Westend61/Getty Images
So, you've been relegated to work from home status for the foreseeable future. On the upside, your commute has been effectively reduced to the number of seconds it takes to go from the bed to the couch. The downside? You're finding it terribly hard to gain the wherewithal to change out of your go-to PJs and pull yourself out from under your fave weighted blanket — and you're wondering: do you even have to? Well, comfy as they are, the rest of your wardrobe is calling. And there's a psychological reason why it's good to get dressed, even if you'll be in your home office (or on the couch) all day. Fortunately, there's no shortage of expert advice on how to put together work from home outfits. Read on for how to get the most out of your wardrobe if you're working remotely.
Best Work From Home Outfits
Your first instinct may be to jump for joy at the opportunity to work in your sweats, but reaching for too casual of a wardrobe can be a slippery slope. It's totally OK to rock your monochrome sweatsuit every once in a while, but one of the best ways to prevent bad work from home habits is to set a dress code for yourself.
"It's very crucial," Dawnn Karen, a fashion psychologist and author of Dress Your Best Life, tells Bustle. "I have a theory in the fashion psychology field called 'mood enhancement dress.' Mood enhancement dress is dressing to optimize your mood. So when you desire to get out of a funk, dressing up or practicing mood enhancement dress would be proven most beneficial."
Karen describes the practice as wearing items that speak to you on a personal level and that can help boost positivity. That could translate to reaching for your favorite blouse, your favorite color, or anything else that has a special, significant meaning to you.
Should You Dress Up For Work If You're Working From Home?
Different pieces of clothing can impact us in various ways, and those effects ultimately come down to two factors: how we look wearing the clothes and what the clothes symbolize for us.
"I think it's easy [to stay in our PJs all day] because we associate each place and each role in our lives with a uniform," Karenn says. "[Depending on] the role we are playing when we're home — perhaps you're a mother, perhaps you're a student — we know that home is associated with the uniform of PJs. It's typically hard for us to feel productive in PJs because the uniform of PJs is not associated with productivity."
She recommends finding a compromise between getting ultra dressy and being too comfortable when putting together your work from home wardrobe.
"You don't have to wear a suit and tie in your home, but perhaps wearing a T-shirt and a blazer," Karen suggests. "It's okay to wear the same outfit that you wore the day before, especially if you were only in it for just a few hours. This is just to lessen decision fatigue. I would also say take the time to wear an outfit that you always wanted to wear to work, but perhaps due to your work restrictions, you're not allowed to wear that particular outfit. Have fun and play in your closet during this time away from work."
Which Pieces Are Most Essential For Your WFH Wardrobe?
"I'm always more productive when I feel dressed," says Erin Rittling, senior manager of Aerie styling. "Even if I am wearing sweatpants, I go ahead and wear the matching set. You can be comfortable and feel good about your look at the same time."
If you're going to stock up on any new apparel, now is the time to bulk up your collection of basics. They'll be your go-to in the weeks ahead of endless FaceTimes, Hangouts, and Zooms.
"You can layer a cute cardigan, slip dress, or blazer on top of a boyfriend tee," Rittling explains. "Basics are super easy to dress up or down, and you can wear them over and over again in new ways. If you are looking for something chill, look to an easy slip dress or romper — one and done, and you look put together."
Set Boundaries Through Your Work From Home Wardrobe
Once you have your work from home wardrobe all ready, it's time to set some boundaries in your life. One of the most important boundaries you can set — other than with your friends and family — is a start and end time to your day.
When you work from home, you may find yourself happier, but you also may find yourself working longer hours. Don't let your work spill into what is normally your own personal time to relax and unwind. Creating these boundaries can help prevent remote work burnout.
So, when that time hits at the end of the day, wrap up what you're doing, change out of your work clothes, and put on those comfy PJs or other leisurewear. Doing this will also train your body to know when it can go into relaxation mode.
Ahead, find 20 must-haves for a work-from-home wardrobe and exactly how to wear them. And lucky for you: they're all available online, with no in-store shopping required.
We only include products that have been independently selected by Bustle's editorial team. However, we may receive a portion of sales if you purchase a product through a link in this article.
This article was originally published on