Your Complete Guide To Wig Types, Courtesy Of Naomi Campbell's Hair Stylist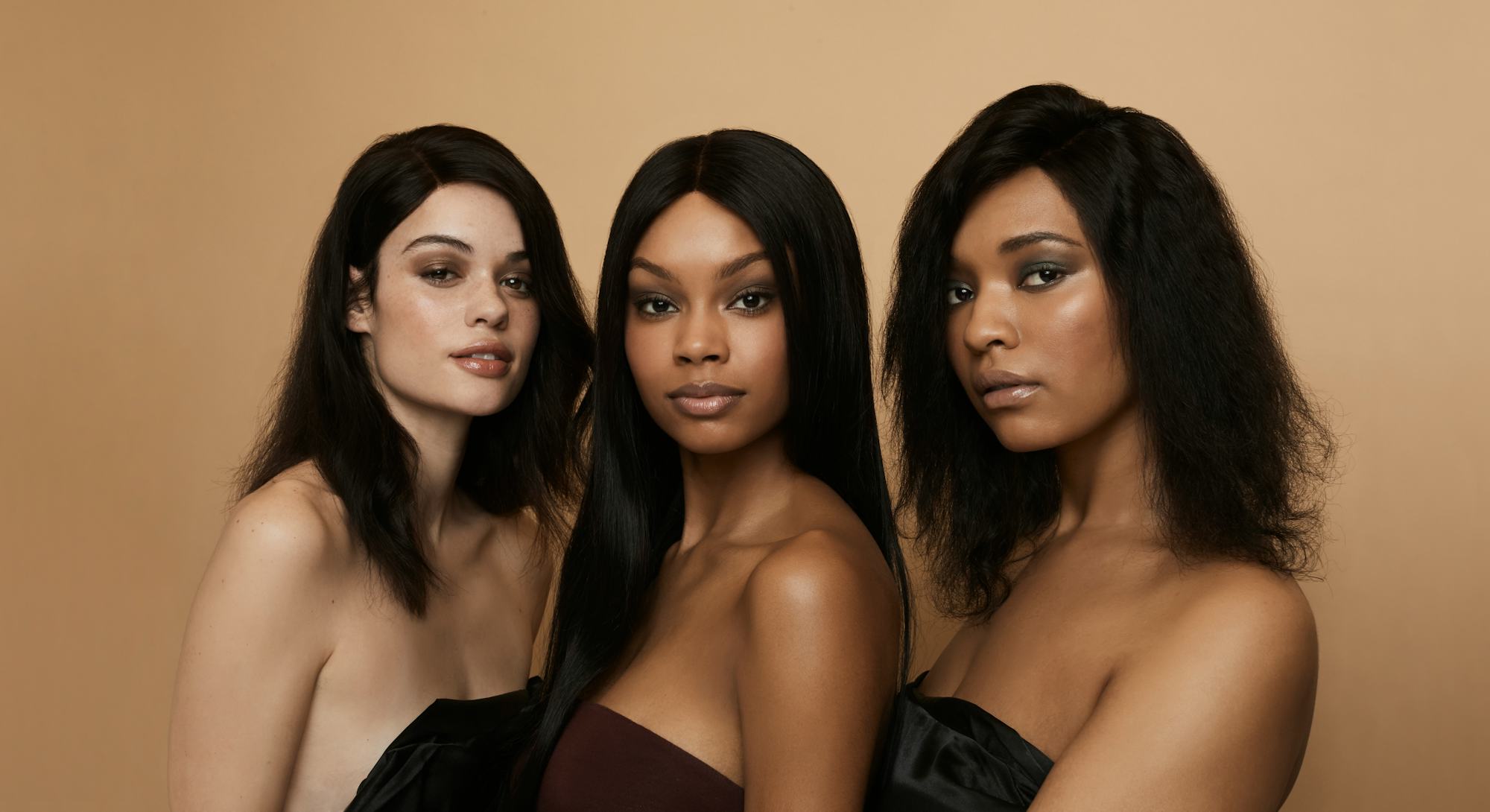 Wigs, lace fronts, closures, 360s, weaves, U-parts, vixen weaves, tape, glue, sew-ins, clips, bundles, wefts — OH MY. This is just the basic vocabulary associated with the various types of hair extensions. Feeling overwhelmed? Well, buckle up, because this is just the beginning.
I've been getting weaves and talking about them within the black community for years, but it only became more mainstream and openly discussed recently. This is at least partially in thanks to Chris Rock's 2009 documentary Good Hair and the birth of social media. The goal was always have your fake hair look as natural as possible, which used to mean buying the best quality (and therefore, expensive) hair to avoid tangling and matting and making sure your natural hair blended well with your purchased hair.
These days, the industry has evolved to make fake hair more accessible. Wig makers use lace to mimic the appearance of the scalp for the most flawless and undetectable appearance. Plus, it's easier to get a wig just because you want to try out a new color or style. Thinking about getting a blonde lob? Boom, done. Want a pixie cut for a day? Boom, done. Maybe you'd like to try a 30-inch ponytail that you have to throw over your shoulder to put on pants? Boom, done. It's that easy now. It's that seamless now.
In 2018, you can't even tell if people actually changed up their hair game or if they are just being fake AF and sporting a wig. Since the possibilities are endless, it's important to be armed with the right tools and information before you go out and purchase a wig. Like what actually is a lace front? What should you use to secure your wig? What is the best value overall for any type of wig unit? Feeling overwhelmed? We got you.
Ro Morgan, renowned stylist and extension specialist, gave Bustle the rundown on all things wigs. He is the owner of his own hair studio and line of virgin hair extensions and, with clients like Naomi Campbell, we trusted him to provide us with a complete and foolproof guide to help you navigate the wig world.
Fresh off a 12-plus-hour flight, Morgan rolls into the Bustle offices on a Friday morning, armed with a suitcase full of hair pieces. He apologizes for not being more with it because his flight was delayed. He just got in a few hours prior to our 9 a.m. call time after spending the past week in Lagos, Nigeria, for Africa Fashion Week with Campbell. Casual.
Despite his exhaustion from travel and work, Morgan seems to be completely unaffected by his intercontinental trip and ready to take on the task of giving our three models each a different wig treatment. While he's unpacking the essentials, I ask him what the most common misconception that people have about wigs. His response is that people automatically assume that they will look "wiggy," so customization and application are the most important factors in making your pieces look a natural as possible. Below, Morgan breaks down the three most common types of wigs and their individual benefits.
Full Wig
Joshua Pestka/Bustle
Joshua Pestka/Bustle
Joshua Pestka/Bustle
Full wigs are by far the most popular of all wig units and offer the most protection while still granting access to your natural hair since they're easy to take on and off. By allowing wearers to change their hair style, color, and length on any given day without suffering the damaging consequences those things can cause if you actually do them to your natural hair, wigs give people a freedom that other hair pieces lack. In addition to protecting your natural hair from damage, they can also be taken off and removed easily as one whole unit (as opposed to weaves, which they have to be removed track by track), meaning you can still treat and care for your own hair.
Wigs can be made entirely out of lace, made using a frontal and bundles, made using a closure and bundles, or they can be synthetic. This is definitely an investment piece: Morgan mentions that a good wig can cost anywhere from $400 to $5,000. The good thing is that with impeccable maintenance (regular shampooing and conditioning, limited heat styling, and proper storage when it is not being worn) the wig will last a year, at the very least. However, Morgan recommends owning a lot of different wigs and hair pieces help to prolong the lifespan of each wig, which can add to the costliness.
Not in the financial place to dish out a couple grand on wigs? Don't stress! Synthetic wigs are also Morgan-approved. With some customizing and a trusted stylists, it's possible to get a good wig made out of synthetic hair and will definitely be less than $500. The drama you get from this 30-inch straight wig makes saving up to buy a similar piece worth it for a lot of people.
Lace Frontal
Joshua Pestka/Bustle
Joshua Pestka/Bustle
Joshua Pestka/Bustle
A lace frontal is probably one of the most well-known hair pieces you can get. Everyone from Cardi B to Nicki Minaj has mentioned their lace fronts in some capacity. The base is made entirely out of lace, designed to look like the wearer's scalp, so when it's applied, it will appear that the hair from the lace frontal is actually the hair growing from your head. It is worn on your hairline, covering it entirely from ear to ear. It can either be sew-in, applied with tape, or glued down (be careful: Morgan says the number one thing people mess up when it comes to wig units is getting glue in their real hair).
Lace fronts are made with the intent to protect your natural hair while still providing a flawless look to your wig unit. Typically, people who choose to get a lace frontal will have the rest of their hair weaved, since the frontal only covers, well, the front section of your hair. Morgan says that a lace front is the most versatile piece you can buy, because it can be parted anywhere when it is applied properly. A deep side part, a middle part, and pulled back into a bun or ponytail are all styles that are easily achievable with a lace front. Morgan also notes that with proper care (regular shampooing and conditioning and limited heat styling), a lace front can last about a year. The price isn't steep as a wig full, but they will set you back anywhere from $100 to $220 depending on length, color, and style.
Closures
Joshua Pestka/Bustle
Joshua Pestka/Bustle
Joshua Pestka/Bustle
Last but not least, we have a closure. A closure is also made out of lace but differs from a frontal in that it only covers a very specific section of your hair instead of the entire hairline. They are typically around 4-by-4 inches and shaped like a horseshoe. Closures are meant to be sewn in after a full weave install or a weave install with minimal hair left out so it is able to blend with the closure. The goal is to always have the closure look like the hair is growing directly from your scalp and that can be achieved with or without a little bit of your natural hair exposed.
Although a closure is a little more limiting stylistically than the other pieces because the coverage area is smaller, Morgan says that a closure is the easiest piece to style. If you have naturally curly hair, this is the one for you! Morgan says blending a closure and naturally curly hair is the easiest and can look the most natural. Plus, it's great for your wallets: Closures are the cheapest of all wig types, and generally cost between $80 and $180. Hey, good hair will always cost a little something!
Hair: Ro Morgan
Makeup: Joy Fennell using Chanel