11 Valentine's Day Date Ideas That Won't Break The Bank
It really is the thought that counts.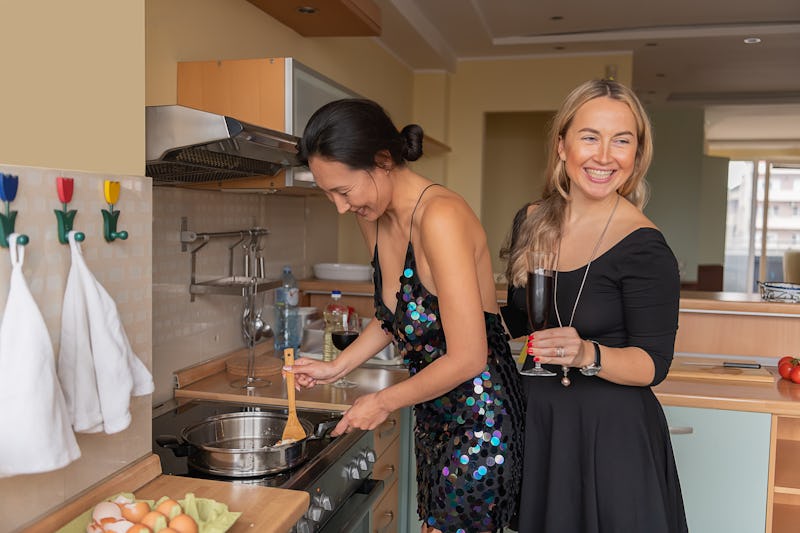 Professional Studio/E+/Getty Images
When you're on a budget, trying to plan a romantic, creative date with your partner can be super stressful. But instead of panicking and lamenting all the expensive things you can't afford, go ahead and focus on the many cheap Valentine's Day date ideas you can afford — because it's totally possible to sweep your partner off their feet without demolishing your bank account balance in the process.
Between pricy presents and fancy dinners, "too many people get caught up in the ritual and the ceremony and often forget the whole point of the holiday in the first place: to spend time with the one you love and make them feel loved," Caleb Backe, a health and wellness expert, tells Bustle. "And this can be done for basically no cost whatsoever."
It might sound cheesy, but it really is the thought that counts. If you put some effort into planning a creative Valentine's Day date, it'll mean just as much — if not more — than any shiny gift or dozen roses ever could. With that in mind, here are 11 ideas for cheap, romantic dates that will help you both focus on what really matters: having a good time and nurturing your connection.
Sources:
Caleb Backe, health and wellness expert
Amy Reiley, author
Susan Trombetti, matchmaker
Justin Lavelle, dating expert
This article was originally published on