7 Signs Your Body Can't Tolerate Beer
For many people, cider, wine, or water will be a better bet.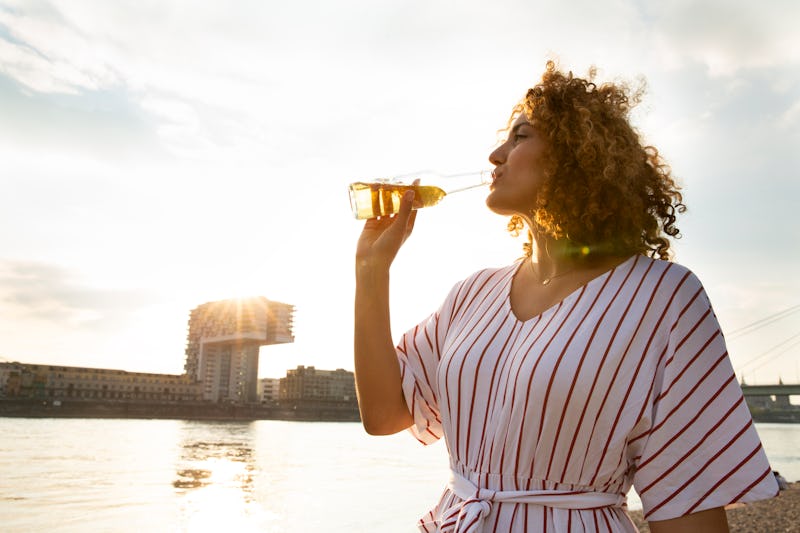 Westend61/Westend61/Getty Images
While the morning after a night out might leave anyone feeling like their body and beer just don't mix, some people literally cannot tolerate beer, or at least certain ingredients in it. If a bottle of brew and your body don't jive, drinking it can be disruptive for your health, not just your Sunday morning plans, unfortunately. Meaning, it's not the kind of thing you want to just weather.
According to nutritional counselor and advanced practitioner Elizabeth Trattner, A.P., L.Ac., N.C.C.A.O.M, one way to find out if your body can tolerate beer is if you immediately bloat and feel like you have to open your pants after drinking it. If that sounds like you, then it may be time to investigate if you should give up beer and try something else at your next happy hour. Because having a drink, or two, shouldn't coincide with miserable side effects.
Technically, you may be able to consume grains, hops, and yeast in other forms — like breads — but once these ingredients are brewed and consumed as alcohol, properties change and so can your reaction. You don't have to have a specific allergy to an ingredient in beer to be sensitive to beer itself.
Extreme bloating, discomfort, or upset stomach are just some of the more obvious warning signs that you have a beer allergy. But there are many symptoms that can present themselves in the case of an intolerance. It's good to know what to look out for so you can get to know your body better, and update your future bar order accordingly.
If you're unsure if it's beer that's causing these reactions, try avoiding alcohol, switching to gluten free drinks like cider or wine, or try a gluten-free beer. If the symptoms still persist, your doctor can help you figure out if it's an intolerance, an allergy, or something else altogether. According to the Mayo Clinic, blood tests can help to more accurately pin-point what's going on in your body and see if you're producing allergy antibodies when beer is in your system.
Sources:
Elizabeth Trattner, A.P., L.Ac., N.C.C.A.O.M.
Will Cole, I.F.M.C.P., D.N.M.
This article was originally published on