Experts Explain 8 Ways Coronavirus *Doesn't* Spread
You can stop Lysoling your packages now.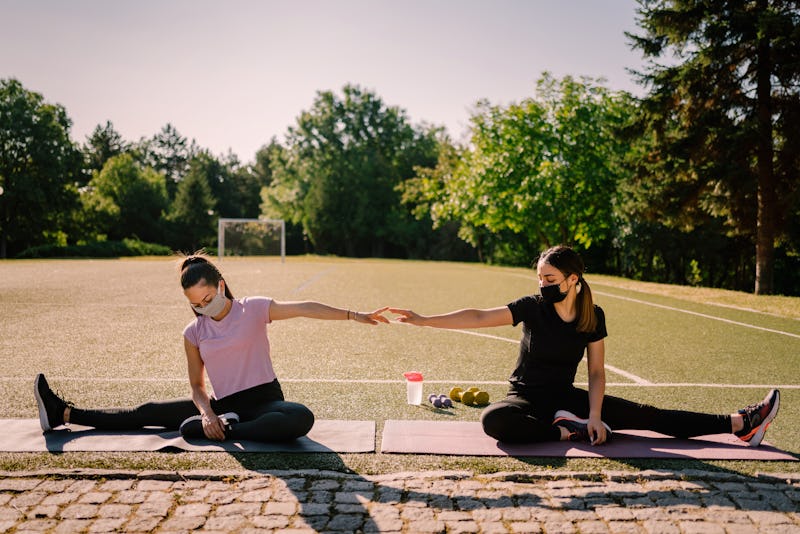 YorVen/E+/Getty Images
The coronavirus can seem like it's sneaking up on you: on your car door handle, on your PostMates delivery, on the hands of that permanently sticky toddler who lives next door. But in reality, it's more like it's hiding in plain sight, in respiratory droplets (aka what comes out when someone coughs, sneezes, or talks). When it comes to how COVID-19 spreads, there are a lot of myths and half-truths that need to be debunked.
"There is still much unknown about the duration and methods of transmission," Dr. Robert Mordkin, M.D., U.S. medical director for medical testing organization LetsGetChecked, tells Bustle. "However, it is clear that adhering to current guidelines works to decrease spread." Social distancing, good hand hygiene, and face masks work. Avoiding mosquitoes and 5G do not.
Scientists know that SARS-CoV-2, the virus that causes COVID-19, is mostly transmitted through breath, coughing, and sneezing, even in people who have no symptoms. It's not transmitted by infected rats (like the bubonic plague), mosquitoes (like malaria), badly preserved food (like food poisoning bugs), or 5G networks (like nothing ever). Go wash your hands, then let's get into how the SARS-CoV-2 bug does and does not move through the world.
Experts:
Dr. Julia Blank, M.D.
Dr. Robert Mordkin, M.D.
Dr. John Sellick, D.O.
Dr. Neal Shipley, M.D.
Studies cited:
Ahmed, W., Vidal-Alaball, J., Downing, J., López Seguí, F. (2020) COVID-19 and the 5G Conspiracy Theory: Social Network Analysis of Twitter Data. J Med Internet Res 2020;22(5):e19458
Goldman E. (2020). Exaggerated risk of transmission of COVID-19 by fomites. The Lancet. Infectious diseases, 20(8), 892–893. https://doi.org/10.1016/S1473-3099(20)30561-2
Lavezzo, E., Franchin, E., Ciavarella, C. et al. (2020) Suppression of a SARS-CoV-2 outbreak in the Italian municipality of Vo'. Nature. https://doi.org/10.1038/s41586-020-2488-1
Sahoo, S., Padhy, S. K., Ipsita, J., Mehra, A., & Grover, S. (2020). Demystifying the myths about COVID-19 infection and its societal importance. Asian journal of psychiatry, 54, 102244. Advance online publication. https://doi.org/10.1016/j.ajp.2020.102244
van Doremalen, N., Bushmaker, T., Morris, D. H., Holbrook, M. G., Gamble, A., Williamson, B. N., Tamin, A., Harcourt, J. L., Thornburg, N. J., Gerber, S. I., Lloyd-Smith, J. O., de Wit, E., & Munster, V. J. (2020). Aerosol and Surface Stability of SARS-CoV-2 as Compared with SARS-CoV-1. The New England journal of medicine, 382(16), 1564–1567. https://doi.org/10.1056/NEJMc2004973