12 Natural Dandruff Shampoos That Actually Work — & Tips From A Derm
We only recommend products we love and that we think you will, too. We may receive a portion of sales from products purchased from this article, which was written by our Commerce team.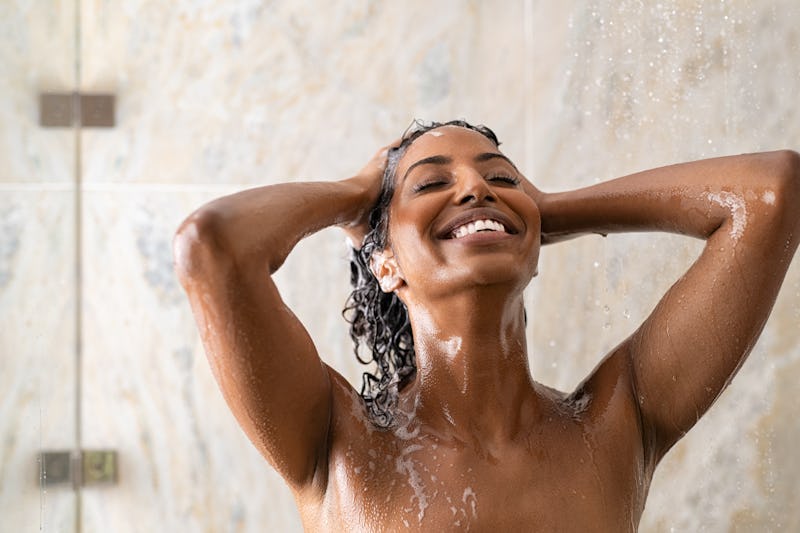 Shutterstock
When it comes to treating and preventing dandruff, I'm a huge fan of natural dandruff shampoos that actually work by either inhibiting yeast growth or effectively removing dead skin and other buildup. But, since dandruff is a highly personal issue, I reached out to a board-certified dermatologist for some context.
"Dandruff is an inflammatory skin condition that is genetic. Some believe that it's caused by a sensitivity to a yeast that lives on all of our skin," Dr. Adarsh Vijay Mudgil, M.D., a New York-based board-certified dermatologist, explains to Bustle.
What Ingredients You Should Look For:
With that in mind, you may want to look for ingredients that inhibit yeast growth. "Shampoos containing selenium and/or zinc can be helpful, as these minerals have antifungal properties," says Dr. Mudgil. Another great ingredient to look for is tea tree oil, one of nature's best dandruff treatments, thanks in part to its antifungal properties. Using a shampoo with salicylic acid is another way to keep your scalp free of dead skin cells and other kinds of buildup, which make dandruff and irritation worse.
Aside from treating your dandruff with specific ingredients, it's also important to choose formulas that won't dry out or irritate your scalp in other ways. "Those with dandruff have sensitive skin and should be on the lookout for products that exacerbate their condition," advises Dr. Mudgil.
Not sure where to begin? These 12 highly rated dandruff shampoos work with powerful natural ingredients — and without harsh cleansing agents which can irritate your scalp further. (And if you're struggling with a flaky scalp, you may like a dermatologist's seven tips for how to get rid of dandruff.)
Shop The Best Natural Dandruff Shampoos
In a hurry? Here are the best picks for anti-dandruff shampoos.
Experts:
Dr. Adarsh Vijay Mudgil, M.D., with Mudgil Dermatology
Studies referenced:
Satchell, Andrew C. (2002) Treatment of dandruff with 5% tea tree oil shampoo. Journal of the American Academy of Dermatology, https://pubmed.ncbi.nlm.nih.gov/12451368/
This article was originally published on