9 Sex Positions To Get To Know Your Partner Better
These moves foster intimacy and closeness.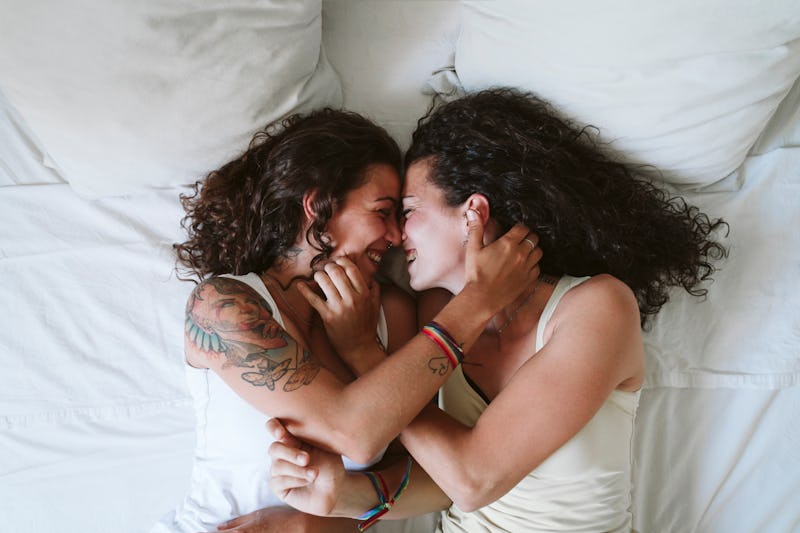 Westend61/Westend61/Getty Images
Having sex for the first time with a new partner can be total fireworks, but it can also be awkward as hell. One or both of you may be nervous and that lack of familiarity can breed discomfort. And yes, it might send you going your separate ways.
If you'd like to try again, however, you can definitely get to know your partner better in the bedroom by communicating honestly and directly about each of your sexual preferences — and continuing to do so throughout your relationship, even if it's difficult.
"In order to have a healthy sex life, you sometimes need to have uncomfortable conversations about what might not be working [...] or what you want more or less of," Dr. Nikki Goldstein, a sexologist and relationship expert, tells Bustle. This is true for both new and longer-term couples. Communication really is everything.
In fact, the 2020 SKYN Sex & Intimacy Survey, a survey of 2,000 females and males in the U.S. ages 18 to 39, found that 77% of participants frequently vocalized their sexual preferences to their partner(s) during sex. In many cases, this leads to stronger chemistry, and a more fulfilling sex life.
But there are also quite a few sex positions that feel particularly intimate, and can also help foster a sense of closeness and connection as you get to know each other better. Here, the best sex positions for getting to know a new partner.
Whether you're dating someone new, or just want to get to know your partner better, try these super intimate sex positions — and you'll feel closer in no time.
Experts:
Dr. Nikki Goldstein, sexologist and relationship expert
Survey cited:
Wakefield Research. (2020). The Skyn Sex & Intimacy Survey. Retrieved from https://www.skyn.com/en-us/2020-intimacy-survey/
This article was originally published on