TikTokers Are Preaching The De-Stressing Powers Of Arranging Flowers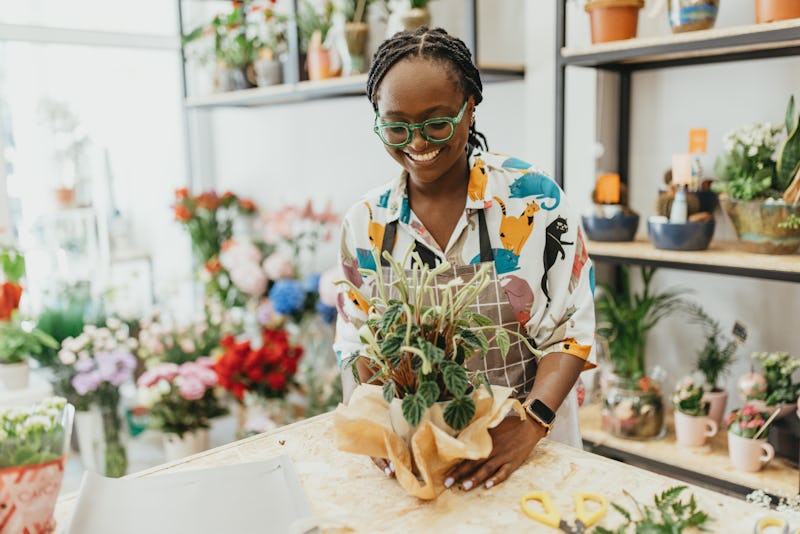 Nothing perks you up quite like a beautiful bouquet of flowers on your kitchen counter. But what if you made that bouquet yourself? On TikTok, where DIY flower arrangements have over 17 million views, folks are arranging florals not only as a creative hobby, but also as a way to relieve stress.
Whether you take a bouquet-making class, learn the art of ikebana or Japanese flower arranging, or simply play around with a few sprigs from Trader Joe's, there are so many different ways to get your hands on some florals.
On TikTok, creator @athomewithananya jokingly called flower arranging a "therapy dupe" because it makes her feel grounded and present. As she trims roses and ranunculus and places each stem into a vase, she says she goes into a "flow state" as she focuses on her hobby— and that's something that can relieve stress. "If you're fully immersed in an activity where you lose track of time, you'll often find yourself forgetting that you've even been experiencing anxiety," Lauren Cook, PsyD, MMFT, a clinician practicing emotionally-focused therapy, previously told Bustle.
Flower arranging requires a bit of focus, but it's also tactile, grounding, and super creative. Of course, the colors and scents help draw you in, as does the pretty end result. Combine it all together and you get one of the most delightful stress relievers around.
Flower arranging classes are also a big hit. Creator @anoushkachadha brought her followers along to a lush studio where she learned how to trim stems and unfurl petals to create a perfectly executed bouquet. In her video, she noted that "flowers really do release serotonin" while showing off what she created. (Research backs this up, BTW). As for her comments section, it was full of people asking where they could take a similar class because it looked so fun.
When you go to an actual class, you also get to added benefit of socializing and connecting with others in a creative environment — something plenty of creators are really into. TikToker @__dearashleyy posted about her flower arranging session, saying, "This is your sign to take a floral arrangement class. The ticket covered the cost of materials and mimosas and I got to connect with women and take my mind off the stresses of work and just tap into my creative side, which I rarely do."
Whether you arrange flowers in a class or in your kitchen sink, you'll end up with a pretty bouquet that you get to keep in your space. After all, studies have shown that having flowers nearby helps boost your mood and relieve stress, both physically and mentally. The fact you get to make them yourself is even better.
Studies referenced:
Ikei, H. (2014). The physiological and psychological relaxing effects of viewing rose flowers in office workers. J Physiol Anthropol. doi: 10.1186/1880-6805-33-6.
Van Der Linden, D. (2021). The Neuroscience of the Flow State: Involvement of the Locus Coeruleus Norepinephrine System. Front. Psychol., 14 April 2021 Sec. Cognition Volume 12 - 2021 | https://doi.org/10.3389/fpsyg.2021.645498
Source:
Lauren Cook, MMFT, clinician practicing emotionally-focused therapy