How 2 Brooklyn-Based Healers Are Reviving Traditional Practices
Twins Griselda Rodriguez-Solomon and Miguelina Rodriguez explain how they found their work in wellness.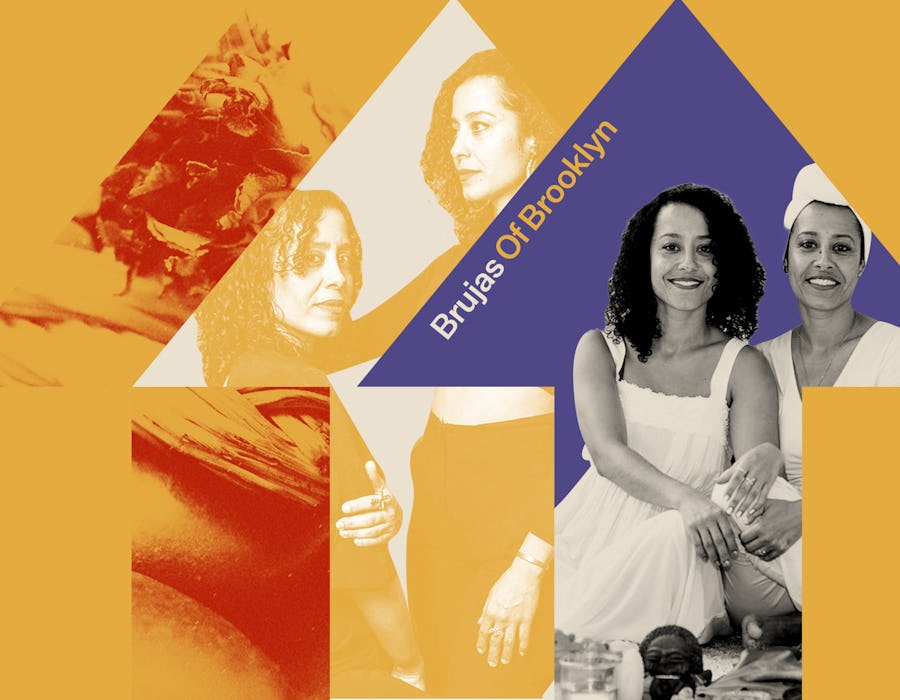 Idris Talib Soloman, Kristin Kremers
Para leer este artículo en español, desliza hacia abajo.
Growing up, twin sisters Miguelina Rodriguez, Ph.D., and Griselda Rodriguez-Solomon, Ph.D., would always find things like rocks, cups of water, or Jericho plants under their twin beds — items their mom would place for spiritual protection. Being surrounded by altars and religious objects from a young age normalized what other branches of their family referred to as brujería — witchcraft, with all its attendant taboos.
It wasn't until they were adults studying for their doctorate degrees in social sciences that the Afro-Dominican twins were called to reclaim their "ancestral spiritual practices," Griselda tells Bustle. "Building an altar, meditating, going to see mediums … that is when the real practice of a bruja was manifested for us."
Today, the 39-year-olds are known as Brujas of Brooklyn, a platform they launched in 2016 to heal generational trauma through Kundalini yoga and meditation. They offer retreats and workshops with up to 100 people (currently held via Zoom) dedicated to Yoni practice, which taps into women's womb-power to heal inherited trauma. But their work doesn't stop there. They also use their Instagram to educate their 25,000 followers about these practices and build community.
In their academic careers — both sisters are also professors at CUNY — they also bring the spiritual element into the classroom, adds Miguelina. "We talk about patriarchy, but then we discuss the effects that patriarchy has on a woman's body, on her menstrual cycle, the effects of poverty on your nervous system, and ways that you can cope and heal."
Here, the twin sisters tell Bustle about how they're making yoga and meditation less intimidating and why they're reclaiming the term "bruja" today.
Tell me about how you learned about breathwork, meditation, and yoga. How did you decide to share that practice with others?
Miguelina: Griselda and I have always been into taking care of ourselves — we were always really active, working out, and praying. But I didn't do yoga until I was introduced to it by a good friend while studying abroad in Senegal. I was 21, there was no YouTube — not even Facebook. There wasn't a way to access yoga the way you can today. After the summer Griselda and I started graduate school, I found myself turning to yoga.
Griselda: It was the first time Migue and I were actually separated in our adult life. We were 22. My academic adviser, Linda Cardi, introduced me to who would later become our mentor for Kundalini yoga, Ricardo Surgis. There was a lot of loneliness and anxiety when we were trying to write our dissertations, which led to us having to take care of ourselves through yoga.
After I did my yoga training in 2013, we started teaching. I was teaching a 7 a.m. class in Harlem for a season, and there were some mornings where nobody showed up. But more and more people started to gain interest in this work. Alicia Keys is a huge advocate and practitioner of Kundalini yoga. So it's been a pleasure to teach what we learned to other people.
It can be a little intimidating to get into these practices so intensely. How do you make them more inviting?
Miguelina: People may feel a little intimidated by, for example, walking into a botánica, or going to a healer for medicine, and the person is dressed in all white with their head wrapped and beads. Griselda and I will show up with big door knocker hoop earrings, with red lipstick and our big pajón, our big curly hair out. We'll usually wear all white, and some days my hair is wrapped, but others we might wear something with cleavage or showing midriff — subtle things you don't associate with a spiritual woman. You come to our workshops and we'll play Bad Bunny, Cardi B, and Kundalini meditation music.
Griselda: We really try to center fun — not to trivialize it, but to lessen the intensity that's part of healing generational trauma. We also show people that simple things like drinking eight to 10 glasses of water a day is very much connected to spirituality; you're a vessel for your spirit, so you have to take care of your body if you want your spirit to manifest.
Do you think there's any particular resonance among Latinx people in your classes?
Miguelina: You have to give up a lot of outdated ideologies in our culture. You have to look at your own issues with racism, colorism, and the ways your family has dealt with them. The patriarchal notions that women are supposed to behave a certain way. It's not easy, because it's not only about healing yourself when you're a descendant of enslaved people, a descendant of immigrants. You're also healing generations that have come before you and will come after you.
Griselda: With Brujas of Brooklyn (like so many other platforms), we really create a space for Latinx people to explore what it means to be Latinx, and to understand that who we are doesn't exist in a box. Me and Miguelina have been accused of not being Latina enough, whatever that means. But when you start to live apologetically, your identity is your identity. That has also been our allure. People are like, "Oh, you're like a different type of Latina and it's intriguing."
I want to go back to the term "bruja," because it's so often seen as a negative. How is that changing?
Griselda: The people that were considered witches in Western Europe, Africa, or Latin America, were curanderas, herbalists, midwives, doulas, astrologers. There are generations of women whose powers couldn't manifest because those in power were afraid of us. Women have been reclaiming this word for generations, but we're seeing it a lot more today because of social media, thank God. What better ancestor to reclaim than the witches who took no sh*t 700 years ago. We're living through her in a new way.
Miguelina: Witches were single, they were spinsters. They were women who were fed up and either left their husbands or never got married because they were done with toxic masculinity. There are so many people who've embodied this word but who hadn't had an opportunity to be seen. There's a lot more brujas, brujitas, and brujos springing up. Now, we're here to stay.
This interview has been edited and condensed for clarity.
Cómo dos brujas de Brooklyn están reavivando prácticas tradicionales de sanación
Al crecer, las doctoras Miguelina Rodríguez y Griselda Rodríguez-Solomon, quienes son gemelas, siempre encontraban cosas como rocas, vasos de agua o plantas de Jericó debajo de sus camas. Eran objetos que su madre colocaba para protegerlas espiritualmente. Estar rodeadas de altares y objetos religiosos desde una edad temprana normalizó para las hermanas lo que otros miembros de su familia llamaban brujería, con todos los tabúes que eso conlleva.
No fue hasta la adultez, mientras cursaban un doctorado en ciencias sociales, que las gemelas afro-dominicanas sintieron un llamado a reclamar sus "prácticas espirituales ancestrales", le dijo Griselda a Bustle. "Construir un altar, meditar, ir a ver médiums… fue entonces cuando se nos manifestó la práctica real de una bruja".
Hoy en día, a los 39 años, se las conoce como Brujas of Brooklyn, una plataforma que lanzaron en 2016 para curar el trauma generacional a través del yoga Kundalini y la meditación. Ofrecen retiros y talleres con hasta 100 personas (actualmente realizados a través de Zoom) dedicados a la práctica de Yoni, que aprovecha el poder del útero de la mujer para curar traumas generacionales. Pero su trabajo no se detiene ahí. También usan su Instagram para educar a sus 25,000 seguidores sobre estas prácticas y construir una comunidad.
En sus carreras académicas (ambas hermanas también son profesoras en la City University of New York) llevan el elemento espiritual al aula, agrega Miguelina. "Hablamos del patriarcado, pero luego, discutimos los efectos que tiene el patriarcado en el cuerpo de una mujer, en su ciclo menstrual, los efectos de la pobreza en su sistema nervioso y las formas en que puede sobrellevar la situación y sanar".
En esta entrevista, las gemelas le cuentan a Bustle que están haciendo para que el yoga y la meditación sean menos intimidantes y por qué están reclamando el término "bruja".
¿Cómo aprendieron sobre la respiración, la meditación y el yoga? ¿Cómo decidieron que era hora de compartir esa práctica con otros?
Miguelina: A Griselda y a mí siempre nos ha gustado cuidarnos, siempre fuimos muy activas, haciendo ejercicio y orando. Pero no hice yoga hasta que un muy buen amigo me introdujo a la práctica mientras estudiaba en Senegal. Tenía 21 años, no había YouTube, ni siquiera Facebook. No había una forma de acceder al yoga de la forma en que se puede hoy en día. Después de ese verano, Griselda y yo comenzamos la escuela de posgrado, y me encontré recurriendo al yoga.
Griselda: Fue la primera vez que Migue y yo nos separamos en nuestra vida adulta. Teníamos 22 años. Mi asesora académica, Linda Cardi, me presentó a quien más tarde se convertiría en nuestro mentor de yoga Kundalini , Ricardo Surgis. Había mucha soledad y ansiedad cuando intentábamos escribir nuestras disertaciones, lo que nos llevó a cuidarnos a través del yoga.
Después de hacer mi entrenamiento de yoga en 2013, comenzamos a enseñar. Estaba dando una clase a las 7 a.m. en Harlem durante un tiempo y algunas mañanas no aparecía nadie. Pero cada vez más personas comenzaron a interesarse en esta práctica. Alicia Keys es una gran defensora y practicante del yoga Kundalini. Así que ha sido un placer enseñar lo que hemos aprendido a otras personas.
Puede ser un poco intimidante meterse en estas prácticas con tanta intensidad. ¿Cómo las hacen más atractivas?
Miguelina: La gente puede sentirse un poco intimidada, por ejemplo, al entrar en una botánica o ir a un curandero para que le recete una medicina, y que la persona está vestida de blanco o con la cabeza envuelta y con colgantes. Griselda y yo nos presentamos con grandes pendientes, con pintalabios rojo y nuestro gran pajón, nuestro gran pelo rizado al descubierto. Por lo general, vestimos todo de blanco y algunos días mi cabello está envuelto, pero otros podemos usar algo con escote o que muestre el estómago, cosas sutiles que no asociamos con una mujer espiritual. Vienes a nuestros talleres y tocamos Bad Bunny, Cardi B y música de meditación Kundalini.
Griselda: Realmente, intentamos centrarnos en la diversión, no para trivializarla, sino para disminuir la intensidad, que es parte de la curación del trauma generacional. También mostramos a la gente cómo cosas simples — por ejemplo, beber ocho a diez vasos de agua al día — están muy relacionadas con la espiritualidad. Eres un recipiente para tu espíritu, así que tienes que cuidar a tu cuerpo si quieres que tu espíritu se manifieste.
¿Creen que hay alguna resonancia particular entre los latines en sus clases?
Miguelina: Hay que renunciar a muchas ideologías obsoletas de nuestra cultura. Tienes que ver tus propios problemas con el racismo, el colorismo y las formas en que tu familia te ha tratado. Las nociones patriarcales que suponen que las mujeres se comportan de cierta manera. No es fácil porque no se trata solo de curarte a ti mismo cuando eres descendiente de personas esclavizadas, descendiente de inmigrantes. También estás sanando a generaciones que te han precedido y a todas las que vendrán después.
Griselda: Con Brujas of Brooklyn (como tantas otras plataformas), realmente creamos un espacio para que los latines exploren lo que significa ser latine y comprendan que quienes somos no puede ser compartimentalizado en una caja. Miguelina y yo hemos sido acusadas ​​de no ser lo suficientemente latinas, lo que sea que eso signifique. Pero cuando empiezas a vivir sin límites, tu identidad es tu identidad. Ese también ha sido nuestro atractivo. La gente dice, "Eres como un tipo diferente de latina y es intrigante".
Quiero volver al término "bruja" porque a menudo se lo ve como algo negativo. ¿Cómo está cambiando eso?
Griselda: Las personas que se consideraban brujas en Europa occidental, África o América Latina, eran curanderas, herbolarios, parteras, doulas, astrólogos. Hay generaciones de mujeres cuyos poderes no pudieron manifestarse porque los que estaban en el poder nos tenían miedo. Las mujeres han estado reclamando esta palabra durante generaciones, pero hoy la vemos mucho más gracias a las redes sociales, gracias a Dios. Qué mejor antepasado para reclamar que las brujas que no tomaron nada hace 700 años. Estamos viviendo a través de ella de una manera nueva.
Miguelina: Las brujas eran solteras, eran jamonas. Eran mujeres que estaban hartas y dejaron a sus maridos o nunca se casaron porque no querían saber nada de la masculinidad tóxica. Hay muchas personas que han encarnado esta palabra pero que no han tenido la oportunidad de ser vistas. Surgen muchas más brujas, brujitas y brujos. Ahora estamos aquí para quedarnos.
Esta entrevista se ha editado para mayor claridad.