Experts Share Their 8 Best Tips For Managing COVID Anxiety
#6: Create space for feeling anxious.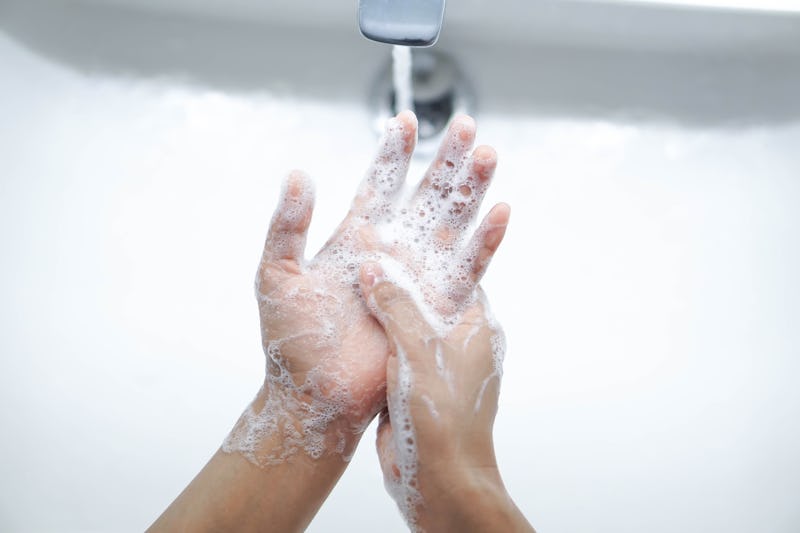 Pongsak Tawansaeng / EyeEm/EyeEm/Getty Images
After enduring a year of COVID in the U.S., coronavirus anxiety is still running high. More than 42% of U.S. adults reported symptoms of anxiety and depression in December 2020, compared to 11% in December 2019, according to the U.S. Census Bureau. Experts say that the best defense against coronavirus anxiety is staying calm.
"Our brains pay attention to startling news and possible threats — which means we easily get swayed into thinking something is worse than it is," Catherine Franssen, Ph.D., director of the NeuroStudies minor and an assistant psychology professor at Longwood University in Virginia, tells Bustle. "We don't always make the best decisions when we respond to a panic."
Scientists know a lot more about the virus than they did a year ago, and millions of people are now vaccinated. But coronavirus anxiety can still cause stress and unease in healthy, low-risk individuals. A Dutch study published in The Lancet in December 2020 found that during the COVID pandemic, people who'd never experienced depression or anxiety before were at increased risk of experiencing both. A new term, coronaphobia, has emerged to describe extreme feelings of fear and anxiety around the COVID virus.
"We ... are especially concerned about the level of anxiety that everyone seems to be feeling," says Ashley Womble, head of communications for Crisis Text Line. "We're seeing more conversations from texters every day about this, especially from texters who identify as Asian." Hate crimes and hate speech against Asian Americans have been on the rise during the pandemic, and that's triggered higher anxiety and stress. "The top issues for texters about coronavirus and anxiety, coronavirus and school, and coronavirus and finances."
Managing your anxiety around coronavirus means acknowledging your feelings while also being practical about the virus' spread, experts say. Here is an action plan for feeling less anxious about coronavirus.
If you or someone you know is seeking help for mental health concerns, visit the National Alliance on Mental Illness (NAMI) website, or call 1-800-950-NAMI(6264). For confidential treatment referrals, visit the Substance Abuse and Mental Health Services Administration (SAMHSA) website, or call the National Helpline at 1-800-662-HELP(4357). In an emergency, contact the National Suicide Prevention Lifeline at 1-800-273-TALK(8255) or call 911.
Experts:
Catherine Franssen Ph.D. director of NeuroStudies at Longwood University
Dr. Carole Lieberman M.D., psychiatrist
Heidi McBain LMFT, therapist
Ashley Womble, head of communications for Crisis Text Line
This article was originally published on