Cricketer Danni Wyatt Is All About Winding Down With A Little Poker
The athlete on running 2Ks, dealing with bad form, and the nighttime routine she can't stop doing.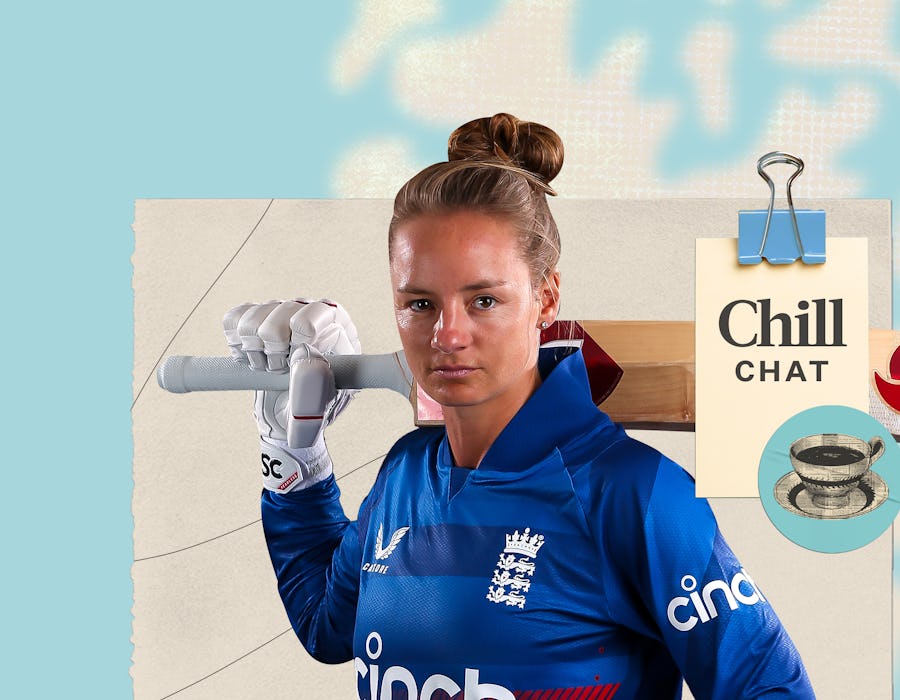 In Chill Chat, Bustle sits down with stars to chat about all things wellness, from their favorite skin care products to their hacks for getting a good night's sleep. Here, England cricketer Danni Wyatt shares her pre-match routine, the card games she can't get enough of, and her favorite way to unwind.
After a summer that took women's cricket to new heights, Danni Wyatt is enjoying a well-deserved break. The England top-order batter describes her knock of 76 runs from 46 balls in a T20I against Australia as her playing highlight of the summer. It was also huge for the team: In achieving her 12th T20I half-century and hitting Aussie fast bowler Megan Schutt for four boundaries in an over, Wyatt brought the Ashes firmly back into contention. "Cricket's a funny game," she says. "I think a lot of it is about luck and I had a lot of luck in that over."
Winning The Hundred for the first time with the Southern Brave also stands out for Wyatt. But when she didn't get picked up in the WIPL auction back in March during the T20 World Cup in South Africa, she admits to sulking for a bit. "After a few days of that, I was like, 'Well, there are going to be more opportunities,'" she says. "I still just can't believe I'm making a living out of hitting a ball. It still feels a bit surreal."
Besides heading down under for the Australian Women's Big Bash League, Wyatt is getting married soon. Not much has been planned yet, but she's clear about one goal, all hinged on fellow Stoke-On-Trent native Robbie Williams. "My karaoke song is 'Angels,'" Wyatt says, grinning. "It would be dreamy if he came to the wedding and me and him were onstage singing it."
Below, Wyatt discusses winding down, dealing with bad form, and the "naughty" nighttime routine she can't get out of.
What's your favorite way to switch off?
I love football. I've got a Fantasy Premier League team so I'm obsessed with that. I also love playing cards with the girls, like blackjack or poker. I love watching films and I have to be into a series when I'm away on tour — that really helps me switch off at night.
How do you keep yourself motivated after a bad training session?
I've had a lot of bad training sessions over the years. I bat better in matches than I do in the nets. I just find it very claustrophobic, and the bowlers are always so much better in the nets. I always tell myself to just get what I can out of each training session. If I've had a really poor net, I will just grab a coach and do some underarm drills to make myself feel good.
How do you prepare before a match?
I like to have a little bit of a training session the day before. I'll then go out for dinner, watch a series, and maybe write down a few notes on the opposition, which I look over before I leave for the ground. I also write down a few words of intent: Be brave, enjoy it, blah, blah, blah... and then hope for the best.
What's your favorite workout?
I love just putting on some shorts and a T-shirt and running 2K. Just two. Like, I'll just be sitting and randomly have a burst of energy and I'll have to go and run 2K. But I really enjoy it.
What's the most out-there wellness trend you've tried?
I sleep with an Oura Ring on because I love seeing how I've slept. On the Oura app, it's got meditation music and all of that stuff, which I've been trying to do for the last few weeks. Before a match, if I'm feeling a bit nervous, I'll just press play on the breathing exercises.
Who do you go to for non-cricket advice?
Oh gosh, no one really. I just live. I'm from Stoke-on-Trent, so I've been brought up to be tough and ready to get on with it.
What's your bedtime routine? Does it differ the night before a match?
I don't really have a bedtime routine. I like to watch a series and wind down. And then I'll probably be naughty and scroll on TikTok, then on Instagram for about 20 minutes. I'm like, "What are you doing, Dan?" But when I'm properly good and focused, I like to switch off and read a book.
The ticket ballot for England men's and women's 2024 games is now open and closes Oct.5th.
This interview has been edited and condensed for clarity.