The Biggest Face Mask Mistakes You're Making & How To Fix Them
Exactly what to do about a masked sneeze.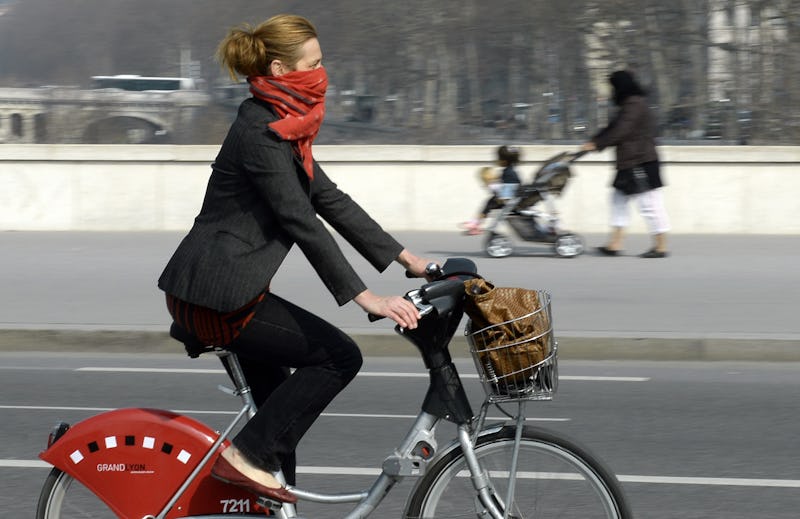 PHILIPPE DESMAZES/AFP/Getty Images
When it comes to mask-wearing, sometimes it feels like you're operating in a minefield of weird new social expectations (yes, even almost a year into the pandemic). You know masks are a necessity when you're indoors with people outside your bubble, but should you sneeze into your mask or into a tissue? Do you always wear a mask outside? Is it rude to stay masked at an outdoor gathering, when you're staying six feet apart from others? But doctors tell Bustle that getting mask mistakes right isn't just about social graces.
"Like many other respiratory illnesses, such as the cold or the flu, COVID-19 spreads by attaching to small droplets," Dr. Seema Sarin M.D., head of lifestyle medicine at medical provider EHE Health, tells Bustle. Anything from talking to singing can spread the virus. This is why masks are so necessary — and why you should always err on the side of being impolite.
"While etiquette may drive which fork to use first, nobody dies from using a dinner fork to eat their salad, while improper mask wearing by an asymptomatic COVID-infected person could kill you," Dr. David Cutler M.D., a family medicine physician at Providence Saint John's Health Center, tells Bustle. He also says that laws will often determine peoples' mask wearing behavior, but that can be confusing since masking laws differ a lot from place to place. "When people from different localities get together, they may have very different understandings of the law," he says. (Also, these kinds of inter-city gatherings can spread the virus from one community to another, so consider... not doing that.)
Face masks basics are pretty easy: wear one over your nose and mouth any time you're in close contact with people you don't live with. But there are a lot of subtleties beyond that. Still confused? Here are five common masking mistakes and how to fix them.
Experts:
Dr. David Cutler M.D.
Dr. Lalitha Parameswaran M.D.
Dr. Seema Sarin M.D.