Five X More's New Survey Hopes To Fill The Data Gap On Black Maternal Experiences
The organisation is interested in hearing from Black people who have given birth in the last five years.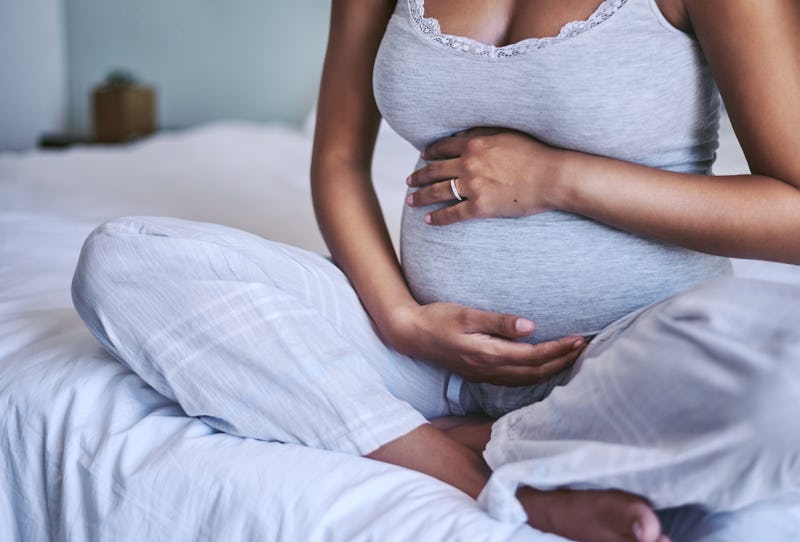 PeopleImages/Getty
For the first time in history, the UK government debated Black maternal healthcare in parliament on April 19 after a petition was launched calling leaders to examine why Black women in the UK are now "four times more likely to die during childbirth." The petition, which gained 187,000 signatures back in 2020, was spearheaded by Five X More, a grassroots organisation committed to changing Black women's maternal health outcomes in the UK. To keep the momentum going, Five X More has launched a new Black maternity experience survey "so that real change can be achieved." Here's how you can get involved.
Launched today (April 21), the Five X More Black maternity experience survey is being conducted by an all-Black, all-female team, including women from Black Ballad magazine and Black mothers groups as well as doctors, midwives, and academics.
The board is interested in hearing about the experiences of Black people who have given birth in the last five years and you can find the survey via this link.
According to Five X More, the main aim of the survey is to understand why Black women and birthing people have "poorer outcomes and experiences" than white women in the UK. From the data collected from the survey, they will "produce recommendations to make pregnancy and childbirth safer for Black women in the UK."
"A consistent theme mentioned is that there is no data on the near misses and morbidity we know Black women face," reads the website. "Nadine Doris, Minister of State for Mental Health, Suicide Prevention and Patient Safety mentioned in her response to the petition debate that Black women are underrepresented in the data they have received so far."
"One of our key asks from the campaign is that Black women should be involved at all levels when it comes to making decisions about their care," they added.
Five X More was founded by Tinuke Awe and Clotilde Rebecca Abe as part of their commitment to "empowering Black women to make informed choices" and "advocate for themselves throughout their pregnancies and after childbirth."
They recently appeared on Channel 4 documentary The Black Maternity Scandal, hosted by Rochelle Humes, and revealed they had also suffered poor experiences with the health service during childbirth.
"We want to know why this is happening and we want to see a change," they said to Humes in the documentary.
As Bustle reported earlier this year, while Five X More acknowledges that the UK has one of the lowest maternal mortality rates globally, they stress that "there is a clear disparity in who is dying." As one study showed that, in 2014 "compared with white European women, Black African women are 83% more likely, and Black Caribbean women 80% more likely to suffer a near miss."
The Black Maternity Experience Survey also comes with a list of resources for those who are affected by this issue or would like to seek additional support.
The organisation also asks for people to continue to raise awareness by posting a FiveXMore selfie.