20 Freaky Sexts To Drive Your Partner Wild Before Your Next Hookup
#16 is guaranteed to stir things up.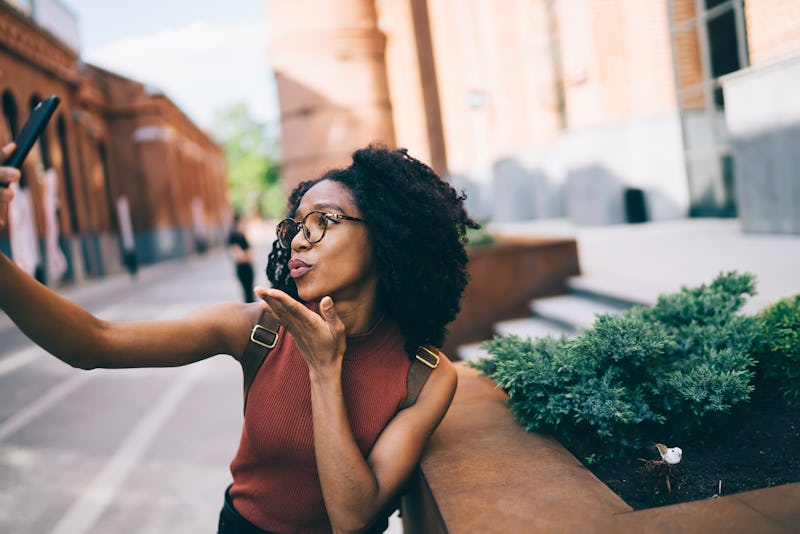 Shutterstock
When you're gearing up for a hookup, whether it be with your partner or someone new, you don't always jump right in the sheets and get to it — sometimes, the best method is the "slow burn" (if you need examples, spicy BookTok has plenty under the hashtag #slowburn). Taking your time, communicating your desires, and letting things unfold naturally are all important elements of the main event. Proper foreplay is crucial, and what better way to get things going than some steamy sexting? You'll want to get creative when brainstorming some freaky texts to send to bae.
Sexting can truly be an art form if you hone your skills. According to board-certified sexologist Dr. Gloria Brame, sending your partner steamy texts is a great form of foreplay. "Instead of foreplay with your body, it is foreplay with your erotic imagination," she says. "It lets sexy ideas, emotions, and desires be communicated even when you're apart. And it brings instant gratification because you can turn them on whenever you send a sext — and can get instantly thirsty just reading what they sent."
Especially if you're looking to gain more sexual confidence and up your kink factor, sexting your partner is a great option. As Dr. Brame tells Bustle, "For some people, it's easier to blurt things out in text that they'd be too shy to say in person." If you're needing some inspiration, here are 20 freaky texts to send.
Sources:
Dr. Gloria Brame, Ph.D, board-certified sexologist