Got Allergies? These 5 House Plants Can Help Clear The Air
Breathe easy, plant parent.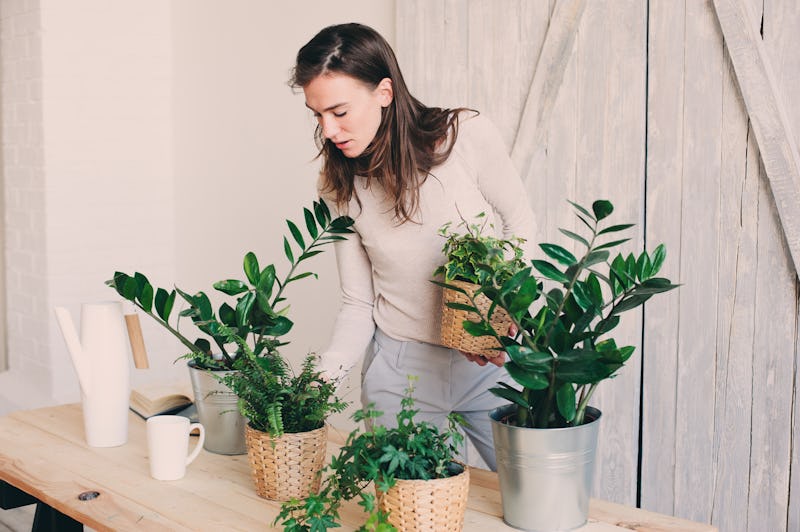 mashiki/Fotolia
If allergies have you sneezing with every breath and waking up to blow your nose 18 times a night, you know that pollen and air pollution can aggravate your symptoms. And no one with allergies wants more itchiness and puffiness than they've already got. Even with new-fangled, energy-efficient homes, you're bound to bring allergens home with you. What's a plant parent to do?
To a certain extent, "House plants can help get rid of excess carbon dioxide and improve the oxygenation in the room," says Dr. Tania Elliott, M.D., a clinical instructor of medicine and immunology at NYU Langone. Though having greenery in a room won't entirely cure allergies, they can be a step towards making a room feel fresher.
"House plants do have the ability to filter the air as they convert carbon dioxide into oxygen," says Dr. Sanjeev Jain, M.D., a doctor double-board certified in immunology and internal medicine at Columbia Asthma and Allergy Clinic, "but they are not able to adequately remove substances like benzene from the air."
In addition to stacking your plant shelf and getting a high quality air filter, make sure you're cleaning up your pet's fur and that dust on your dresser frequently, Dr. Elliott advises. "Outdoor allergens can track indoors and stay suspended in the air," says Dr. Elliott. "Pet allergens can linger in the air as well." She also recommends antihistamines like Xyzal, because sometimes your allergies need an extra kick in the proverbial pants. Whatever your typical anti-allergy regimen is, adding these seven allergy-fighting houseplants to your home can add the nose de-stuffing and mental health-boosting benefits you've been looking for.
Experts:
Dr. Tania Elliott, M.D., clinical instructor of medicine and immunology, NYU Langone
Dr. Sanjeev Jain, M.D., doctor double-board certified in immunology and internal medicine, Columbia Asthma and Allergy Clinic
This article was originally published on