Why It Takes Time For Your COVID Vaccine To Fully Protect You
Just a little bit longer, and you're home free.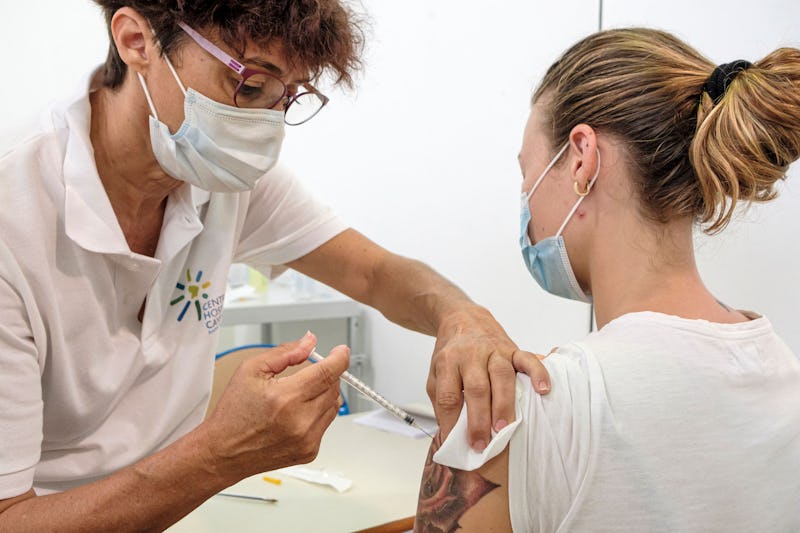 JODY AMIET/AFP/Getty Images
With three COVID vaccines currently available in the U.S. and appointments for vaccinations opening up across the country, the summer is looking up for immune systems everywhere. But you can't just waltz out without a mask the second you get that precious final COVID-19 shot. All vaccines given emergency use authorization by the Food & Drug Administration (FDA) require a bit of time to work, which means keeping yourself at home for at least two weeks while they settle in.
You have to wait for COVID vaccines to take effect because of how the immune system processes the shots. "There are two forms of immunity from vaccines," Dr. William Greenough III, M.D., professor emeritus of medicine at Johns Hopkins University, tells Bustle. First, the vaccine creates antibodies in the bloodstream, a process called "humoral immunity," and then it trains the cells of the body to become immune, which takes a little more time. "There's around a two-week interval for the COVID vaccines because of these two tiers of immunity," he says.
Whether they're based on mRNA or on modified cold viruses, the current crop of COVID vaccines challenge your immune system to develop new defenses against the coronavirus. Vaccines with two shots, like the Pfizer and Moderna jabs, teach this lesson in two parts, with an initial cram session and then a reminder a few weeks later. One-shot vaccines, like Johnson & Johnson's, aim to do it all in one go.
Here's how long you have to wait after each type of vaccine before you're fully protected against COVID-19 — and can start making post-COVID life plans.
How Long The Pfizer Vaccine Takes To Fully Protect You From COVID
If you receive the Pfizer vaccine, you'll be given two shots, around 21 days or three weeks apart. "Individuals are usually considered fully vaccinated two weeks after the second dose of the Pfizer vaccine," Dr. Robert Quigley, M.D., global medical director of medical and security risk mitigation company International SOS, tells Bustle. Pfizer and Moderna's vaccines are up to 90% protective against COVID after the first shot in real-life conditions, according to a study of U.S. essential workers published by the CDC on March 29, but to receive their full benefits, you need to wait for a fortnight after your second dose. This is because your body is taking two weeks to build up multiple levels of effective immunity in your cells.
How Long The Moderna Vaccine Takes To Be Fully Effective Against COVID
People who get the Moderna shot are on a slightly slower schedule than Pfizer vaccine, Quigley says: two shots, with four weeks between them. Like Pfizer, people with Moderna COVID vaccines will be considered fully protected 14 days post-second jab. According to the CDC study, Moderna and Pfizer's vaccines are 90% protective against COVID two weeks after the second shot.
How Long The Johnson & Johnson Vaccine Takes To Be Fully Protective Against COVID
The Johnson & Johnson COVID shot is one dose only. You're considered fully vaccinated two weeks, or 14 days, after your Johnson & Johnson vaccine, per the CDC, but your immune system continues to react to the shot for at least a month. Data from Johnson & Johnson published in the New England Journal of Medicine in January 2021 shows that the protectiveness of its vaccine against serious COVID also grows over time, becoming even more effective at 28 days post-shot — from 85% prevention of hospitalizations at 14 days to 100% prevention at 28 days. U.S. clinical trials revealed that for mild to moderate cases, the efficacy dropped a little, from 74.4% on Day 14 to 72% at 28 days.
What Can You Do When You're Fully Vaccinated?
After you've had both shots and waited out that two-week period, there's a lot you can do that's different from pre-pandemic life. After you're fully vaccinated, you can hang out with friends who are also vaccinated inside and unmasked, or even invite one household's worth of unvaccinated people, per the CDC. Still, because researchers are still figuring out if you can transmit COVID-19 after you're vaccinated and because there can be "breakthrough cases" in vaccinated people, the CDC says to still wear masks while out in public, avoid nonessential travel, and continue washing your hands like there's no tomorrow.
Experts:
Dr. William Greenough III, M.D.
Dr. Robert Quigley, M.D
Studies cited:
Sadoff, J., Le Gars, M., Shukarev, G., Heerwegh, D., Truyers, C., de Groot, A. M., Stoop, J., Tete, S., Van Damme, W., Leroux-Roels, I., Berghmans, P. J., Kimmel, M., Van Damme, P., de Hoon, J., Smith, W., Stephenson, K. E., De Rosa, S. C., Cohen, K. W., McElrath, M. J., Cormier, E., … Schuitemaker, H. (2021). Interim Results of a Phase 1-2a Trial of Ad26.COV2.S Covid-19 Vaccine. The New England Journal of Medicine, NEJMoa2034201. Advance online publication. https://doi.org/10.1056/NEJMoa2034201