There's Yet Another Safe & Effective COVID Vaccine
And other vaccine news you'll want to catch up on.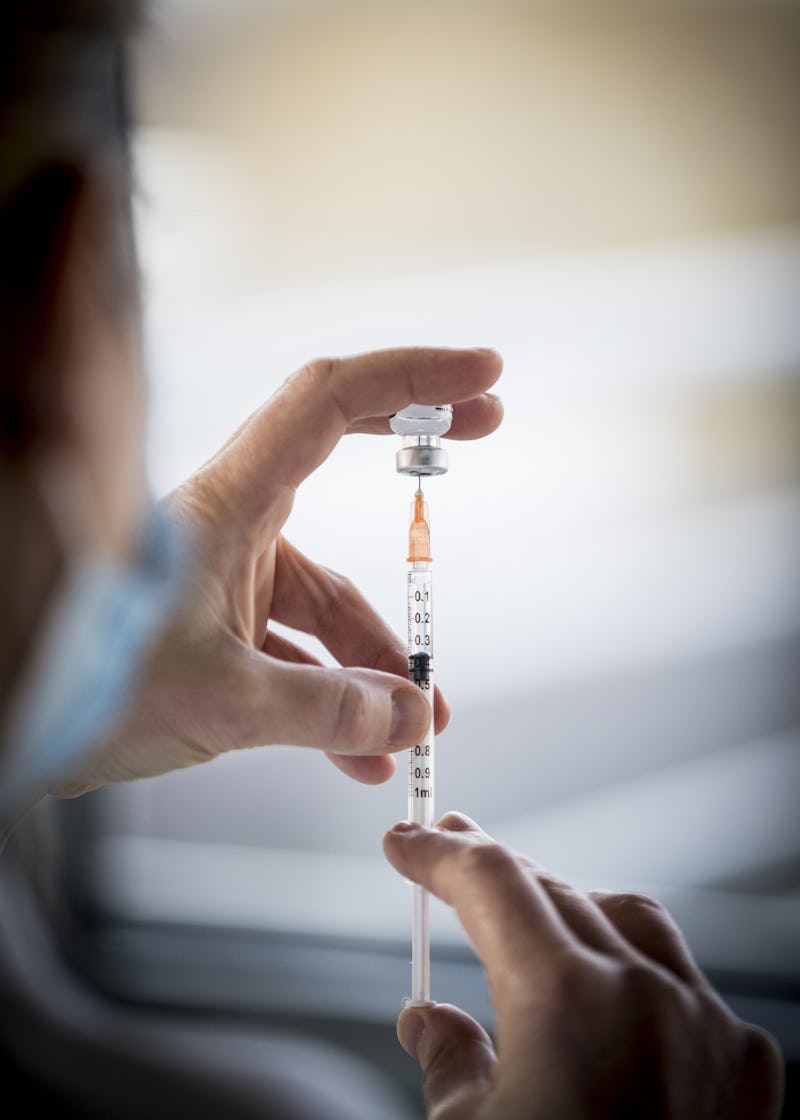 Anadolu Agency/Anadolu Agency/Getty Images
Since March, public health experts have said that a vaccine is our best hope for ending the coronavirus pandemic. As a result, companies have broken speed records to develop a COVID-19 vaccine. The vaccine made by Pfizer was the first to receive the FDA's emergency use authorization, and vaccinations have begun across the U.S. for essential workers and elderly people. The Moderna vaccine was given emergency use authorization a week later, and Johnson & Johnson's vaccine was given the same authorization on Feb. 27. But with new variants of COVID-19, believed to be more infectious, circulating globally, many people have questions about the the available COVID vaccines.
These vaccines are the first, out of dozens in development worldwide, to become available to people in the U.S. On Mar. 22, AstraZeneca released its COVID vaccine trial data from its U.S. study showing it's 79% effective at preventing illness, per the Associated Press, and 100% effective at preventing severe disease and hospitalization. But later that same day, the Data and Safety Monitoring Board (DSMB) said it had concerns that AstraZeneca "may have included outdated information from that trial," which may mean its efficacy data isn't complete. Other countries have developed and authorized their own vaccines, including Russia and China. Many other vaccine candidates are now in Phase III trials, to determine how effective they are at preventing COVID-19 in humans.
Here's your roadmap to the vaccine landscape as it stands, including the latest deets on efficacy, trial results, FDA authorization, cost, and what scientists don't yet know.
How Do The COVID-19 Vaccines Work?
There are several types of COVID-19 vaccines currently being tested. Both Pfizer and Moderna have created vaccines that inject part of COVID-19's genetic code into your body, per the BBC. It trains your body's immune system to recognize and fight COVID-19 using messenger RNA (mRNA), a molecule that turns genes into proteins, according to The Guardian. Both Pfizer and Moderna's vaccines require two doses, spaced between three and four weeks apart.
The AstraZeneca and Johnson & Johnson vaccines both use genetically altered cold viruses to tackle COVID, while the Novavax vaccine is recombinant, meaning it combines several COVID spike proteins grown in insect cells to prompt an immune response. Johnson & Johnson's vaccine is single-dose, while AstraZeneca and Novavax both require two jabs. Johnson & Johnson's vaccine has now been approved for emergency use in the U.S. by the FDA, but the other two are still in the vaccine pipeline.
How Effective Are The COVID-19 Vaccines?
According to preliminary Phase III trial results, Pfizer's vaccine has been shown to be 95% effective in protecting people from COVID-19, per data released by the Food & Drug Administration (FDA), while Moderna's is 94.5% effective. To measure efficacy, the researchers looked at how many people in each trial got COVID after receiving a vaccine, compared to those who got COVID after getting a placebo. Moderna has also released data suggesting that it's equally effective across all racial and ethnic groups, per Science. Pfizer's vaccine, meanwhile, only drops to 94% effectiveness in people over 65, according to the BBC.
The FDA shared details of Johnson & Johnson's trial data on Feb. 24, ahead of their meeting to approve it on Feb. 26. The data showed that their single-dose vaccine was 66% effective overall in preventing moderate to severe COVID-19, 85% effective in preventing severe disease, and 100% effective against preventing hospitalization and death. It was also 64% effective in South African tests involving a new virus variant there. The New York Times points out that 66% effectiveness, while less than other available vaccines, is still more effective than, for example, the annual flu vaccine, and exceeds scientists' original hopes for a COVID vaccine.
Novavax's two-dose jab, meanwhile, was found to be 89.3% effective at preventing COVID-19 in its Phase III trial in the U.K, and 60% effective in South Africa in people without HIV. It was also about 86% effective against the new UK COVID variant. The Novavax vaccine is made up of various altered COVID spike proteins designed to create an immune response.
Results from the U.S. trial of the AstraZeneca vaccine were released on March 22 after assessment by an independent monitoring board. The results say that the shots were 100% effective at preventing severe illness, and 79% effective at preventing symptoms across a wide range of ethnicity and ages, according to the Washington Post. This clears the way for AstraZeneca to apply for FDA emergency use authorization.
Will The Vaccines Protect Against New Variants Of COVID-19?
New variants of COVID-19, which may be far more infectious, were found in the U.K. and South Africa in late 2020, and were discovered to be circulating globally. Scientists were hopeful that the vaccines would protect against these new variants, and got some encouraging evidence in early January. A preliminary report in BioRXIV showed the Pfizer vaccine may protect people against this variant, as well as the original virus. The study only focused on one of the mutations in the new variant — there are a few — but the Pfizer vaccine was able to fight it off. A new study of Moderna's vaccine released by the company at the end of the month found that it should be protective against both the U.K. and South African strains.
Johnson & Johnson's single shot vaccine looks like it's less protective against at least one strain: it was 64% effective in South African tests, per the FDA's data, but that effectiveness rate will still keep people from being sickened by that variant. An interim study of AstraZeneca's vaccine published in the New England Journal of Medicine in March found that it might not be helpful against the South African variant, with only 10.4% effectiveness; following this news, South Africa paused its use of the vaccine.
What Vaccines Have Been Authorized For Emergency Use?
The Pfizer-BioNTech vaccine was given emergency use authorization by the FDA in the evening of Dec. 11. It is now being rolled out across the U.S. for high-priority users, including healthcare workers and people in long-term residential care. Pfizer could produce 600 million doses for the U.S.. The first Pfizer vaccines were administered on Dec. 14, CNN reports, with an ICU nurse in Queens being the first person to receive the vaccine in New York City. The Moderna vaccine was given emergency use authorization on Dec. 18.
The Johnson & Johnson vaccine was given emergency authorization on Feb. 27. Now that it's authorized, doses can be distributed to states. Per CNBC, the government plans to start by shipping out 3 to 4 million doses of the vaccine, and the company is planning to deliver 20 million doses before the end of March. Ultimately, the pharmaceutical company is contracted to deliver 100 million doses by the end of June, CNBC reports, allowing another third of the U.S. population to get vaccinated.
How Many Doses Of Each Authorized COVID-19 Vaccine Will You Need?
Both Pfizer and Moderna's vaccine require two doses, spaced between three and four weeks apart. Biden announced on Jan. 8 that his administration will release all available doses of the vaccine, the Associated Press reported, rather than holding some back. This way, more people can get the partial protection of a single shot more quickly, over waiting to have both doses. Johnson & Johnson's vaccine, meanwhile, only requires one shot.
If you've had COVID before, some small studies suggest that you may only require one dose of the Pfizer or Moderna vaccines to reap the full effects of vaccination. But more data is needed to judge this, so regardless of your previous COVID status, you'll likely be getting two shots for now.
What Are The COVID-19 Vaccines' Side Effects?
To date, Clinical Trials Arena reports, Pfizer and Moderna's vaccine studies have reported that patients may experience mild to moderate side effects, including muscle aches, fevers, headaches, and nausea after taking the vaccine, but that nobody has developed serious virus-related side effects that require medical attention. Trial data for Pfizer's vaccine reveals that mild pain at the site of the injection, light fevers, headaches, and chills are its most common side effects, and they're most common after the second dose.
Details of Johnson & Johnson's Phase 1a/2 vaccine trials in the New England Journal Of Medicine showed that its side effects included myalgia (aka, muscle pain), headache, and fever, but the vaccine antibodies lasted at least 71 days. The FDA said on Feb. 24 that it had a "favorable safety profile", meaning that these side effects are mild enough to give it the green light.
There was uncertainty about the AstraZeneca shot after data from Norway in early March suggested there could be a link between the vaccine and blood clots. In the wake of the findings, several countries in Europe, including Germany, Finland and Ireland, temporarily paused their AstraZeneca vaccination programs. But the new U.S. study has found no safety issues regarding blood clots, per the BBC, and the European Medical Agency has now said the shot is safe. European trials of the vaccine found that its most common side effects were pain or tenderness in the injected arm, fatigue, muscle pain, chills, fever, joint pain, and nausea, with nausea, decreased appetite, dizziness, abdominal pain and rashes far less common.
About 80% of volunteers in Novavax's trial experienced pain where they got the shot, while 60% had side effects like headaches, muscle pain, or fatigue, Stat News reported in August.
Do The Vaccines Prevent Severe COVID-19?
As with the flu shot, the vaccine reduces your risk of getting COVID-19 — hence, why the efficacy rate isn't 100%. Still, it's possible that, also like the flu shot, the COVID-19 vaccines will reduce the severity of COVID-19 if you do get it. Moderna's vaccine appears to be extremely effective at preventing severe cases of COVID-19, according to The Guardian, and Johnson & Johnson's shot is 85% protective. Right now, Pfizer's trial suggests it might be helpful against severe COVID-19, but only 10 people on the trial had severe symptoms, per The New York Times, so it's too small of a group to tell. According to its trial data, nine of those people had the placebo, while one had the vaccine. The AstraZeneca trial of over 32,000 people in the U.S. suggests it's 100% effective against severe COVID.
How Much Will The COVID-19 Vaccines Cost?
Pfizer and Moderna are being sold to governments at $20-25 per dose, per The Guardian. Johnson & Johnson's single shot will cost $10, per Sky News, while AstraZeneca's costs $4, according to the Washington Post. President Biden has committed to distributing the vaccine for free to everyone in the U.S.
What About All The Other Vaccines?
The AstraZeneca vaccine, which was produced with the University of Oxford, uses a genetically modified common cold virus that often shows up in chimpanzees, per the BBC. The virus has been altered so nobody will catch the cold itself. It was given approval for distribution in the European Union by the European Medicines Agency on Jan. 29., and the company said on Mar. 22 that it will apply for FDA approval in "the coming weeks." Per a preliminary study, it also looks as if it may be the only one of the current crop of vaccines to stop COVID transmission, as well as protecting people from catching it. Novavax's CEO told CNBC on Mar. 1 that while the company's trials are still ongoing, they hope to be approved by the FDA for emergency use by May.
"It is remarkable to see that we have potentially four safe vaccines ... in less than a year," Dr. John A. Sellick D.O., professor of medicine at the University of Buffalo's Jacobs School Of Medicine & Biomedical Sciences, tells Bustle.
What Research On The COVID-19 Vaccines Still Needs To Be Done?
According to Harvard Health, none of the vaccine trials have yet released data on how they might affect pregnant people. 23 people in Pfizer's trial became pregnant during the trial period, and while nobody in the vaccine group reported any adverse reactions during pregnancy, there's no other data about how it might affect them long-term. Pfizer announced a study of the vaccine in 4,000 pregnant women in February, and on Mar. 19, researchers in the U.S. reported the first known case of COVID vaccine antibodies transmitted to a baby during pregnancy. The World Health Organization doesn't recommend the vaccination of pregnant people at the moment, until more data is collected. The CDC, meanwhile, says it's every pregnant person's personal choice about whether to get vaccinated, and both the American College of Obstetricians and Gynecologists (ACOG) and the Society for Maternal-Fetal Medicine (SMFM) recommend vaccinations be offered to pregnant people.
It's also unknown how long each vaccine will remain effective; while Pfizer's lead scientist told The Guardian that its two-dose vaccine will keep somebody protected for up to a year, nobody has precise data on that point yet.
Experts:
Dr. John A. Sellick D.O.
This article was originally published on