How Long, Exactly, Will My COVID Vaccine Keep Me From Getting Sick?
Plus, what happens when it wears off.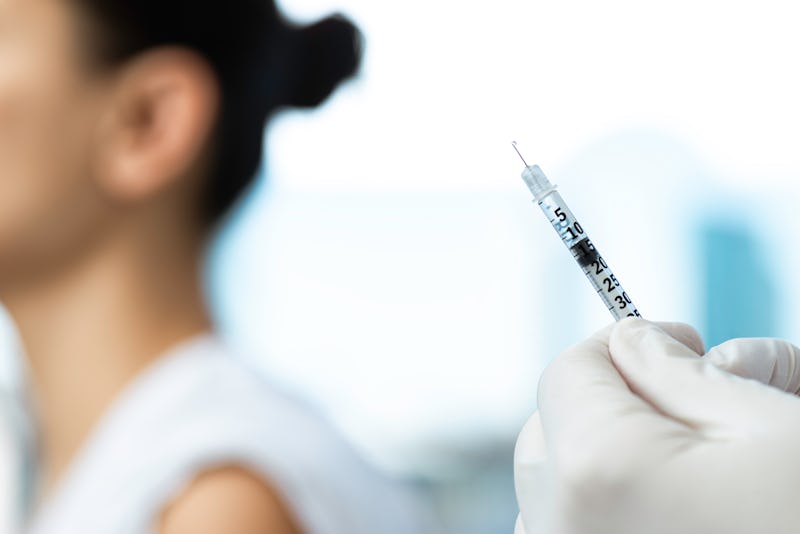 simarik/E+/Getty Images
You've had your COVID vaccination, waited two weeks, and feel primed to take on the world — or at least brunch. But while the current crop of COVID vaccines appear to be effective for months, experts expect that they'll eventually start to lose their potency a little. Once that happens, you'll need to have a booster shot, which is designed to build up your immunity again. When it comes to precisely how long COVID vaccine immunity lasts, scientists still don't have a definitive answer — and it will probably be influenced by things like your own health and immune system.
"For now, researchers believe immunity from the vaccines last at least six months, but it's likely immunity lasts much longer," Dr. Natasha Bhuyan, M.D., a physician with medical provider One Medical, tells Bustle. Pfizer's vaccine shows strong antibodies for at least six months, per continuing data from its Phase III trial. An ongoing study of Moderna's vaccine published in the New England Journal of Medicine in April, meanwhile, shows that antibodies persist for at least six months after the second dose. The company also released data on April 13 showing that its vaccine was more than 90% effective at protecting against COVID six months after a second dose and over 95% effective against severe disease. Scientists know a bit less about Johnson & Johnson's one-dose vaccine, which is currently on pause; the company's data says that it produces antibodies for at least 56 days, which was the length of their study.
This data doesn't mean the vaccines stop working after half a year — that's just how long the studies lasted. "We only have six months of data," Professor Scott Hensley, a microbiologist at the University of Pennsylvania, told the Wall Street Journal in April 2021. "Six months from now it's likely we'll learn we have one year of protection." Dr. Robert Quigley, M.D., global medical director of International SOS, tells Bustle that there should be more answers about the length of vaccine immunity soon. "There are several Phase IV studies underway that will address this very issue, including the likely need for a booster shot," he says.
Some people, including the CEO of Johnson & Johnson, have compared the future of COVID vaccines to the flu shot, which needs to be updated annually to deal with new variants. But that's not a given. "I'm not sure that COVID vaccines will become annual," Dr. Diane E. Griffin, M.D., Ph.D., vice president of the National Academy of Sciences and distinguished professor of microbiology and immunology at Johns Hopkins Bloomberg School of Public Health, tells Bustle. "That will depend on how long immunity lasts and how much the virus changes over the next year. These parameters will also determine the characteristics of repeat vaccination."
Once the antibodies created by your COVID vaccine taper off, you'll need to schedule a booster shot. "The immune system is dynamic, and if it is not challenged, the humoral limb of the adaptive immune response (responsible for antibody production) will wane and result in a decrease in antibody levels," Quigley says. Dr. Anthony Fauci, M.D., White House chief adviser on the COVID pandemic and director of the National Institute of Allergy & Infectious Diseases, told MSNBC on April 12 that booster shots for COVID vaccines were very likely in the next year to 18 months, to "keep up the level of protection." Pfizer's CEO said at an event on April 1 that it's possible that a third dose will become necessary within 12 months of a complete Pfizer vaccine. But more data is needed before anybody can put a booster appointment in their calendar.
Experts:
Dr. Natasha Bhuyan, M.D.
Dr. Diane Griffin, M.D., Ph.D.
Dr. Robert Quigley, M.D.
Studies cited:
Doria-Rose, N., Suthar, M. S., Makowski, M., O'Connell, S., McDermott, A. B., Flach, B., Ledgerwood, J. E., Mascola, J. R., Graham, B. S., Lin, B. C., O'Dell, S., Schmidt, S. D., Widge, A. T., Edara, V. V., Anderson, E. J., Lai, L., Floyd, K., Rouphael, N. G., Zarnitsyna, V., Roberts, P. C., … mRNA-1273 Study Group (2021). Antibody Persistence through 6 Months after the Second Dose of mRNA-1273 Vaccine for Covid-19. The New England Journal of Medicine, 10.1056/NEJMc2103916. Advance online publication. https://doi.org/10.1056/NEJMc2103916