How Many People Can I See At Christmas?
Here's what we know about family gatherings under the latest UK rules.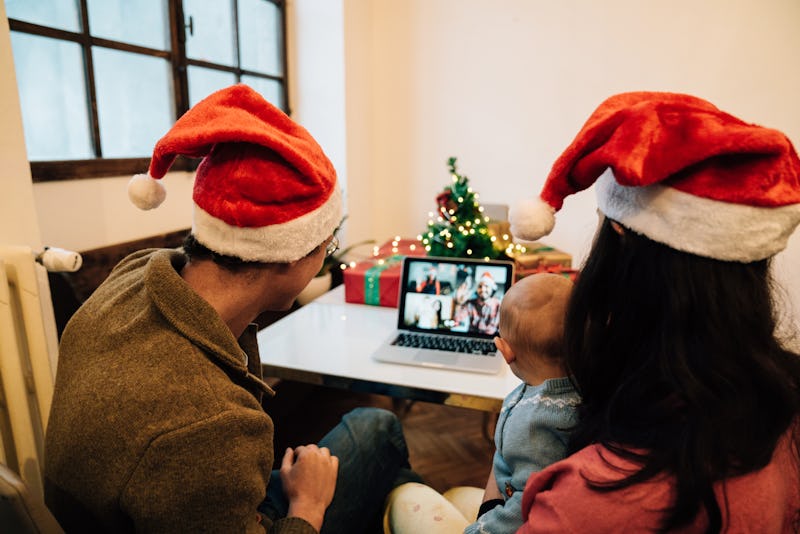 FilippoBacci/E+/Getty Images
With a few days until Christmas, many of us have been quietly hoping some time with our families will be on the cards after a long year of separation. On Nov. 24, the government finally announced their plans to ease coronavirus restrictions across the UK for a set period of time, but then on Dec. 19, these were scrapped. So you may be wanting to know what the new rules are, specifically, how many people can we see at Christmas? Here's everything you need to know.
What Are The Rules For Christmas In The UK?
On Nov. 24, the government announced their plans to ease coronavirus restrictions over the Christmas period. But on Dec. 19, these plans were dramatically shifted with those in London and the South East placed into Tier 4. Elsewhere across the UK, people will be able to form "bubbles" for Christmas Day only. If you're under tier four restrictions you can't form a Christmas bubble at all. This means you cannot meet with people indoors unless you already live with them or they are part of your existing support bubble. You are allowed to meet one person from another household outdoors, however. Despite this lifting of restrictions, the UK, Scottish, and Welsh government still "strongly" recommend that people stay at home over Christmas and celebrate the holidays with their own household.
Wales has since changed the maximum number of households that can mix from a maximum of three to two, however an additional person who lives alone can still join a bubble of two households. The previously planned lockdown for Dec. 28 has since been moved forward, meaning that people can only go out for "essential reasons", but two households can still meet on Christmas Day.
In Scotland, First Minister Nicola Sturgeon has advised spending Christmas in your own home with your own household, but if you are visiting family over Christmas to only meet on one of the five days. "If you have made plans but think they are not really essential, please think about postponing until later in the year," Sturgeon said. "The reality is that this Christmas simply can't be normal. But we have every reason to hope that next year's will be much more normal." Scotland has also imposed a travel ban to the rest of the UK, and will go into a stricter lockdown from Boxing Day.
What Are The Rules For New Year's?
These new rules do not include New Year's Eve or New Year's Day. Restrictions for these holidays will presumably be dictated according to each nation's individual tiered system.
How Will The Christmas Coronavirus Bubbles Work?
Those in each new bubble are allowed to see each other within their homes, along with outdoor spaces and places of worship. The bubbles are fixed, meaning you cannot see different people on different days.
There will be no limit to the amount of people in a household joining a bubble, meaning whether you have a small or big family, you can still join with two others. This will still be the case for families in Wales, but you will only be able to join one other household.
However, it is important to note that certain rules on what counts as a household will vary depending on which nation you live in. For example, in England, if you have formed a support bubble with another household already (i.e. if you both live alone), then that counts as one household rather than two, meaning you can join two more.
Households can come from Wales and Northern Ireland however, as travel restrictions have been relaxed over the Christmas period, meaning you can travel to get to family.
Of course, these new rules do not extend to those who are self-isolating during the Christmas period, or to those who begin to experience symptoms of the virus.
While much of the UK is technically allowed to see family from two other households over Christmas this year, it doesn't necessarily mean we will all feel comfortable doing so.
As we all know, coronavirus is spread when you are physically close to someone with the illness, which is why social gatherings come with a set of risks.
Not seeing friends and family over Christmas is a tough pill to swallow but as ITV's Dr. Hilary Jones said on Good Morning Britain, festive get-togethers are "massive cause for concern."
"There is a huge popularity for the idea of families to be together for Christmas," Dr. Hilary said. "But the virus only takes a matter of minutes or even seconds to spread. Unless we stop different households getting together, the R rate is going to increase and the situation is going to get worse."
And with the emerging spread of a new variant of the virus, limiting social contact to one day could prevent its ability to spread rapidly nationwide. "It appears to spread more easily and may be up to 70% more transmissible than the earlier strain," Prime Minister Boris Johnson said during a recent briefing. "This is now spreading very fast. It is with a very heavy heart that I say we cannot continue with Christmas as planned."
This article was originally published on