How To Practice Safe Sex Amid A Pandemic
"When were you last tested?" has a whole new meaning.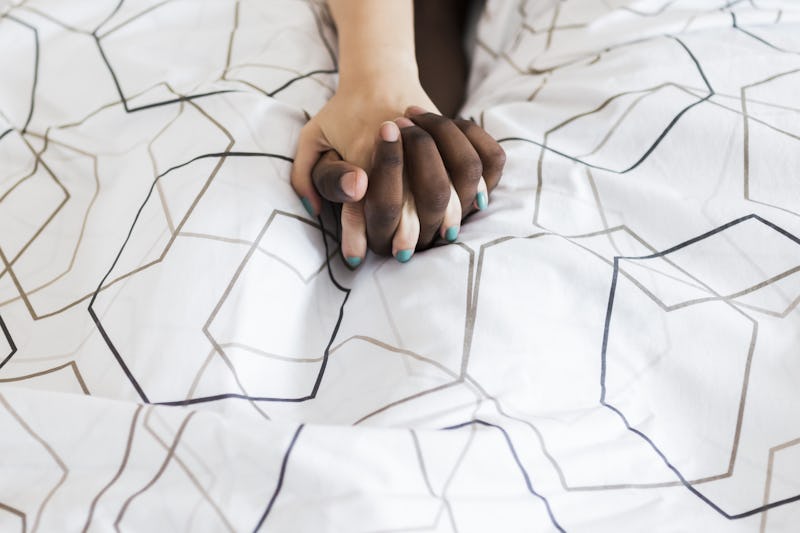 Shutterstock
Even the most comprehensive sex-ed probably skipped the chapter about how to have safe sex during a global pandemic. Whether you're gearing up to finally meet up with your Hinge crush or recently rekindled a spark with an old flame, you're probably thinking about the safest ways to have sex with someone you're not quarantining with.
According to Dr. Sherry A. Ross, women's health expert, even if you test negative for COVID, having sex with someone you're not quarantining with means opening yourself up to the risk of contraction.
"Dating and COVID don't work well together," Dr. Ross tells Bustle. "Since the virus spreads through respiratory droplets, it's easy to be exposed to these droplets during intimacy."
As Dr. Ross shares, the safest possible way to have sex with someone new right now is still over the phone. From swapping steamy texts to getting naked over FaceTime, a virtual hookup means no risk of contraction for anyone involved.
But if you and your date are interested in meeting IRL, and you both tested negative for COVID and discussed the risks, here are 10 ways to limit potential exposure during a hookup.
Experts:
Dr Sherry A. Ross, women's health expert, author of She-ology, The She-quel, and of She-ology hormonal supplements
Dr. Natasha Bhuyan, One Medical provider and regional director