How To Ask Your Boss For Help During COVID-19 In 7 Steps
A workplace wellbeing expert shares her tips for getting the support you need.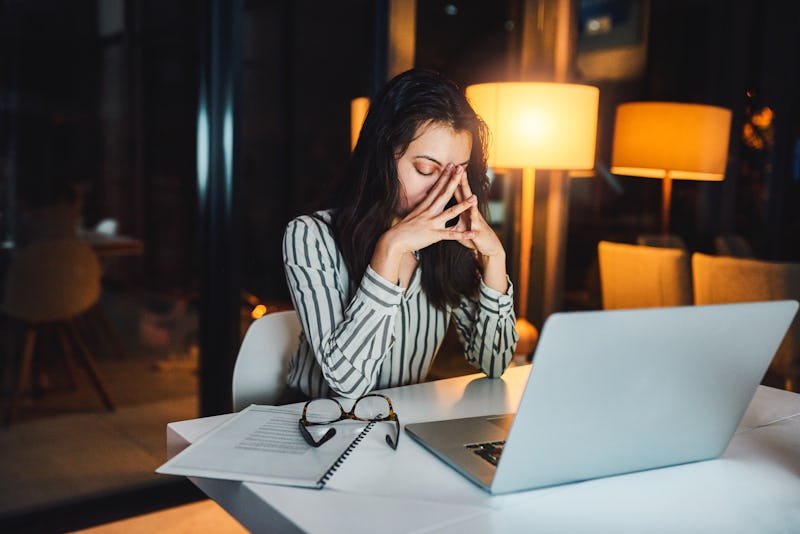 Moyo Studio/E+/Getty Images
There are few people who haven't had their working lives transformed by coronavirus. Whether you're still WFH nearly a year later, found you'd transformed into a frontline worker from one day to the next, now wear a mask to work, or have lost your job completely due to the fallout from the pandemic, adapting to new and uncertain circumstances can bring significant challenges. That's without even mentioning the mental health impact that COVID-19 alone has had. If you're struggling at work for whatever reason, it can feel daunting to ask for support. These seven steps should make asking your boss for help during coronavirus a lot less stressful.
"The pandemic has had a massive impact on our wellbeing. In 2020, we surveyed over 16,000 during the initial lockdown and found that more than half of adults (60%) and over two thirds of young people (68%) said their mental health had got worse during lockdown," says Emma Mamo, Head of Workplace Wellbeing at Mind, "Whether you're a key worker, on furlough, facing redundancy, working from a different location, juggling work and parenting, or managing a team remotely – a number of things are affecting our wellbeing right now. But employers have a responsibility to promote and protect the wellbeing of their staff, so if you're struggling with your mental health, it's best to speak to someone you trust at work."
It's likely that you've had more than one conversation over the last few months about job security and the impact that COVID-19 has had on your financial situation. It's easy to feel like it isn't the best time to tell your boss that you're struggling. However Acas Senior Adviser, Susan Raftery and Dr Barbara Mariposa, mental health lead at Work Well Being explains the importance of recognising burnout in yourself first.
This article was originally published on