Your Guide To Breaking Up With A Partner You Live With
Relationship experts weigh in.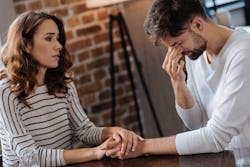 Fotolia
Breaking up and staying broken up is hard enough when you live apart. Love is not easy to let go of. But when you live together, your situation adds a whole new set of difficulties. You may have belongings to divide, a lease to get out of, pets to determine custody of, and living arrangements to figure out. But if the relationship isn't working, the tough work of ending it needs to be done. If you live with your soon-to-be ex, you're going to have logistical considerations to figure out as well as emotional ones.
But experts say not to get caught up in your feelings. "Oftentimes, when people have 'spontaneous breakups,' they don't think through the potential financial consequences," Kevin Darné, author of My Cat Won't Bark! (A Relationship Epiphany), tells Bustle. "They allow their emotions to dictate the timing of their breakups instead of having a practical plan." It's important to figure out what you'll do about your finances, your lease, your roommates, and everything else so that the breakup doesn't become even messier and more complicated.
Here are some tips to keep in mind when navigating the chaotic terrain of breaking up with someone you live with.
Sources:
Kevin Darné, author of My Cat Won't Bark! (A Relationship Epiphany)
Elizabeth Overstreet, relationship expert
This article was originally published on