There's Been A Major Change To The UK's Vaccine Booster Rules
Here's everything you need to know.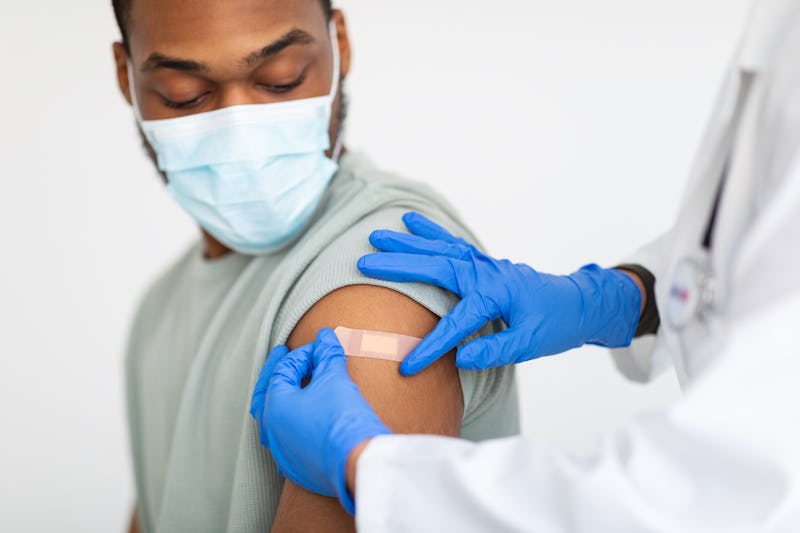 Shutterstock
As the UK gears up for a "challenging winter" — with added concerns about the new coronavirus variant Omicron — COVID-19 booster jabs are currently being offered to help strengthen people's immunity. As of Nov. 29, more than 46 million people in the UK have now had two vaccines and around 17 million people have received a third booster jab. But who is eligible for the booster jab and how do you book an appointment?
Top-up jabs were first introduced in the UK back in September for vulnerable people and frontline health workers after it was discovered that vaccine protection from all available jabs "begins to wane after about six months." New research from the UK Health Security Agency (published on Nov. 15) says boosters offer "90% protection against symptomatic COVID-19 cases." Since then, rules have changed on who can get the jab.
Who Is Eligible To Get The COVID Booster Jab In The UK?
At first, booster jabs were only available to certain groups who were considered vulnerable. The government was periodically making them available to ages groups, starting with over 50s, then over 40s. However, after the discovery of a new COVID-19 variant, Omicron, the Joint Committee on Vaccination and Immunisation (JCVI) has introduced new guidelines and, on Nov. 29, the government announced that top-ups will now be available to adults aged 18-39 three months after their second jab.
However, while the criteria has opened up, the UK's most vulnerable will still be prioritised during the booster vaccine rollout, and the top-up jabs will be offered in order of risk.
As it stands, the booster jab rollout will prioritise:
People over the age of 40.
People over the age of 16 with a high-risk health condition (see here for more details).
Frontline health workers.
How To Book Your COVID Booster Jab In The UK?
In a bid to speed up the vaccination process, people who are eligible are now being invited to book their booster appointment three months after the second jab. Previously patients had to wait five months to receive a top-up.
The booster jab will either be Pfizer or Moderna and you don't have to receive the same vaccine that you were originally vaccinated with.
In England, you can make a booking for your booster via the NHS website or by calling 119. If you are aged between 18 and 39, you will not yet be able to book, as the NHS will be calling people forward "at the appropriate time" in descending order of age groups. The same goes for Scotland, Wales and Northern Ireland.
In England, people can also get vaccinated at an NHS walk-in centre with no appointment, but there is no guarantee whether jabs will be available.
This article was originally published on