5 Genius TikTok Hacks To Help You Stay Cool During A Heatwave
And we've asked the experts for advice, too.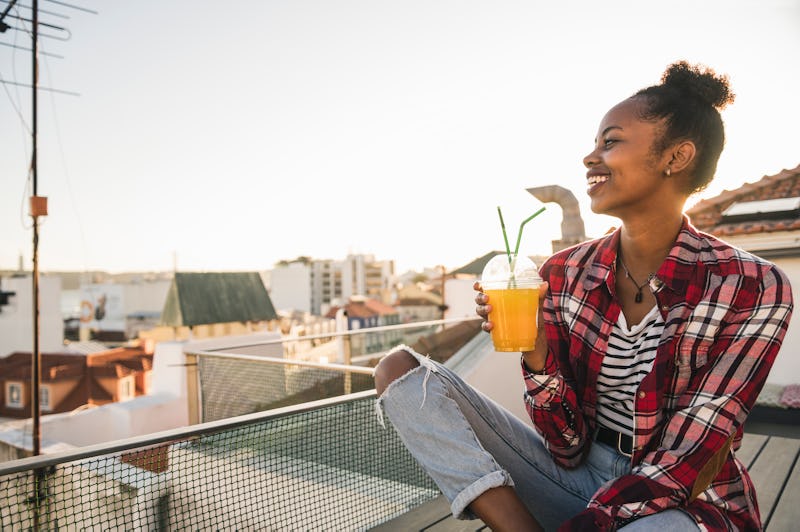 Getty Images/Westend61
It's summertime, which means beer gardens, yummy BBQ recipes, and queuing for a ridiculously long time to get into a lido. Right now, the UK is in the midst of a serious heatwave. On Friday Jul. 8, the Met Office announced that a Level Three Heat Health Alert had been issued for the following week. Now, more than ever, it is crucial to learn how to stay cool during a heatwave.
Climate changes means that we are likely to experience longer and more intense heatwaves each year, but plenty of people remain woefully unaware of the risks involved. Older people, children, and those with underlying health conditions are more likely to be affected by the change in temperature. For example, the chances of heatstroke become much higher. This is when you become too dehydrated and your body temperature rises due to being out in the sun or in hot temperatures.
Matthew Killick, director of Crisis Response and Community Resilience at the British Red Cross, notes: "In England alone, there were more than 2,500 excess deaths in the summer of 2020, and unfortunately it's predicted that heat-related deaths in the UK could treble within 30 years."
Since staying cool and safe is our top priority through the hotter-than-average weather, here are some TikTok hacks, and expert advice, on how to stay comfortable in a scorching heatwave.
This article was originally published on