How To Relax When Your Crush Hasn't Texted You Back
"It's a lot easier for our brain to come up with the worst possible scenario first," says a relationship expert.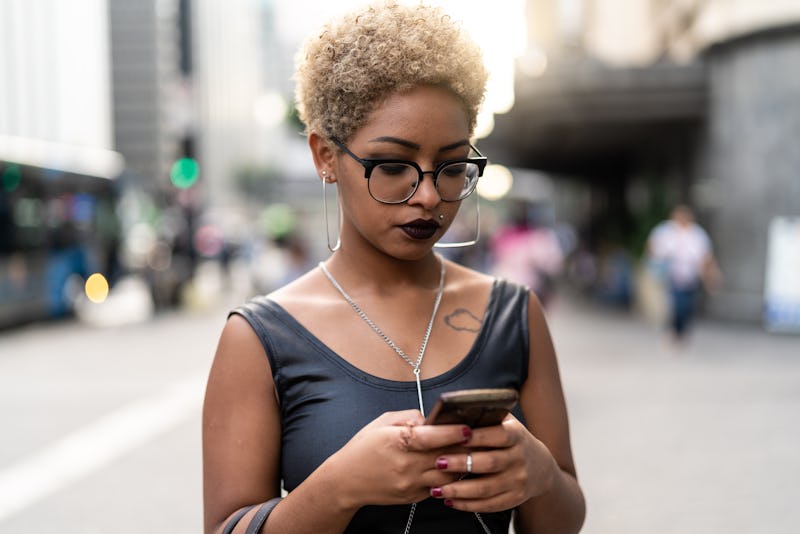 FG Trade/E+/Getty Images
In the early stages of a relationship, it may feel like romance only happens on your phone, via right swipes, snapchat streaks, and texting conversations. The latter is perhaps the most personal method of ways to flirt virtually, phone calls aside, which is why it's also the most daunting when questions arise. Why haven't they responded? Am I acting too eager? And, crucially, how do I stop waiting for a text?
"What it really boils down to is that all humans are constantly looking for connection and validation. Text messages provide an instant form of that," says Tatyana Dyachenko, a sex and relationship expert for the online sex shop Peaches and Screams. "We forget that we hold power within us and search for outside validation in the form of a mate."
Read more: 50 Example Sexting Ideas You Can Use Right Now
Dyachenko's comment echoes a 2014 study, published in the journal Computers in Human Behavior, which found that texting influences our self esteem more than face-to-face or phone communication. According to Chicago therapist Anita A. Chlipala, she's seen this play out in therapy sessions. "My clients have reported hurt feelings because their partners didn't respond to a text, but they could see their social media posts," she tells Bustle. "So they wondered, 'If you had time to post on social media, why are you not responding to my text? He obviously doesn't care.' This kind of expectation inevitably leads to hurt."
In honor to level-set these expectations, Bustle spoke to four relationship experts about texting protocol and how to mitigate anxiety around lapses in your texting conversation. They recommend reminding yourself of the following facts.
Experts:
​​Tatyana Dyachenko, sex and relationship expert at Peaches and Screams
Anita A. Chlipala, marriage and family therapist and founder of Relationship Reality 312
Katie Lasson, sexologist and relationship advisor for Peaches and Screams
Gary Brown, Ph.D., LMFT, FAPA, counselor
This article was originally published on