What The First Homes Scheme Actually Means For First Time Buyers
Everything you need to know about the government's new scheme.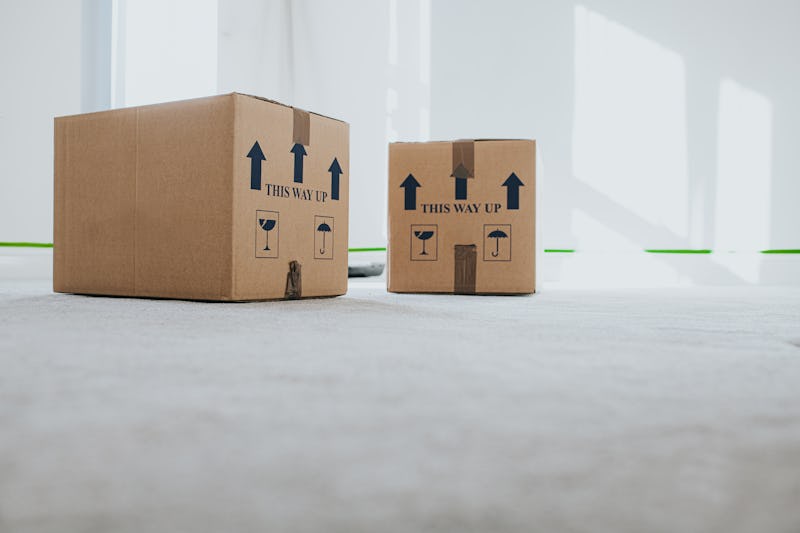 Catherine Falls Commercial/Moment/Getty Images
Following the 95% mortgage scheme, announced in March 2021, a brand new initiative has been set up to try and make it easier for people to get on the property ladder. The First Homes scheme was announced by Housing Secretary Robert Jenrick this week.
Here's everything you need to know about the First Homes scheme, from what it involves to who qualifies and when it starts.
What is the First Homes scheme?
The First Homes initiative is a scheme to help first-time buyers in England secure a home, and will offer a discount of 30% (at a minimum) under market value on certain new-build properties across the country.
Announced on June 4, the scheme aims to help first-time buyers get on the property ladder, and is particularly aimed at key workers such as NHS staff, and frontline workers like delivery drivers.
"The scheme will support local people who struggle to afford market prices in their area, but want to stay in the communities where they live and work," the release read.
According to the government's website, the discount for these properties will be at "at least" 30%, while publications such as The Guardian have shared that higher discounts (such as 40% or 50%) will be available if necessary, and at the discretion of local authorities. These authorities will be allocated government funding to be used to subsidise the sale of the discounted homes.
Lenders including Halifax and Nationwide Building Society have shared their support for the scheme in a joint statement. They will be offering high loan-to-value mortgages to back the initiative.
Any home bought using the First Homes Initiative will continue to be sold at its discounted rate to future first-time buyers also.
Who will qualify for First Homes?
Anybody who applies must be a first time buyer, as the First Homes initiative's name suggests. Key workers and frontline staff will benefit from the scheme, with local authorities able to bring in their own requirements which may prioritise them. The government's press release also made it clear that key workers would be front and centre of the new scheme.
There are some stipulations about who can apply, outside of being a first-time owner. For example, according to The Guardian, households with a combined annual income of more than £80,000 (or £90,000 in London), will not be able to.
Similarly, after the 30%-50% discount has been applied, the buyer cannot be required to pay more than £250,000 for a property, or £420,000 in Greater London. Local councils will be able to ask for lower price caps, too.
If you're unsure if you can apply, you can check which Government scheme is best for you on the Own Your Home website.
When will the First Homes scheme begin?
It has already started! The first properties to be part of the initiative went on the market on Friday, June 4 in Bolsover, Derbyshire.
According to the Government, plenty more new homes will be offered to first time buyers in coming weeks across the country. They are also aiming to fund a further 1500 homes from the Autumn, and at least 10,000+ more in future.
Unlike with the old Help To Buy scheme where you could register interest, there is currently no such portal for this new initiative, and potential first time buyers have to do their own research about properties available in their area.
Are there any potential downsides to First Homes?
While the First Homes initiative sounds brilliant for first-time buyers, there is a concern that demand will outweigh supply.
Rightmove's director of property data Tim Bannister said: "There's likely to be a scramble for properties under this scheme as they become available, especially as we've already seen an influx of first-time buyers enter the market recently, helped by more lower deposit mortgages being available."
Gary Hemming of ABC Finance Ltd agrees that catching up to the amount of people who would want to purchase these homes will be a real challenge for the government. "Although the large discounts are rightly going to be popular, actually securing a property under the scheme may prove tricky with only 1,500 properties expected to be available in 2021 and 10,000 in 2022," he says. "The Government's failure to hit new homes targets for many years is a big part of rising house prices, so we're back into the cycle of relying on more new homes being built if we're to ever see the scheme being able to keep up with the likely demand."
There is also a worry that this new scheme may benefit certain parts of the country far more than others. "First Homes is likely to have significant regional variations," commented Emily Williams of Savills. Those in London, where the average house prices are far greater than other areas across England, may see little impact.
The scheme is also only applicable to new homes, so buyers may face complications due to the cladding scandal if they wish to purchase a property in a new build high rise.
Ian Jackson, Senior Lecturer in Economics and Finance at the University of Wolverhampton, also comments that despite the new scheme being a commendable step by the government, it might actually make things a little more complex, rather than easing first time buyers into a process that's already alien to them. "The interaction with the other schemes and the issues around second homes for example will only make the UK housing market even more complicated, especially for those seeking to join the property ladder," he worries.
"Ultimately, this scheme is a step in the right direction and will help many people over the coming years, but there's still a lot of work to do if we're going to help generation rent become a generation of homeowners,'" concludes Hemming.
You can find out more at gov.uk
This article was originally published on