The Simple Reason Why Egg Freezing Is All Over Your Instagram
Influencers like Serena Kerrigan are documenting the process in live time.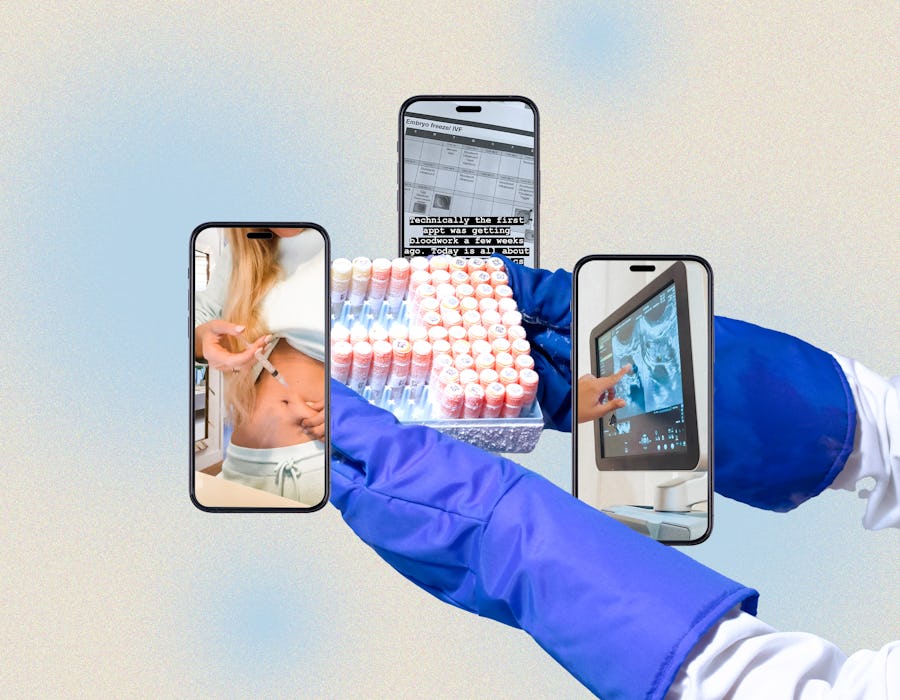 Sarah started thinking about freezing her eggs during the pandemic. The 33-year-old New Yorker, who asked that we use a pseudonym, got more serious about it when she noticed influencers she follows — like Bachelor alums Jacqueline Trumbull and Caroline Lunny — posting about their own egg-freezing experiences on Instagram. "I remember being really transfixed, seeing people I consider 'normal' and 'eligible' doing this without the stigma," she says. "As somebody who loves to call bullsh*t on a lot of influencing, this feels different because it's so personal."
Clips documenting the egg-freezing process have started popping up all over Instagram in the last few years, from videos of daily injections to confessional-style diaries about the accompanying mood swings. But this trend isn't exactly random, as many on the app are. Instead, it's a sign that fertility clinics seem to have realized a new marketing strategy with a built-in big reach: partnerships with influencers.
Alex Stewart is one such content creator. Stewart, who's based in Chicago, knew she wanted to freeze her eggs when she turned 35. A few of her friends had already done it, and she figured it would probably help her chill out about dating.
A DM from a "fertility preservation" clinic in Chicago called OVA felt like kismet. They asked if she was interested in freezing her eggs (she was) and whether she'd like to have a consultation with fertility nurse and founding member Whitney Bischoff Angel (she definitely did). As for the hefty price tag, which averages $15,000 to $20,000 per cycle? Stewart received a "sizable" discount from OVA on her first round, assuming that she'd share the experience with her 40,000 Instagram followers and on her podcast.
"It was a come-to-Jesus moment for me," says Stewart, who quickly recognized Bischoff Angel as the winner of The Bachelor's Season 19. "I was so freaked out that my clock was ticking, I was choosing guys that I would never date because I just wanted to find someone so badly." She decided to go through two rounds of egg freezing with OVA in 2021. "It gave me my mental clarity back," she says.
These types of partnerships between influencers and fertility clinics are becoming increasingly common, and it's true that posting about it is helping destigmatize the actual experience of the process — daily injections, transvaginal ultrasounds, disruptions to your social calendar. But when money's on the line, transparency can start to feel a bit murky.
As recently as 2012, egg freezing was classified as "experimental," so the rise of influencers feels like a natural evolution of the word-of-mouth marketing that has been fueling the procedure's steady increase — roughly 6,000 egg-freezing cycles were performed in 2014 vs. nearly 16,000 cycles in 2019, according to data from the Society for Assisted Reproductive Technology. During the pandemic, data suggests the popularity of the procedure jumped again by nearly 40%.
For her forthcoming book Motherhood on Ice: The Mating Gap and Why Women Freeze Their Eggs, reproductive anthropologist Marcia Inhorn interviewed more than 150 women and found that one person in a social circle would usually start the trend. Sometimes, they'd even freeze eggs as a group. "Clearly egg freezing is being communicated among women in America — friends are influencers," Inhorn says.
Gynecologists, meanwhile? Not so much. "Women talked about this a lot: Physicians talk about birth control, assuming that most women want to be on it, but very few gynecologists asked the question, 'Well, now you're in your early 30s, are you interested in talking about your fertility?' Those conversations are not happening," Inhorn says.
Social media is filling in that information gap. Lindsay Silberman, an editor-turned-influencer in New York, shared her egg freezing experience with her nearly 200,000 Instagram followers for precisely this reason. "It's so surprising that you go to your gynecologist for your annual appointment and they don't talk to you about it," says Silberman, who froze her eggs at 34 in a paid partnership with fertility clinic Kindbody. "The more we talk about it, the more normalized it becomes, and the more empowered we are."
"So many of our experiences happen behind closed doors, and like, f*ck that."
Serena Kerrigan, a 28-year-old content creator, froze her eggs in 2022 with Spring Fertility, a clinic in New York, after they reached out to her about a paid Instagram partnership. "The experience has been branded as something that's extremely painful, [like] it's gonna f*ck up your whole life," Kerrigan says. "It was important for me to show a young, empowered girl who's partying in Miami, who has a huge social life, a big career, and is having a really OK time freezing her eggs."
For other women, like author Danielle Prescod, who froze her eggs independently and received no compensation for social media posts, showing the hardships of egg freezing is the point. The process typically involves 10 to 14 days of fertility hormones, which you inject yourself on a precise nightly schedule. Many women report weight gain, bloating, and mood swings. Then there's the regular trips to the clinic for transvaginal ultrasounds to monitor the ripeness of your follicles followed by the retrieval itself, which involves some form of anesthesia. Some women report a period of depression following their retrieval.
Prescod found the medication restocks stressful, the shots confusing, and the weight gain frustrating. During a bachelorette weekend in the Hamptons, she kept having to sneak off to the bathroom to give herself fertility injections. She documented it all.
There's no formal oversight to what influencers share, and critics point out that promoting egg freezing through the lens of a certain brand of "you can do anything you put your mind to" Instagram feminism can be misleading.
Studies indicate the vast majority of women who freeze their eggs never use them — at least they haven't used them so far — and for those who do, pregnancy is far from a guarantee. There's a 39% chance that using frozen eggs will result in a live birth, according to data published in 2022, and that likelihood is higher for women who froze their eggs before age 38 (51% chance) and froze more than 20 eggs (70% chance).
Despite the fact that egg freezing does not guarantee pregnancy, most women don't regret giving themselves more reproductive options in a world that's increasingly taking them away. "So many of our experiences happen behind closed doors," says Katie Jayne Becker, a beauty editor and brand consultant who froze her eggs in 2020 and documented the process on Instagram. "And like, f*ck that."