8 Surprising Things That Can Happen When You Get An IUD
Hello, breakthrough bleeding.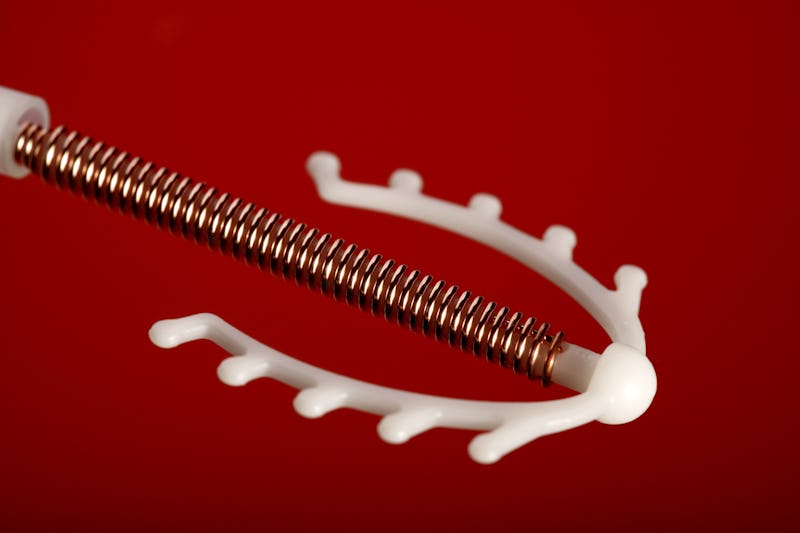 DEA / M. FERMARIELLO/De Agostini/Getty Images
So you've decided to take the plunge and get an intra-uterine device (IUD) put in to protect you from pregnancy. If you're concerned about bleeding, cramps, or any other side effects from your IUD, be reassured that they're considered pretty mild and uncommon.
"Side effects of IUDs are few," Dr. Jonathan Schaffir M.D., an OB-GYN at The Ohio State University Wexner Medical Center, tells Bustle. But it's always best to know all of the possible outcomes when you're making a decision about your reproductive health.
Side effects vary depending on the type of IUD you have, Dr. Felice Gersh, M.D., an OB-GYN, founder of Integrative Medical Group, and author of PCOS SOS Fertility Fast Track, tells Bustle. There are two kinds of IUDs: hormonal, which release small doses of hormones into your reproductive system, and copper, which makes your uterus inhospitable to sperm. Some side effects are common regardless of what you have, Dr. Gersh says. Abnormal bleeding and pain happen to a lot of people after they've had an IUD inserted for the first time. Other side effects are linked to particular types of IUD.
Just because a side effect can happen doesn't mean it's going to happen to you. If you notice any of these after getting an IUD fitted, let your OB-GYN know. Here are some of the side effects of IUDs.
Experts:
Dr. Felice Gersh M.D.
Dr. Jonathan Schaffir M.D.
Studies cited:
Etminan, M., Luo, H., & Gustafson, P. (2015). Risk of intracranial hypertension with intrauterine levonorgestrel. Therapeutic advances in drug safety, 6(3), 110–113. https://doi.org/10.1177/2042098615588084
Diedrich, J. T., Klein, D. A., & Peipert, J. F. (2017). Long-acting reversible contraception in adolescents: a systematic review and meta-analysis. American journal of obstetrics and gynecology, 216(4), 364.e1–364.e12. https://doi.org/10.1016/j.ajog.2016.12.024
Higgins, J. A., Sanders, J. N., Palta, M., & Turok, D. K. (2016). Women's Sexual Function, Satisfaction, and Perceptions After Starting Long-Acting Reversible Contraceptives. Obstetrics and gynecology, 128(5), 1143–1151. https://doi.org/10.1097/AOG.0000000000001655
Jatlaoui, T. C., Riley, H., & Curtis, K. M. (2017). The safety of intrauterine devices among young women: a systematic review. Contraception, 95(1), 17–39. https://doi.org/10.1016/j.contraception.2016.10.006
Madden, T., McNicholas, C., Zhao, Q., Secura, G. M., Eisenberg, D. L., & Peipert, J. F. (2014). Association of age and parity with intrauterine device expulsion. Obstetrics and gynecology, 124(4), 718–726. https://doi.org/10.1097/AOG.0000000000000475
Villavicencio, J., & Allen, R. H. (2016). Unscheduled bleeding and contraceptive choice: increasing satisfaction and continuation rates. Open access journal of contraception, 7, 43–52. https://doi.org/10.2147/OAJC.S85565