How Doulas Are Making Birth Better For Latinx Parents
"Resources are available, but we must be open enough and unashamed to seek the support we deserve."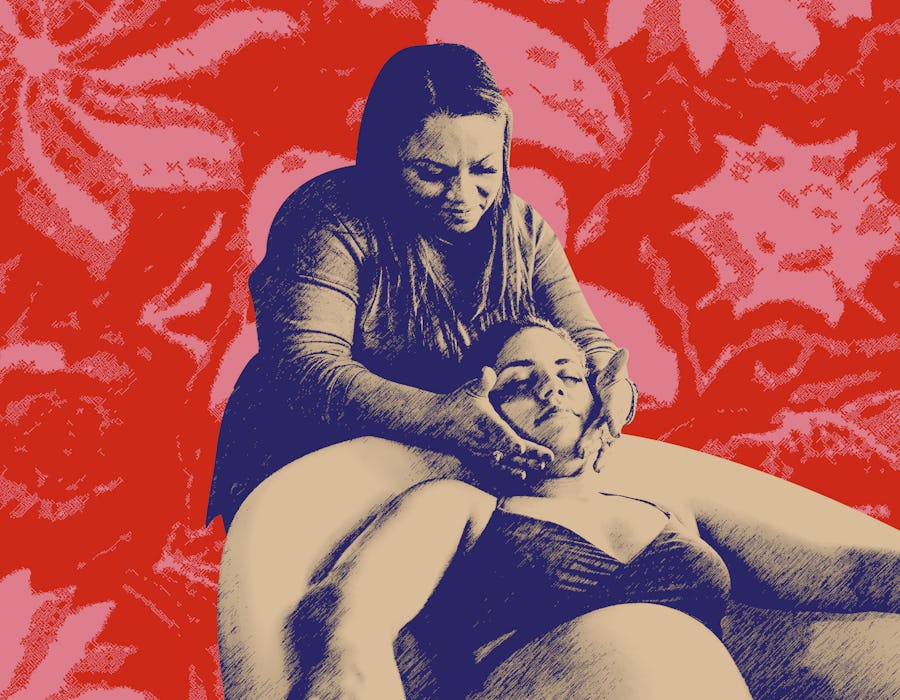 Raymond Forbes/Stocksy
Para leer este artículo en español, desliza hacia abajo.
Brenda Amaya describes the birth of her firstborn as traumatic. She went in trusting her nurses and providers would "try their best" to respect her birth plan, she tells Bustle, but had the opposite experience. Even though she had specifically mentioned wanting a medication-free vaginal birth, she remembers being harassed to have an epidural by hospital staff, who urged her to "get it together."
"Not once did someone offer me to try walking, try focusing on my breathing, try taking a shower, try different positions," adds Amaya, who was 18 when she was pregnant with her first child. But Amaya describes her second birth, six years later, as healing. The difference, she says, was her doula.
"She held sacred space for me, told me about my options, and supported me through the birth and postpartum," Amaya tells Bustle. With this pregnancy, she knew right away she wanted birth support to provide "consistent care." Her doula, a close friend, ensured that she had the comfort and community she needed. Unlike after the birth of her firstborn, Amaya didn't experience postpartum depression. This experience ultimately led Amaya, who was born in El Salvador and now lives in Virginia, to realize that birth work was her "life's passion." She became a doula herself in 2018.
It's well established that America's maternal and infant mortality outcomes are far worse than those of similar nations, due in large part to systemic racism. A 2017 study found that Hispanic pregnant and birthing people, especially Puerto Rican women, suffered fatal birth outcomes and birth trauma at higher rates than white women. At the beginning of February, Democratic lawmakers introduced the Black Maternal Health Momnibus Act to help combat racial disparities in pregnancy and postpartum care.
Doulas, meanwhile, are a low-cost intervention shown to help keep parents and babies healthy. Although doulas don't offer medical care, they help new parents navigate an important life transition by cooking meals, helping with household management tasks, offering emotional support to the new parent, and other kinds of assistance. The American Pregnancy Association reports that doulas help reduce stress and anxiety during pregnancy and labor, which leads to better birth outcomes. They also help prevent birthing people from experiencing "exploitation, exclusion, discrimination, and a loss of autonomy in the medical system," according to the Center for American Progress. For Latinx people in particular, doulas also offer the culturally sensitive emotional and spiritual support needed to navigate a discriminatory system.
Doulas Can Help Increase Representation Of Diverse Birth Experiences
Nilky "Midwife Nili" McKinney, an afro-indigenous birth worker, had a similar experience to Amaya. Lack of patience by providers, she tells Bustle, led her to giving birth via cesarean, which she had wanted to avoid. "Lack of knowledge in terms of self-advocacy made me an ideal target, as well as being a young minority," she says. She also moved toward birth work to help keep people from having the experiences she did, and now provides services in New York and New Jersey.
Increasing Latinx representation in the birthing community is key to Amaya's work, too. During her first pregnancy, she didn't see herself represented in the home birth community, so she thought it wasn't an option that was available to her. Now, she shares her home birth videos and photos on social media and her professional website to give other Latinx birthing people perspective about their options. She also started a series on Instagram live to share Latinx birth stories, allowing people to share their personal experiences with home birth.
"I wish that I had seen or heard about Latinx people like me who had a home birth experience," Amaya says. "The only stories that were shared with me were about how painful and uncomfortable birth was going to be." Now, she connects with people who find her through her photography work who are interested in learning more about self-advocacy during birth — "people like me who relate to my story and are prompted to dig deeper."
Part of the service doulas can provide is practical protection from bias. A 2018 report found that discrimination from maternity care providers, lack of access to paid maternal leave programs, and poor communication during labor are some of the main causes of negative birth outcomes in the Latinx community. In fact, 10% of the people surveyed who spoke Spanish as their first language reported that they faced discrimination due to their language.
"To be able to receive support in a language you are comfortable with is a dire need for the Latinx community," Nili says.
Why Ancestral Narratives About Birth Matter
Personal experiences with birth and pregnancy can sometimes be connected to larger cultural narratives and histories. Amaya's work as a doula, for instance, is informed by a trip she took to El Salvador during her second pregnancy. "I learned more about my ancestors and what their birthing experiences were like," she says. Her grandmother had given birth to 10 children at home, she learned; knowing that members of her family had been giving birth at home for generations helped Amaya with her own labor and inspired her to help others find strength in those ancestral links.
Supporting and caring for birthing people is a way of continuing on that legacy. "Doulas are a part of our traditional practices surrounding births. There were wise women, parteras, as there were supportive women that assisted the birther throughout the labor and postnatal period," Nili says. "To not have a doula is to do ourselves a great disservice to our ancestral grandeur and who we were as a community."
The Barriers To Accessing Doula Care
But even for people who are aware that doula services exist, it can be difficult to find someone they're comfortable working with throughout pregnancy. Grace Roman, founder of Bronx Doula Services, a non-profit that connects birthing parents with doulas, suggests people ask themselves how involved they want a doula to be in the pregnancy; if it's important that they're Latinx, speak Spanish, or both; and, with the pandemic ongoing, whether they will be fully vaccinated against COVID-19. Other considerations might include faith or spiritual needs or if parents want to encapsulate their placenta.
Then there's financing. Some doulas offer sliding-scale options; rates can start from $400 or exceed $3,000. Some programs, like the New York State Doula Pilot Program, cover the cost of doula services for Medicaid fee-for-service and Medicaid Managed Care enrollees, and other states have introduced legislation for coverage for doula services, too. Women, Infants & Children (WIC) programs can sometimes offer funded or free support for birthing parents.
"It does not matter how you identify, or your race, or your income bracket," says Roman. "If you're pregnant, birthing, or experiencing life postpartum, then you deserve culturally competent, person-centered care from all your providers."
On top of cost and availability, however, there can be cultural barriers — like whether Latinx people feel comfortable seeking out this kind of help at all. "We understand a culture where 'En boca cerrada no entran moscas,' or 'El que merece, no pide,'" says Nili — flies don't enter a closed mouth, or he who is deserving doesn't need to ask — but here, "'El que no habla o pide, no come'" — he who doesn't speak up, won't eat. "Resources are available, but we must be open enough and unashamed to seek the support we deserve."
Amaya echoes Nili's sentiments but highlights the impact that lack of information and institutional support can have on pregnant and birthing people. "My years as a birthkeeper led me to unravel so many traumatic layers of my hospital birth," she says. "Things that I now know could have [made my past experiences] so different. The truth is we don't know what we don't know. You don't really have options if you don't know about options."
Cómo las doulas están mejorando el parto para padres y madres latines
Brenda Amaya describe el nacimiento de su primogénito como traumático. Confió en que sus profesionales de la salud harían todo lo posible para respetar su plan de parto, según Amaya, pero su experiencia fue totalmente lo opuesto. A pesar de que había mencionado específicamente que quería un parto vaginal sin medicamentos, recuerda que el personal del hospital la acosaba para que le pusieran una epidural y la instaban a que "se comportara".
"Ni una sola vez alguien me ofreció intentar caminar, intentar concentrarme en mi respiración, intentar tomar una ducha, probar diferentes posiciones", agrega Amaya, quien tenía 18 años cuando estaba embarazada de su primer hijo. Pero Amaya describe su segundo parto, seis años después, como curativo. La diferencia, dice, fue su doula.
"Ella mantuvo un espacio sagrado para mí, me habló de mis opciones y me apoyó durante el parto y el posparto", le dijo Amaya a Bustle. Con este embarazo, supo de inmediato que quería apoyo durante el parto para tener "atención constante". Su doula, una amiga cercana, se aseguró de que tuviera la comodidad y la comunidad que necesitaba. A diferencia del nacimiento de su primogénito, Amaya no experimentó depresión posparto con su segundo hijo. Esta experiencia finalmente llevó a Amaya, quien nació en El Salvador y vive en Virginia, a darse cuenta de que el trabajo de parto era su "pasión en la vida". Se convirtió en doula en 2018.
Está bien documentado que la mortalidad materna e infantil en Estados Unidos es mucho peor que la de países similares, debido, en gran parte, al racismo sistémico en el ambiente médico. Un estudio de 2017 encontró que las personas hispanas embarazadas y que dan a luz, especialmente las mujeres puertorriqueñas, han sufrido resultados fatales y traumas en el parto en tasas mucho más altas que las mujeres blancas. A principios de febrero, los legisladores demócratas introdujeron la Ley "Momnibus" de Salud Materna Negra, para ayudar a combatir las disparidades raciales en la atención durante el embarazo y el posparto.
Las doulas, mientras tanto, son una intervención de bajo costo que ha demostrado lograr mantener sanos tanto a las personas embarazadas como a los bebés. Aunque las doulas no ofrecen atención médica, sí ayudan a los nuevos padres a atravesar una importante transición de la vida, al cocinar comidas, ayudar con las tareas del hogar, ofrecer apoyo emocional y otros tipos de asistencia. La Asociación Estadounidense del Embarazo informa que las doulas ayudan a reducir el estrés y la ansiedad durante el embarazo y el parto, lo que conduce a mejores resultados durante este proceso . También ayudan a evitar que las personas que dan a luz experimenten "explotación, exclusión, discriminación y pérdida de autonomía en el sistema médico", según el Centro para Progreso Americano. Para las personas latinas, en particular, las doulas también ofrecen el apoyo emocional y espiritual culturalmente sensible que se necesita para navegar en un sistema discriminatorio.
Las doulas pueden ayudar a aumentar la representación de diversas experiencias durante el nacimiento
Nilky "Midwife Nili" McKinney, una trabajadora de partos afro-indígena, tuvo una experiencia similar a la de Amaya. La falta de paciencia por parte de los proveedores la llevó a dar a luz por cesárea, cosa que había querido evitar. "La falta de conocimiento en términos de autodefensa me convirtió en un blanco ideal, además de ser una minoría y además ser joven", le dijo a Bustle. Ella también se movió hacia el trabajo de parto para ayudar a que otras personas no tuvieran la misma experiencia que ella tuvo, y ahora brinda servicios en Nueva York y Nueva Jersey.
Aumentar la representación de latines en la comunidad de partos también es clave para el trabajo de Amaya. Durante su primer embarazo, no se veía representada en la comunidad de partos domiciliarios, por lo que pensó que no era una opción disponible para ella. Ahora, comparte sus videos y fotos de parto en casa en redes sociales y su sitio web para brindar a otras personas latinas que dan a luz una mejor perspectiva sobre sus opciones. También inició una serie en Instagram Live para compartir historias de nacimientos latines, lo que permite a las personas compartir sus experiencias personales con el parto en casa.
"Ojalá hubiera visto o escuchado sobre personas como yo que tuvieron una experiencia positiva pariendo en casa", dice Amaya. "Las únicas historias que me contaron fueron sobre lo doloroso e incómodo que iba a ser el parto". Ahora, se conecta con personas que la encuentran a través de su trabajo fotográfico y que están interesadas en aprender más sobre la autodefensa durante el parto, "personas como yo que se identifican con mi historia y se sienten impulsadas a profundizar más".
Parte del servicio que las doulas pueden brindar es una protección contra los prejuicios. Un informe de 2018 encontró que la discriminación por parte de los proveedores de atención de maternidad, la falta de acceso a programas de licencia por maternidad remunerada y la mala comunicación durante el trabajo de parto son algunas de las principales causas de los resultados negativos del parto en la comunidad latina. De hecho, el 10% de las personas encuestadas que hablan español como primer idioma informaron que enfrentaron discriminación debido a su idioma.
"Poder recibir apoyo en un idioma con el que uno se sienta cómodo es una necesidad imperiosa para la comunidad Latinx", dice Nili.
Por qué son importantes las narrativas ancestrales sobre el nacimiento
Las experiencias personales con el nacimiento y el embarazo a veces pueden conectarse también con narrativas e historias culturales mucho más amplias. El trabajo de Amaya como doula, por ejemplo, se basa en un viaje que hizo a El Salvador durante su segundo embarazo. "Aprendí más sobre mis antepasados ​​y cómo fueron sus experiencias al dar a luz", dice ella. Su abuela había dado a luz a diez hijos en casa, por ejemplo; saber que generaciones anteriores habían dado a luz en casa ayudó a Amaya con su propio trabajo y la inspiró a ayudar a otros a encontrar fuerza en esos vínculos ancestrales.
Apoyar y cuidar a las personas que están dando a luz es una forma de continuar con ese legado. "Las doulas son parte de nuestras prácticas tradicionales en torno a los nacimientos. Hubo mujeres sabias, parteras, como mujeres solidarias que asistieron al parto y al posparto", dice Nili. "No tener una doula es hacernos no honrar nuestra grandeza ancestral y a quienes éramos como comunidad".
Las barreras para acceder al cuidado de las doulas
Pero incluso para las personas que saben que existen los servicios de doulas, puede ser difícil encontrar a alguien con quien se sientan cómodos trabajando durante el embarazo. Grace Roman, fundadora de Bronx Doula Services, una organización sin fines de lucro que conecta a los padres biológicos con doulas, sugiere que las personas se pregunten hasta qué punto quieren que una doula participe en el embarazo; si es importante que sean latines, hablen español; y, con la pandemia en curso, si están completamente vacunados contra COVID-19. Otras consideraciones pueden ser la fe o necesidades espirituales, o si los padres quieren encapsular su placenta.
Luego está la parte económica. Algunas doulas ofrecen opciones de escala móvil; las tarifas pueden comenzar desde $400 dólares y llegar a superar los $3,000 dólares. Algunos programas, como el Programa Piloto de Doula del Estado de Nueva York, cubren el costo de los servicios de doula para los afiliados de Medicaid y Medicaid Managed Care. Otros estados también han introducido legislación para la cobertura de servicios de doula. Los programas de Mujeres, Bebés y Niños (WIC, por sus siglas en inglés) a veces pueden ofrecer apoyo financiado o gratuito para los padres biológicos.
"No importa cómo te identifiques, tu raza o tu nivel de ingresos", dice Roman. "Si estás embarazada, por dar a luz o atravesando la vida posparto, mereces atención culturalmente apropiada de parte de todos sus proveedores".
Sin embargo, además del costo y la disponibilidad, pueden haber barreras culturales, como, por ejemplo, si las personas latinas se sienten cómodas buscando este tipo de ayuda. "Venimos de una cultura en la que 'En boca cerrada no entran moscas' o 'El que merece, no pide'", dice Nili, pero en esta circunstancia, "'El que no habla o pide, no come'". "Hay recursos disponibles, pero debemos ser lo suficientemente abiertos y sin vergüenza para buscar el apoyo que merecemos".
Amaya hace eco de los sentimientos de Nili, pero destaca el impacto que la falta de información y apoyo institucional puede tener en las personas embarazadas y en el parto. "Mis años como cuidadora me llevaron a desentrañar varias capas traumáticas de mi parto en el hospital", dice. "Las cosas que ahora sé podrían haber [hecho que mi experiencia pasada] fuera tan diferente. La verdad es que no sabemos lo que no sabemos. Realmente, no tienes opciones si no conoces las opciones".