6 Surprising Benefits Of Lucid Dreaming, According To Sleep Experts
They boost creativity, for one.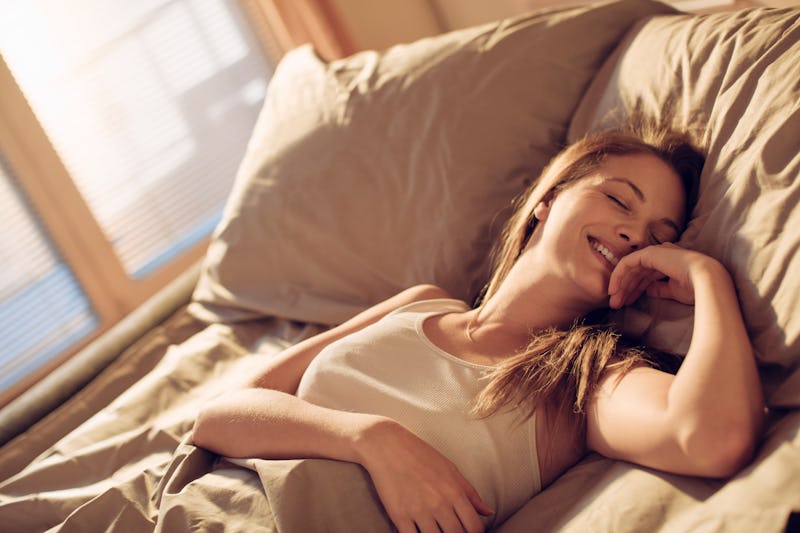 Getty Images/ Geber86
Sometimes dreamland doesn't veer too far from reality. Ever have one of those dreams where you feel super in touch and in control? Odds are you were experiencing a lucid dream. And, believe it or not, there are several benefits of lucid dreaming.
"Lucid dreaming is a special type of dream where you're aware that you're actually dreaming," Dr. Alex Anastasiou, MD, a board certified-psychiatrist, tells Bustle. The main perk of them? "These dreams allow us to better understand this hidden and complex aspect of our brain."
These kinds of dreams occur in the REM stage of sleep, says Dr. Naina Limbekar, MD, a sleep neurologist at Boston Medical Center. And you could experience one of two typical events within a lucid dream: one where you're aware that you're dreaming and conscious during it yet unable to control the events within it, and the other where you can actually control the events within your dream, she explains.
It's the lucid dreams that involve your control that lends itself to several benefits, says Anastasiou. "Instead of reacting to our thoughts and emotions, we learn to recognize, accept, and ultimately control them," he says. From reducing nightmares to improving your problem-solving skills, here are all the benefits of lucid dreaming.