I Tried Out 7 Methods Of Period Pain Relief & Here's What Actually Worked
Sorting the cramp-busting wheat from the chaff.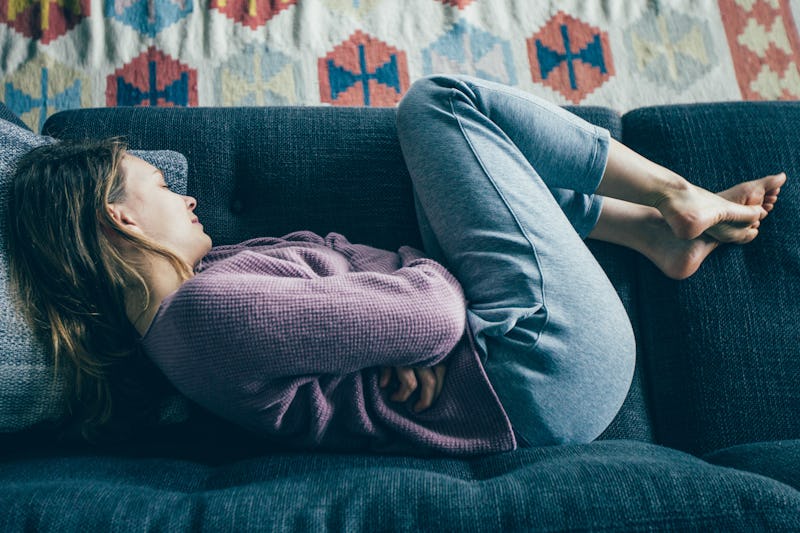 Shutterstock
Do you watch Stranger Things? In it there's a monster called the demogorgon that escapes from a dark, slimy world called the Upside Down and causes havoc for the townspeople of Hawkins. For the past ten years I've experienced pretty extreme period pain. When I'm on my period, my general pelvic area is the Upside Down and my period pains are the demogorgon ripping their way out — claws, teeth, and all. In this analogy, I'm the good townspeople of Hawkins, just trying to go about my daily business. Period pain this severe isn't normal — I suffer from endometriosis. But what it does mean is that I have a pretty strong threshold for testing period pain relief methods. So even if your pains aren't as strong as mine (and I really hope they aren't), if it works for me, chances are it'll work for you.
I tested six different methods of period pain relief to see how they stack up to my usual go-to remedy of two different types of painkiller and two hot water bottles — one for my stomach and one for my back. Some were better than others, I was pleasantly surprised by a couple, and extremely disappointed by one in particular. Read on to find out which ones are worth trying out for yourself.
Period pain is the worst, but luckily more and more remedies are coming onto the market. While I didn't find any of these hit the spot quite like painkillers plus a hot water bottle fortress, there were certainly some valuable and practical alternatives for days when the pain is mild or when remaining stuck to the sofa is simply not an option.
Readers should note that the regulations and data surrounding CBD are still developing. As such, the information contained in this post should not be construed as medical or legal advice. Always consult with your doctor before trying any substance or supplement.
This article was originally published on