18 Hours With A Millennial Matchmaker
A viral TikTok turned into my dream career.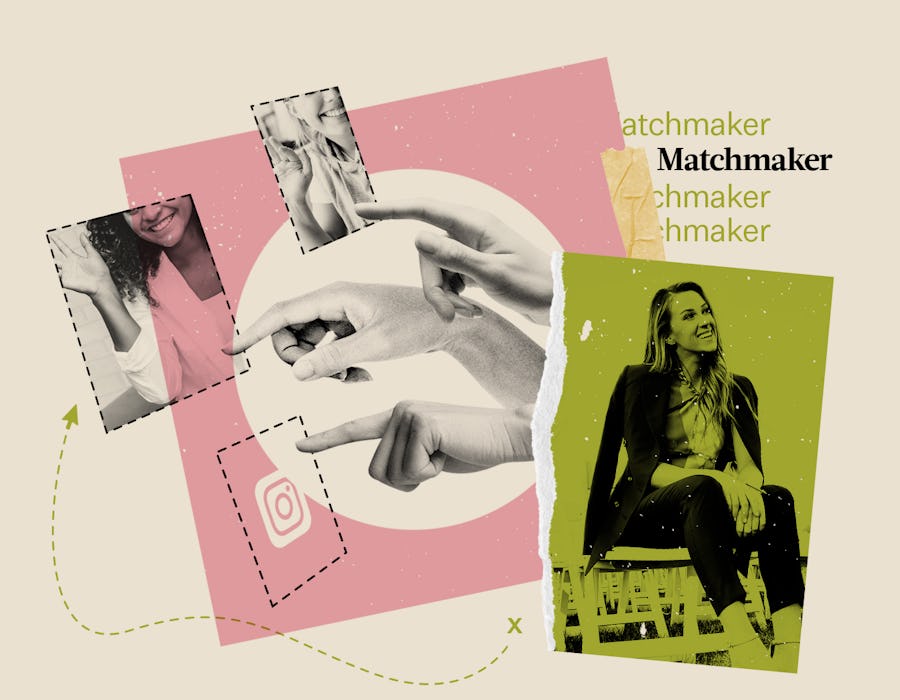 Chloe Burdette, Yagi Studio/Natdanai Pankong/EyeEm/funky-data/Rachan Panya/PM Images/Getty Images
What started as a tipsy evening listening to my friend — let's call him T — b*tching about his love life later turned into Intro: a Bachelor-style matchmaking service and live blind-dating show hosted by me, a millennial matchmaker. Intro began as a joke. T is a complete catch: self-made tech nerd, handsome, and with a heart of gold. But he was having major issues meeting women. When I took a look at his dating app profile, it all made sense. Between his lack of social media content and miserable bio, I wouldn't have swiped right, either. I had tons of footage of him acting silly and showing off his personality on my phone, but I knew it would be out of character for him to post these videos himself. So I posted a TikTok video — random clips from our travels together in Miami and Chicago — that quickly went viral. I thought this might lead to a few ladies messaging him. But within a week, he had thousands of confident women introducing themselves in his DMs.
I started receiving more messages from people asking where they could submit their application, and Intro was born. I'm a super-connector and get off on helping others, so I created a "profile" form and linked it in my Instagram bio. Before I knew it, I had over 17 million views on TikTok and 20,000 Intro submissions.
The way Intro works is I have in-depth conversations with our bachelors to understand what they're looking for. Then, I craft an email featuring a profile of the day's bachelor and I send it out to our 20,000 candidates. I think this concept has been successful because women view me as a girlfriend and trusted wingwoman. Once they've viewed the email, women let me know if they're interested. I then present my top picks to our bachelor. If the feelings are mutual, I'll connect both parties in a group chat. Long term, we're working to build an app, but that doesn't happen overnight.
Ironically, I was rejected by a well-known matchmaking firm just last year. They clearly didn't know what I was capable of: a new, innovative way to use technology and social media to make a match.
Below, I take you through a day in my life as a millennial matchmaker.
Thursday, March 11, 2021
7:00 a.m.: I wake up and clear my mind. First, I take my Adderall and antidepressants and have a dance party to get the good juju flowing. I currently have Twocolors on repeat. Yes, my neighbors hate me. I get a quick workout in, take a walk to grab a cold brew, and pet a few puppies along the way. Morning mental health walks are key.
8:00 a.m.: I'm messaging a few prospects for Intro that I selfishly want for myself, but right now my focus is to connect all these horny people in my inbox that are ready to rip each other's clothes off.
Not all of our bachelors want to be "exposed" on TikTok or Intro. No, this doesn't mean releasing their nudes — Exposing My Hot Single Friends is the name of my TikTok series. Currently, bachelors participating in Intro can choose to opt-in or out of publicly being exposed on social channels.
9:00 a.m.: I'm finalizing the daily Intro email, which contains a video and a little information about each bachelor. I click send. Now I start my paid job at a tech startup here in Chicago. My boss doesn't know much about Intro.
12:00 p.m.: I quickly order Sweetgreen and hop on a call with one of my mentors. She's designed a firm that invests in female-founded tech startups — she's a genius. I want to be her when I grow up. I send her an article about a new video dating app. It looks like someone has taken massive inspiration from my idea, and I'm floored. How do I get my app to move faster? After the call, I mentally regroup; I tell myself that there's room at the top for everyone and that imitation is the sincerest form of flattery. You know what the other concepts don't have? Me. I take a deep breath and decide to leverage this information for funding.
12:30 p.m.: T is now building out a platform to streamline Intro's process. I check in with him about any updates, but somehow 75% of our phone call is me giving him dating advice. As much as I love him, it can be emotionally draining to embrace everyone's relationship problems. But I'm mostly OK with it — it's what I do best.
5:00 p.m.: I wrap up my day job, and now my second job — Intro — begins. I'm starting to prepare for my Intro live series on Instagram, which usually consists of casual banter with one of our bachelors, where I drill them with Qs from my curious followers. Anyone who wants to be a fly on the wall or contribute to the comments section can hop on board. I know all the bachelors personally and can typically get them to open up and tell a juicy story or two.
I used to work in menswear, which taught me to understand a man's mindset, their preferences, and how they want to be portrayed. I also believe that I know what my peers are looking for: personality traits that run deeper than what's on his resume. Since we're all visual learners, I try my best to showcase that through video.
6:00 p.m.: I quickly run to the Whole Foods hot bar and grab some wine. I always need to feel a little loosey-goosey for these Instagram lives. I'm awkward, but my friends find it funny. I think drinking wine makes me more approachable, and letting my guard down makes for some saucy conversation.
7:00 p.m.: I pull up all of the questions from the Instagram prompt I shared earlier in the week. I then set up my ring light and hop on Instagram Live. This process isn't perfect and can feel borderline cringe in the moment. I open up the conversation on how we met sailing in Croatia a few years back. We're bantering, keeping it flirty. Now onto the questions: Do you have a fetish? If you were arrested, what was it for? What's your ideal date? Strangest date you've been on? Carson immediately shares a story of the time a girl's dog ejaculated on his face during their hangout. Things are getting weird. My followers love these lives and I secretly think the bachelors love the spotlight, too. Their exes watching? Not so much.
9:00 p.m.: I don't know how influencers do it. I typically have hundreds of DMs in my inbox from women asking for updates and how they can connect, and there's no way to answer them all. I decide to make an Instagram story addressing all of the messages, practically begging my followers to be patient. We live in a world of instant gratification, and I think people forget that I'm just one person.
9:30 p.m.: I start to vet "interested" responses from this morning's bachelor in the newsletter. I compile a list of women I feel will be a good fit while keeping the bachelor's preferences in mind.
12:00 a.m.: I give myself a cut-off time to let my brain decompress. I make a TikTok or two to post throughout the week, then respond to goodnight texts from my family. My phone is also blowing up from a group chat that includes my friend Rod, filling me in on what's happening in the TikTok world. Apparently, Shania Twain just followed him.
1:00 a.m.: I should probably shower, spray tan, and prep for weekend adventures, but I'm totally beat. Plus, I'll be working on Intro for the majority of my weekend, adding to my ever-growing pitch deck and connecting with interested investors. Sometimes, I have to remind myself I'm in my 20s and can't just be a hermit.
As for my personal dating life? I'm planning on moving within the next few months (New York or Los Angeles), so I won't allow myself to date anyone in Chicago right now. Between moving to a new city and building Intro, the last thing I want is guy to distract me.