What You Should Know About Getting Your Flu Shot During COVID, Explained By Doctors
Why doctors think your flu shot is more important than ever this year.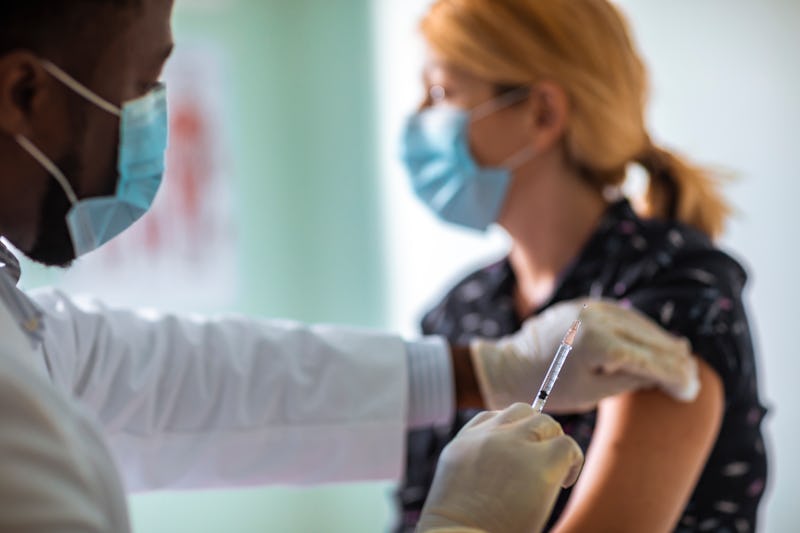 Geber86/E+/Getty Images
Between coping with late-summer heat, cleaning your masks, and explaining to relatives that you'll only attend cousin Marcia's wedding if it's on Zoom, the impending flu season might be low on your worry list right now. But it's coming at us fast. You might have all kinds of questions, or be hearing a lot of myths about getting the flu shot during the coronavirus pandemic.
The first thing to know is that getting your flu shot before winter hits may be one of the best decisions you make all 2020. (Because we could all really use a win this year.) The flu vaccine won't protect you against COVID-19, since they're different illnesses, but it will keep you flu-free and protect those around you from getting sick.
"We encourage people to obtain the flu vaccination, especially this year," Dr. Rebecca Gernon, M.D., medical director at insurance federation Blue Cross and Blue Shield in Kansas City, tells Bustle. Nobody needs to add a week of sneezing and fevers to the giant dumpster fire that has been the past eight months. Experts are also keen to avoid a flood of hospitalized flu patients putting strain on the already-overwhelmed health system.
So put a reminder in your calendar, square up to your fear of needles, and let's dissect some of the misinformation going around about COVID-19 and the flu shot.
Experts:
Dr. Teresa Bartlett M.D.
Dr. Rebecca Gernon M.D.
Dr. Robert Quigley M.D.