I Tried Peloton's Hiking Bootcamp For 2 Weeks & Here's My Honest Review
After just the warmup, my heart was pumping.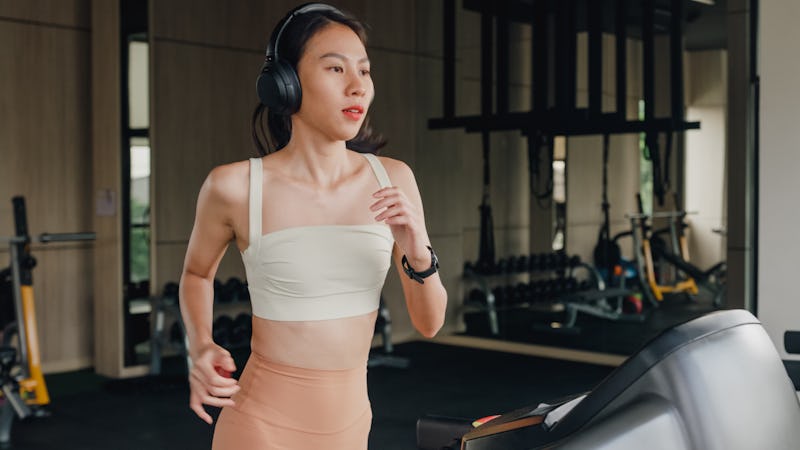 MTStock Studio/E+/Getty Images
If you have a big hike planned this summer — or even just a hot girl walk — look no further than Peloton's Hiking Bootcamp series to help get you ready. These workouts will boost your cardio, strengthen your booty, and hype you up for the great outdoors, all from the comfort of your living room. They're perfect, too, if you're looking for a sweaty, low-impact workout to add to your weekly routine — no trip to the mountains required.
Hosted by instructor Rebecca Kennedy, Peloton's Hiking Bootcamp series is the perfect combo of strength and cardio training. And it just so happens to be really fun. You can do the workouts on your Peloton Tread or using the Peloton app and your own gear. Personally, I did mine on a regular treadmill with my set of 10-pound dumbbells. (You'll ideally need two heavier pairs for the strength training portion.)
After sweating my way through Kennedy's 45-minute Hiking Bootcamps over the course of two weeks, I can officially count myself as a Peloton stan. And you know what? Now that I've gotten the hang of navigating inclines, I just might have to test my results in the wild by going on an actual hike. Read on below for my honest review of the Peloton Hiking Bootcamps.
The Workout
If you're in the mood to hike, you're in luck. Peloton offers countless Hiking workouts for the Tread that simulate the ups and downs of a trail. Whether you use the Tread or the app, you'll get a nice workout that's packed with elevation changes — aka inclines on your treadmill — that make it seem like you trekked up an actual mountain.
There's also the Hiking Bootcamp series that takes your hike to the next level by adding strength training circuits into the mix. Instructor Rebecca Kennedy guides you through these 30- to 45-minute full-body workouts that alternate cardio intervals on the treadmill and muscle-building workouts on the floor using sets of medium and heavy dumbbells.
Apparently, a hiking workout is just as good as a long run when it comes to cardio benefits, but they're way easier on the joints and lower back. Simply lean forward and pump your arms as you walk uphill and you'll strengthen your hamstrings, calves, glutes, and quads. Once you hop off and get down on your mat, that's when the other muscles, like your triceps, core, shoulders, chest, and back get a little love.
Of course, as with any Peloton workout, the whole series features songs you'd recognize from your own Spotify, so you never have to endure cheesy workout playlists. Think Slow Motion by Juvenile and 3 by Britney Spears. Good stuff.
My Experience
As someone who's seen so many hiking and trail running videos on my TikTok FYP, I've been into the idea of recreating the feeling of huffing and puffing up a steep incline, so it felt right to climb onto my treadmill and have at it.
As Kennedy said during one of her classes, "Walking up a hill is one of the healthiest things you can do for your body", and I could immediately see why as I trekked up my incline. We weren't even past the three-minute warmup before my heart was pumping and a glisten of sweat had started to form on my brow.
From there, the 45-minute workout launched into six rounds: three interval circuits on the treadmill and three strength sections on the floor. The treadmill hike was all about raising and lowering the incline of the tread while adjusting the speed.
Kennedy encouraged me to push myself to my max effort during a quick, 30-second burst but added that "max effort" will look different for everyone. She also reminded me not to hang onto the treadmill rails, since that takes away some of the benefits of walking uphill. At one point my treadmill was on a 10% incline, which for me basically felt like Mount Everest, but the rest of the treadmill portion felt brisk in the best way.
Once we moved down to the mat, Kennedy explained how to do elevator RDLs, a single dumbbell front lunge to push-press, and a chest press with kick out — complete with mini dance breaks, obvi. Because I didn't have heavy dumbbells, I used my ten-pounders the entire time, and honestly? That was perfectly fine. These moves were tough, so it felt right to keep the weight on the lower end of the spectrum.
The whole sequence repeated again when we headed back to the treadmill for a quick uphill climb, followed by more strength training on the floor — featuring plank hip dips and tricep push-ups — and an eventual cooldown. By the end of the 45 minutes, I was sweaty, flooded with endorphins, and just the right amount of sore from working my arms and core.
The Verdict
Real talk: I was a big fan of these workouts, and especially liked Kennedy's encouraging vibes. Right when I thought I wasn't having a good time, she'd remind me that this workout was for me — and that I was awesome for showing up. (Thanks, RK!)
Now that I've done the Hiking Bootcamps for a couple of weeks, I can totally see myself striding up a mountain with the greatest of ease. Now, I just have to get myself to a park.