Meet The Runner Fighting For More BIPOC Representation In The Sport
"Whenever I would compete in other states, there weren't a lot of people who looked like me."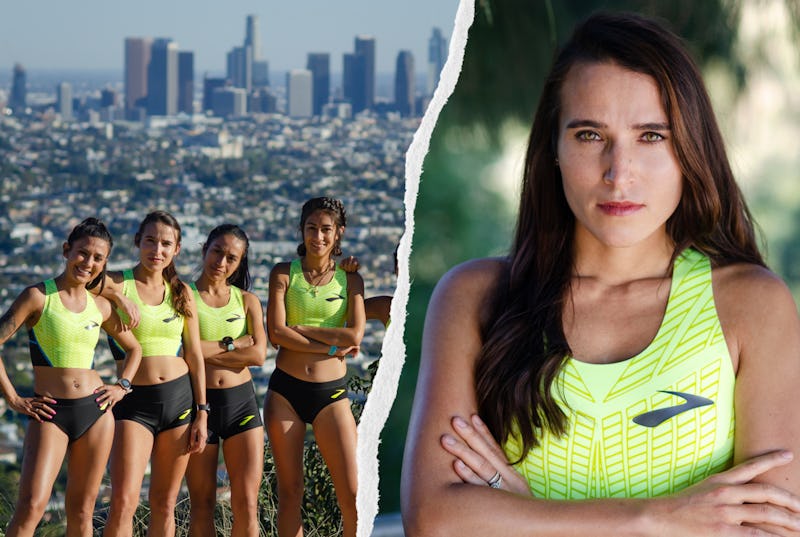 Brooks Running
When pro runner Sabrina De La Cruz went to the 2020 Olympic Marathon Trials, she noticed something that made her feel out of place: She was one of very few BIPOC people competing. "I remember looking all around me when I was at the starting line," she tells Bustle of her a-ha moment. Now, De La Cruz and her Angel City Elite team are fighting for diversity in the running community.
As a Mexican American who grew up in Los Angeles, she was used to being surrounded by diversity and people of all backgrounds. It wasn't until she began going to races out of state that De La Cruz realized her hometown wasn't representative of everywhere else in the country. "It was mainly white runners who would be there, and I didn't really see many Indigenous or Black or Hispanic people racing," she tells Bustle.
After several years noticing a lack of diversity at running competitions, it was the recent Olympic trials that sparked De La Cruz to start Angel City Elite — a group of five distance runners who aim to increase BIPOC representation on the track. Here, she chats with Bustle about her running journey, how she's creating an inclusive community, and how she's pushing to change the industry.
Can you talk about the lack of diversity you've seen as a pro runner?
One of the big reasons I think BIPOC individuals don't turn to running is because of resources. I think a lot don't realize how running could provide scholarship, or that you could maybe someday get a sponsorship that could help you pay for shoes, clothing and travel. In my culture specifically, a lot of times our family members need to quit school because they have to take care of their siblings to help their family who are working full-time jobs. Or they're not able to buy shoes because their parents can't afford it.
"Whenever I would compete in other states, there weren't a lot of people who looked like me."
My husband coaches running in high school, and he saw his top three runners quit — one was because they had to care for their parents, another had to care for their siblings, and the other one didn't have enough money and wound up working. I'm sure a lot of students or kids are dealing with that, and I think having groups on board helping make running more accessible to BIPOC individuals would be huge. When I started running, it's because I saw girls who looked like me, so I thought, "Oh, I could do that too."
How did Angel City Elite come to fruition?
After the Olympic Marathon Trials, I realized I had to do something [about diversity in running]. A few weeks later, I contacted a few women and told them about my idea of a running team that pushes for inclusivity, and they were on board. We then created a mission statement, which is to bridge the disparity gap of BIPOC representation in the sport, to create awareness, empower, educate, and inspire. We want to connect with local run clubs, retailers, and crews like BLACKLIST LA in addition to supporting high school runners.
Our next step was to find a sponsor, and we contacted Brooks because we really love their shoes. And they agreed to sponsor us. It's been a long process, but we finally launched about two weeks ago.
What do you ultimately hope to achieve through your team within the running world?
We really want to educate and inspire the younger generation because we're hoping that at the next Olympic Marathon Trials, which are being held in 2024, there'll be more BIPOC people competing. We want to run with different groups and use social media to amplify other people's voices. We have a lot of work to do, but it's time — we need to create change or else there won't be any.
This interview has been edited and condensed for clarity.
This article was originally published on